<!z--BEGINNING of TEXT or PICTURES inside TABLE D--> <!z--BEGINNING of TEXT or PICTURES inside TABLE D--> <!z--BEGINNING of TEXT or PICTURES inside TABLE D--> <!z--DON'T PUT IN P FOR FIRST PARAGRAPH AND IT GOES FLUSH--> <!z--DON'T PUT IN P FOR FIRST PARAGRAPH AND IT GOES FLUSH--> <!z--DON'T PUT IN P FOR FIRST PARAGRAPH AND IT GOES FLUSH--> <!z--XXXXXXXXXXXXXX NEW PHOTO XXXXXXXXXXXXXXXXX-->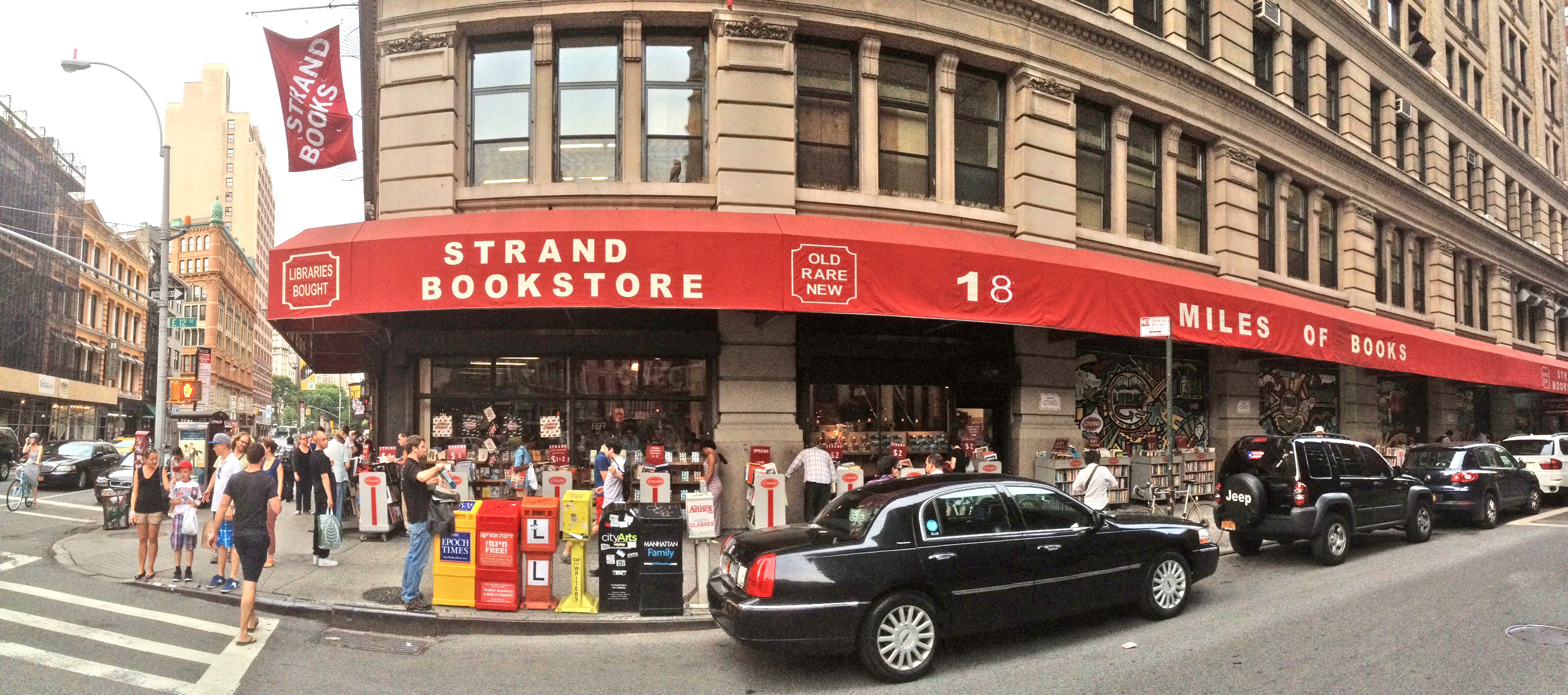 Strand Books - (used) - Greenwich Village (click to enlarge)
---
<!z--XXXXXXXXXXXXXX NEW PHOTO XXXXXXXXXXXXXXXXX-->

Below is a brief index of the website. Photos of several of the stores can be find at the bottom of the page. (more to come)
---
1) Manhattan Bookstores:
---
1) General Book Stores (New books and category backlist: bestsellers, hardcovers/paperbacks) - (Manhattan)
a) Large chain bookstores
b) Independent bookstores

---
2) Used Book Stores - (Manhattan)

---
3) Specialty Book Stores (Manhattan)
a) African-American
b) Art (Photography and Fashion)
c) Chess
d) Comic Books
e) Cookbooks
f) Drama / Theater
g) Fashion
h) Foreign Language
i) Judaica
j) Juvenile (Children's Books)
k) LGBGT and Feminist
k/l) Literary and Art
l) Military / Winston Churchill
m) Music
n) Mystery
o) Nautical
p) New Age / Spiritual
q) New York City (official pubs)
r) Political
s) Rare
t) Religious
u) Science Fiction / Fantasy
v) Travel

---
4) Museum and Library Book Shops - (Manhattan)
---
5) Brooklyn Bookstores - (General, Used, and Specialty)
---
6) Queens Bookstores - (General, Used, and Specialty)
---
7) Staten Island Bookstores - (General, Used, and Specialty)
---
8) Bronx Bookstores - (General, Used, and Specialty)
---
---
---
---
---
---
---
---
---
---
---
---
MANHATTAN BOOK STORES
---
1) GENERAL BOOK STORES (Bestsellers, Hardcover and Paperback; New Books)
---
a) Large chain bookstores - (i.e. Barnes and Noble)
---
Barnes and Noble - Upper West Side
2289 Broadway at 82nd Street
Upper West Side
---
Barnes and Noble - Upper East Side
150 East 86th Street near Lexington Avenue
Upper East Side
---
Barnes and Noble - Citigroup
160 East 54th Street at 3rd Avenue)
Midtown East
---
Barnes and Noble - Fifth Avenue
555 Fifth Avenue at 46th Street
Midtown East
---
Barnes and Noble - Tribeca
97 Warren Street at Greenwich Ave
Tribeca
---
Barnes and Noble - Union Square
33 East 17th Street near Broadway
Flatiron
---
Barnes and Noble - Columbia University Bookstore
2922 Broadway at 116th Street
Upper West Side
---
The website for all the Barnes and Nobles is: barnesandnoble.com
---
Amazon Bookstore
Time Warner Center
10 Columbus Circle
59th St. and Broadway
Upper West Side

---
Amazon Bookstore
7 West 34th Street
b/t 5th and 6th Aves
Midtown South


---
b) INDEPENDENT - GENERAL BOOK STORES - Manhattan
---
Book Culture (main store)
536 W 112th St near Broadway
Upper West Side (Morningside Heights)
bookculture.com
General and scholarly books. New and Used. Some textbooks. Near Columbia U.
---
Book Culture (neighborhood store)
2915 Broadway at West 114th Street
Upper West Side (Morningside Heights)
General books and gifts.
---
Book Culture on Columbus
450 Columbus Avenue near 82nd Street
Upper West Side
General books and gifts.
---
bookbook Bookstore
266 Bleecker Street near Morton
Greenwich Village
bookbooknyc.com
General book shop, emphasis on fiction/literature
---
The Corner Bookstore
1313 Madison Avenue at 93rd Street
Upper East Side
cornerbookstorenyc.com
Specializes in bestsellers, children's, and travel books
---
Crawford Doyle Booksellers
1082 Madison Avenue at 81st Street
Upper East Side
crawforddoyle.com
---
McNally Jackson
52 Prince Street near Mulberry
Soho
mcnallyjackson.com
Coffee, new releases, book printing machine for instant books
---
New York University Bookstore
726 Broadway at Waverly Place
East Village
bookstores.nyu.edu
General books, textbooks, and gifts
---
Posman Books in Chelsea Market
75 Ninth Avenue at Ninth Avenue
Chelsea
posmanbooks.com
General neighborhood-style bookstore
---
Postman Books in Rockefeller Center
30 Rockefeller Plaza (concourse) near West 50th Street
Midtown West
posmanbooks.com
General neighborhood-style bookstore
---
Rizzoli Bookstore
1133 Broadway at West 26th Street
Flatiron District
rizzoliusa.com
General bookstore plus llustrated art, design, and fashion books.
---
Shakespeare & Co
939 Lexington Avenue near 69th Street
Upper East Side
shakeandco.com
General bookstore plus textbooks for Hunter and Marymount colleges. Book print machine.
---
Three Lives & Co.
154 West 10th Street at Waverly Place
Greenwich Village
threelives.com
Local community bookstore since 1968. All types books.
---
Unoppressive Non-Imperialist Bargain Books
34 Carmine Street near Bleecker Street
West Village
unoppressivebooks.blogspot.com
Small bookstore with all discounted books. Music, Art, Philosophy, Literature. Shares the space with a Carmine St. Comics.
---
2) USED BOOKS (also Out-of-Print and Rare Books) - Manhattan
---
Alabaster Bookshop
122 Fourth Avenue at 12th Street
East Village (no web site)
---
Argosy Book Store
116 East 59th Street near Park Avenue
Midtown East
argosybooks.com
Elegant old school six-storybookstore since 1925. Used and Rare books
---
Book-Off
49 West 45th Street
b/t 5th Ave and 6th Ave
New York, N.Y. 10036
(212) 685-1410
bookoffusa.com
Used: Books CDs, Video Games, Manga, Movie, Home Objects, Electronics
---
Codex Books
1 Bleecker Street at Bowery
East Village
codexbooks.info
Recently established used bookstore specializing in art and literary fiction, both classic and contemporary.
---
East Village Books
99 St. Marks Place
East Village
buyusedbooksnewyork.com
Small but hip basement-level use book and record store with emphasis on literature and the arts.
---
Housing Works Bookstore Cafe
126 Crosby Street near East Houston Street
Soho
housingworks.org/bookstore
A volunteer-run non-profit. All type of books, including rare and out-of print, especially the arts. Writing workshops.
---
Mast Books
66 Avenue A near East 4th Street
East Village
mastbooks.com
Sells used and rare volumes on a variety of topics.
Hip and edgy independent Wast Village book store.
---
Mercer Street Books & Recordsbr> 206 Mercer Street at Bleecker Street
West Village
mercerstreetbooks.com
Basement level used books. At hipster.
---
Strand Bookstore ("The Strand")
828 Broadway at 12th Street East Village
212-473-1452
strandbooks.com
Legendary New York used bookstore (since 1927) and the largest. All type of books plus a floor of rare books. 18 miles of books.
---
Westsider Rare and Used Books
2246 Broadway near 80th Street
Upper West Side
212-362-0706
westsiderbooks.com
Used general books. Records. DVDs. Seen in the John Turturro film Fading Gigolo starring Woody Allen; as a bookstore called M. Schwartz and Sons - Rare & Used Books.
---
Word-Up Books
2113 Amsterdam Ave. at 165th Stret
Washington Heights
Volunteer run used bookstore. Live readings, community events.
---
3) SPECIALTY BOOKSTORES - Manhattan
---
a) AFRICAN-AMERICAN
Sisters Uptown Bookstore
1942 Amsterdam Ave.
Harlem
sistersuptownbookstore.com

---
b) ART / PHOTOGRAPHY / FASHION
Bookmarc
400 Bleecker Street at West 11th Stret
Carries an eclectic selection of primarily large format books on the arts. A Marc Jobs store.
Dashwood Books
33 Bond Street between Lafayette and Bowery
New, Used, and Rare Photography books
Karma
21 Downing Street between Bedford and Blecker Street
Bookstore and gallery featuring new, used, and rare artists' publications.
(see Metropolitan Museum of Art book store in the Museum bookstores)
(see MOMA Bookstore in the Museum bookstore section)
(see Whitney Museum Bookstore in the Museum bookstores section)
Morrison Hotel Gallery 116 Prince Street, 2nd floor
b/t Wooster St. and Greene St.
Rock music photo gallery with many oversize rock 'n roll photography books.
Printed Matter
231 11th Avenue at 26th Street
A non-profit book center that sells books made and distributed by artists.
(see Rizzoli in General Books)
Taschen New York
107 Greene Street near Prince
taschen.com
Ursus Books
981 Madison Avenue bet 76-77
Upper East Side
ursusbooks.com
Rare and out-of-print art and photography books
---
c) CHESS
Chess Forum
219 Thompson Street near West 3rd St.
Greenwich Village
chessforum.com
All things chess.
Fred Wilson Chess Books
80 East 11th Street (upstairs)
Greenwich Village
fredwilsonchess.com
---
d) COMIC BOOKS
JHU Comic Books
481 Third Avenue
Gramercy Park
St. Mark's Comics
11 St. Mark's Place
East VIllage
Stmarkscomics.com
Carmine Street Comics
34 Carmine Street
Greenwich VIllage
carminestreetcomics.com

For more, see the Comic Books section of the site
---
e) COOKBOOKS
Bonnie Slotnick Cookbooks
28 East Second Street
East Village
212-989-8962
bonnieslotnickcookbooks.com
Specializes in vintage, rare and international cookbooks.
---
Kitchen Arts & Letters
1435 Lexington Avenue near 93rd Street
Upper East Side
kitchenartsandletters.com
"The country's largest store devoted to books on food and wine." Over 700 cooking titles.
---
f) DRAMA - THEATER
The Drama Book Shop
250 West 40th Street near 8th Ave.
Midtown West
212-944-0595
dramabookshop.com
theater, plays, musicals, gifts
Theater Circle Bookstore
268 West 44th Street #1
Times Square
212-391-7075
The Tony Award-winning Drama Book Shop, now celebrating its 100th Anniversary Year.Theater books and gifts.
---
g) FASHION MAGAZINES
Around the World (magazines)
28 West 40th Street
Fashion magazines
---
h) FOREIGN LANGUAGE

ITALIAN
SF Vanni

ISRAELI
Sefer ISrael

JAPANESE


Kinokuniya Bookstores
1073 6th Avenue
New York, NY 10018
Theater District, Midtown West
212-869-1700
kinokuniya.com
---
<!z--XXXXXXXXXXXXXX NEW PHOTO XXXXXXXXXXXXXXXXX-->

Books Kinokuniya - (Japanese) - Bryant Park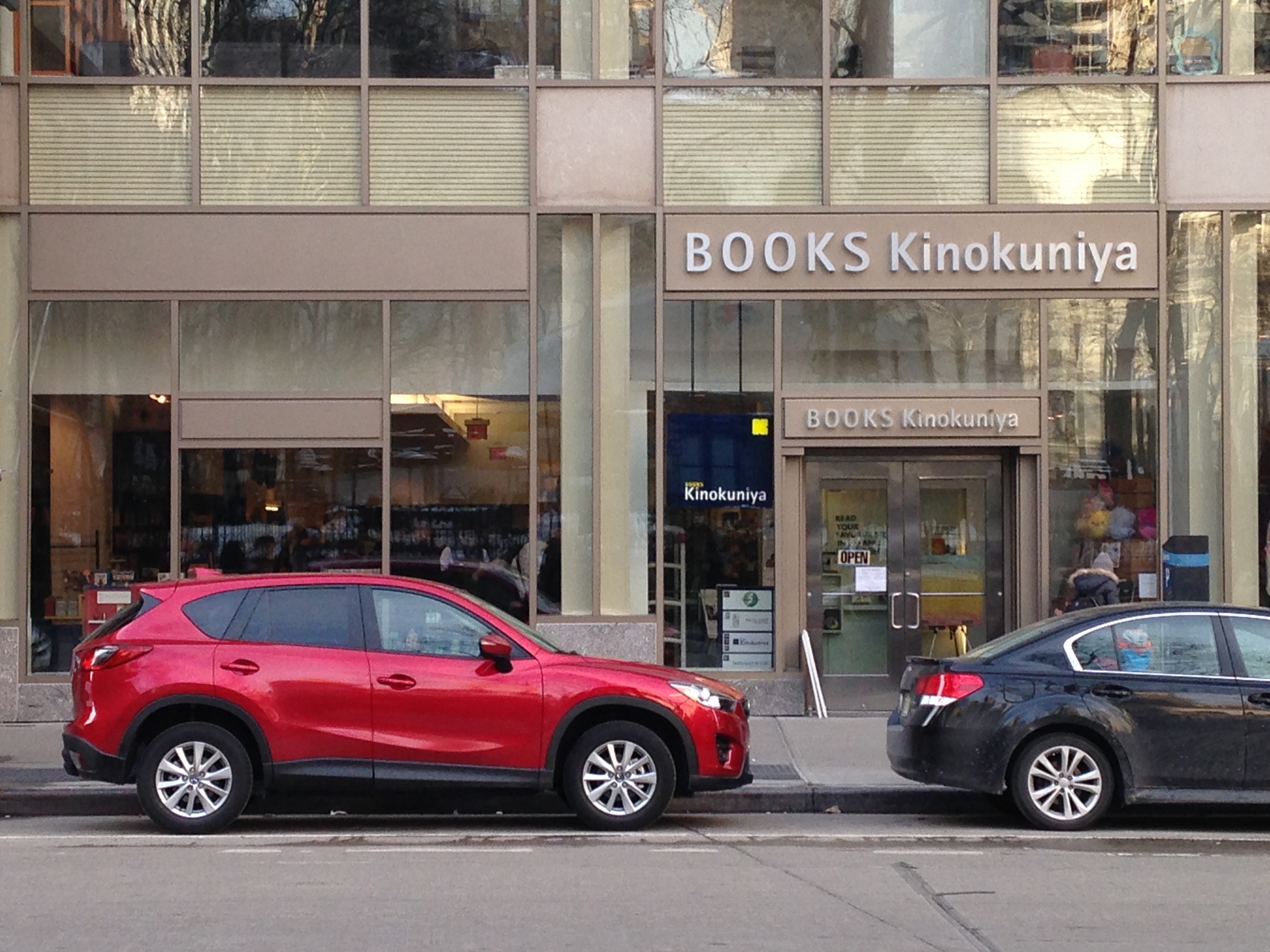 ---
<!z--XXXXXXXXXXXXXX NEW PHOTO XXXXXXXXXXXXXXXXX-->
---
KOREAN

Koryo Books & Music
35 West 32nd Street
Nykoryobooks@daum.net
212-564-1844

LATINO
La Cassa Azul

ORIENTAL
Oriental Culture Enterprises

RUSSIAN
Russia Books and Art


---
i) JUDAICA
J. Levine Books and Judaica
5 West 30th Street near Fifth Ave
Chelsea
levinejudaica.com
Books and Judaica
West Side Judaica & Bookstore
2412 Broadway
Upper West Side
(no website)
Books and Judaica
---
j) JUVENILE (Children's Books)
Bank Street Book Store
2780 Broadway at 107th Street
Upper West Side
bankstreetbooks.com
Large Children's bookstore." Books for "Children, Parents & Teachers"
Books of Wonder
18 West 18th Street near 5th Ave
Chelsea
booksofwonder.com
Large children's bookstore.
---
k) LGBGT, FEMINIST, ACTIVIST (see POLITICS)
Bluestockings Bookstore, Cafe´, & Activist Center
172 Allen Street at Stanton Street.
Lower East Side
212-777-6028
bluestockings.com
Specializes in feminist, queer and activist materials, in fiction, poetry, academic texts and self-published zines. Also has a cafe.
---
L) LITERARY & ART BOOKS
192 Books
192 10th Avenue between 21st and 22nd Streets
Chelsea
212-255-4022
192books.com

Specializes in literary works and scholarship, science, current affairs and books of all the arts including photogaphy, painting, music and poetry.
---
l) MILITARY 1st EDITIONS / WINSTON CHURCHILL
Chartwell Booksellers/The Military Bookman
55 East 52nd Street near 5th Avenue
Midtown East
churchillbooks.com
Winston Churchill; rare Military & Literary
---
m) MUSIC
The Julliard Store
144 West 66th St near Broadway
Upper West Side
thejulliardstore.com
sheet music, scores, classical music
Jazz Record Center
236 West 26th Street (b/t 7-8th, Room 804
jazzrecordcenter.com
new and used jazz records and books
---
n) MYSTERY
The Mysterious Bookshop
58 Warren Street near West Broadway
Tribeca
mysterious bookshop.com

A mecca for mystery readers.
---
o) NAUTICAL / MARINE
West Marine
12 West 37th Street near Fifth Avenue
Midtown West
westmarine.com
---
p) NEW AGE / SPIRITUAL
The Quest Bookshop
240 East 53rd Street
Midtown East
questbookshop.com
New age, spiritual, and esoteric books
Namaste Bookshop
2 West 124th Street at 5th Avenue
Greenwich Village
sells books on philosophy and spirituality, also crystals, jewelry
---
q) NEW YORK CITY (Official Publications)
CityStore
1 Center Street at Chambers Street
Financial District
nyc.gov/citystore
Official publications and NYC memorabilia
---
r) POLITICAL

Bluestockings
(see Brooklyn - Used Book Stores)

Revolution Books
437 Malcolm X Blvd. (Lenox Avenue) at 132nd Street
Harlem
revolutionbooksnyc.org
"The center of a movement for revolution"
---
s) RARE BOOKS
J. N. Bartfield Galleries and Fine & Rare Books
30 West 57th Street, 3rd floor
bartfield.com
rare books, 1st editions, American west art
Bauman Rare Books
535 Madison Avenue near 54th Street
baumanrarebooks.com
rare books and autographs
Imperial Fine Art Books
790 Madison Avenue #200 neat 67th Street
imperialfinebooks.com
leather bound and fine bindings
The Strand
(see Manhattan - Used Books)
---
t) RELIGIOUS BOOKS
Logos Bookstore
1575 York Avenue
Upper East Side
logosbookstorenyc.com
Judeo-Christian Books
---
u) SCIENCE FICTION/FANTASY
Forbidden Planet
832 Broadway near 12th Street
East Village
fpnyc.com
science fiction, comics, anime
---
v) TRAVEL
Idlewild Books
170 Seventh Avenue South at Perry Street
Greenwich Village
Specializing in Travel Books in different languages and language lessons.
---
4) MUSEUM and LIBRARY book and gift shops
Note: Many museum like the Met, MoMA, and the Mogan Library have extensive book depertments in their specialties. See the individual websites for more information.
• American Folk Art Museum
• American Museum of Natural history
• Asiastore; Asia Society
• China Institute: 100 Washington Street
• Cooper-Hewitt National Design Museum (The Shop at the . . . )
• El Museum del Barrio
• Frick Collection
• Guggenheim Museum Store
• • • 1071 5th Ave at 89th
• • • Modern Art
• International Center of Photography
• Intrepid Museum
• Jewish Museum - Cooper Shop
• Metropolitan Museum of Art - Museum Store
• Metropolitan Opera
• Museum of Modern Art: MoMA Design and Book Store
• • • 11 West 53rd Street near 6th Avenue
• • • Modern art books
• MoMA Design Store, Soho
• Morgan Library & Museum: The Morgan Shop
• • • 225 Madison at East 36th Street
• Museum of Arts and Design (The Store at the )
• Museum of Jewish Heritage
• • • 36 Battery Place
• • • FIDI
• National Museum of the American Indian - Gallery Store
• Neue Galerie Bookstore and Design Shop
• New York Historical Society
• New York Public Library - Library Shop
• New York Transit Museum Store
• Scandinavia House (The Shop at )
• The Studio Museum
• Ukranian Museum
• United Nations Bookshop
• Whitney Museum of Art Bookstore
---
5 - Brooklyn Bookstores
---
General Bookshops (no website if not mentioned)
---
Barnes & Noble
106 Court St. b/t State St. & Schermerhorn St.
Brooklyn Heights, Brooklyn
barnesandnoble.com
general nooks
Barnes & Noble
267 7th Ave. b/t/ 6th St. & 5th Ave.
Park Slope, Brooklyn
barnesandnoble.com
general books
Bookmark Shoppe
8415 3rd Ave. b/t 84th St. & 85th St.
Bay Ridge, Brooklyn
bookmarkshoppe.com
general books
Books Are Magic
225 Smith Street at Butler Street
Cobble Hill, Brooklyn
booksaremagic.net
general books
Boulevard Books & Cafe
7518 13th Ave. b/t Bay Ridge Parkway & 76th Street
Bensonhurst, Brooklyn
General interest
Community Bookstore
143 7th Ave. b/t Garfield Place & Carroll St.
Park Slope, Brooklyn
communitybookstore.net
general bookstore
Greenlight Bookstore (Fort Green)
686 Fulton Street at South Portland Ave.
Fort Greene, Brooklyn
greenlightbookstore.com
general interest
Greenlight Bookstore (Prospect Lefferts Gardens)
632 Flatbush Avenue between Hawthorne and Fenimore
Prospect Lefferts Gardens, Brooklyn
greenlightbookstore.com
general interest
Hallabaloo Books
658 Franklin Ave. b/t Prospect Pl & St Marks Ave
Crown Heights, Brooklyn
general bookstore; new and used
McNally Jackson Books
76 Nprth 4th Street at Wyeth Avenue
WIlliamsburg, Brooklyn
mcnallyjackson.com
general interest

Molasses Books
770 Hart Street b/t Wilson Ave. and Knickerbocker Ave.
Bushwick, Brooklyn
General interest
The Powerhouse Arena Bookstore
37 Main Street, between Front and Water Street
Dumbo, Brooklyn
powerhousearena.com
general bookstore
Powerhouse on 8th
1111 8th Ave. b/t 12th St. & 11th St.
Park Slope, Brooklyn
powerhouseon8th.com
general books
Spoonbill & Sugartown Booksellers
218 Bedford Ave. b/t 4th St. & 5th St.Br
Williamsburg - North Side, Brooklyn
spoonbillbooks.com
general books
Terrace Books
242 Prospect Park West b/t Windsor Place and Prospect Ave.
Windsor Terrace, Brooklyn
communitybookstore.net/terrace-books
general bookstore
Word Bookstore
126 Franklin Street at Milton Street b/t Noble St. & Greenpoint Ave.
Greenpoint, Brooklyn
wordbookstores.com
general interest

b) Brooklyn - Used Book Stores
Archestratus Books + Foods
160 Huron St. near Manhattan Ave
Greenpoint
archestrat.us
One of New York's newest bookstores is dedicated to all things delicious and literary. Archestratus, named for the ancient Greek poet and food lovers, carries cookbooks, food memoirs, vintage culinary collections and more. Has a cafe with events.
---
Book Thug Nation
100 North 3rd Street near Berry Street
Williamsburg, Brooklyn
bookthugnation.com
A bookstore and community space. Specializes in used literary fiction, poetry, and pulps.
---
Human Relations
1067 Flushing Ave. near Knickerbocker Ave
East Williamsburg, Bushwick
humanrelationsbooks.com
---
Molasses Books
770 Hart Street
Between Wilson and Knickerbocker
Bushwick, Brooklyn
Used books. Also sells morning coffee and various beers later.
---
Unnameable Books
600 Vanderbilt Avenue
Project Heights, Brooklyn
(718) 789-1534
unnameablebooks.blogspot.com
A new and used bookstore and community space. Specializes in used literary fiction, poetry, and pulps.
---
Specialty Bookstores - Brooklyn
---
Archipelago Books
232 3rd St. Ste A-111 at 4th Ave.
Gowanus, Brooklyn
archipelagobooks.org
specializing in books in translation

Berl's Brooklyn Poetry Shop
141 Front Street
Dumbo, Brooklyn
berlspoetry.com
specializes in poetry

Better Read Than Dead

867 Broadway b/t Belvidere St. and Lewis Ave.
Bushwick, Brooklyn
used books;part of a flea market

Black Sea Bookstore
3175 Coney Island Avenue at Brighton Beach Ave.
Coney Island, Brooklyn
Russian books

Book Maze
1122 Coney Island Ave. b/t Glenwood Road & Avenue H
Flatbush, Brooklyn
bookmazecity.com
Specializes in book for a Russian audience

Desert Island
540 Metropolitan Ave b/t Lorimer & Union Ave.
Williamsburg - North Side, Brooklyn
desertislandbrooklyn.com
comics, graphic novels, art, etc.

Edamama Cute Cuts & More
568 Union Ave, Unit B b/t Richardson St. and Frost St.
Williamsburg - North Side, Brooklyn
edamama.com
a selection of children's books; haircutting

Freebird Books & Goods
123 Columbia Street b/t Kane St. and Irving St.
Columbia Street Waterfront District, Brooklyn
freebirdbooks.com
general bookstore

Here's a Book Store
1964 Coney Island Ave. b/y Avenue P and Quentin Road
Midwood, Brooklyn
New and used Children's, Judaica, Best Sellers

Judaica Eichler's Jewish Books & Gifts
5004 13th Ave. b/t 51st St and 50th Street
Borough Park, Queens
Judaica

Judaica World
329 Kingston Ave. b/t President St. and Union St.
Brooklyn, NY
Crown Heights, Brooklyn
judaica-world.com
Judaica

Maktaba Dar-Us_Salam
486 Atlantic Avenue b/t 3rd Ave & Nevins St.
Boerum Hill, Brooklyn
darussalamny.com
Specializes in Islamic books

Melville House
46 John Street
Dumbo, Brooklyn
mhpbooks.com
publishing house bookshop

Pioneer Books
289 Van Brunt Street
Red Hook, Brooklyn
pioneerworks.org/bookstore
books about printed matter and the arts

PopFuzz
123 Wythe Ave b/t 9th St. & 10th St.
Williamsburg - North Side, Brooklyn
popfuzz.net
Specializing in pop culture books, videos, and toys

Quimby's Bookstore NYC
536 Metropolitan Ave. b/t Union Ave & Lorimer St.
Williamsburg, Brooklyn
Specializing in zines

Singularity & Co.
18 Bridge St. b/t Plymouth St. & John St.
Vinegar Hill, Brooklyn
specializing in sci fi

Stories Bookshop + Storytelling Lab
458 Bergen Street b/t 5th Ave & Flatbush Ave.
Park Slope Brooklyn
storiesbk.com
children's books and storytelling

Umbrage Editions
111 Front Street, suite 208, b/t Washington St. and Adams St.
Dumbo, Brooklyn
umbragebooks.com
Art books, art gallery, and art book publisher

Z Berman Books
1586 Coney Island Ave. b/t Locust Ave & Avenue L
Midwood, Brooklyn
zbermanbooks.com
Judaica
---
6 - Queens- General Interest Bookstores
---
The Astoria Bookshop
31-29 31st Street between Broadway and 31st Ave.
Astoria, Queens
astoriabookshop.com
general bookshop
Book Culture
26-09 Jackson Avenue
Long Island CIty, Queens
718-440-3120
bookculture.com
Kew & Willow Books
81-63 Lefferts Boulevard
Kew Gardens, Queens
thequeensbookshop.com
Topos Bookstore Cafe
788 Woodward Ave. b/t Madison St. and Putnam Ave
Ridgewood, Queens
toposbookstore.com
general bookstore and coffeeshop
---
Queens - Used Bookstores
---
Austin Bookshop
10429 Jamaica Avenue
Richmond Hill, Queens
A 60-year-old neighborhood institution

Turn the Page . . . Again!
39-15 Bell Boulevard between 39th and 40th Aves.
Bayside, Queens
toposbookstore.com
general used books; run by a non-profit; most books under $5.00
---
Queens - Specialty Bookstores
---
KOREAN
Koryo Books & Music
156-24 Northern Boulevard
Flushing, New York
Nykoryobooks@daum.net
718-353-6080
---
7 - Staten Island - General Interest Bookstores
---
Barnes and Noble
2245 Richmond Ave.
Heartland VIllage, Staten Island

Everything Goed Book Cafe and Neighborhood Stage
208 Bay Street
Tompkinsville, Staten Island

---
8 - Bronx - General Interest Bookstores
---
The Bronx is waiting for a new bookstore following the closing of the Barnes and Noble that had been in the borough for many years.
---
---
---
---
---
---
<!z--XXXXXXXXXXXXXX NEW PHOTO XXXXXXXXXXXXXXXXX-->

Dashwood Books (specialty)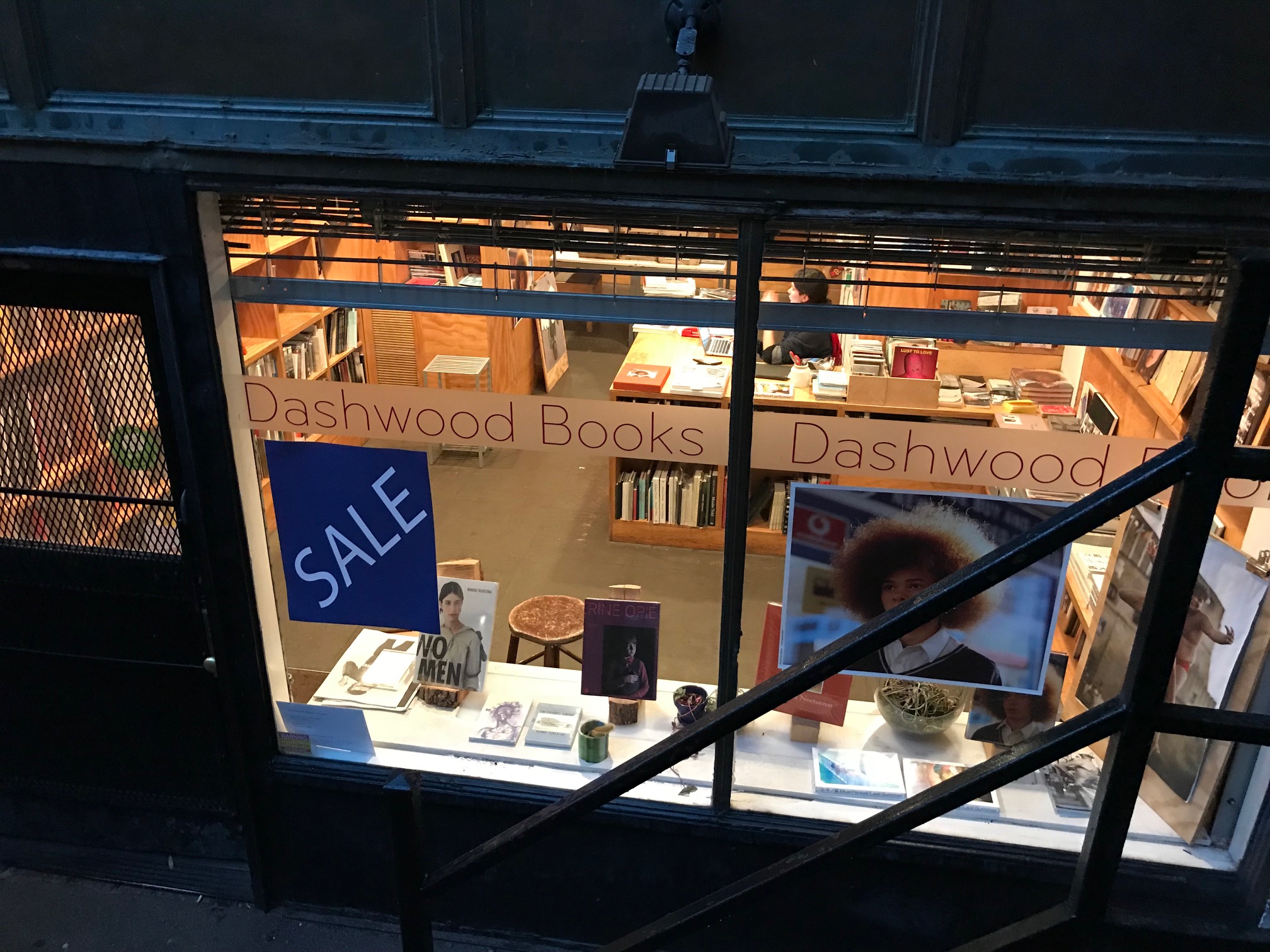 ---
<!z--XXXXXXXXXXXXXX NEW PHOTO XXXXXXXXXXXXXXXXX--> <!z--XXXXXXXXXXXXXX NEW PHOTO XXXXXXXXXXXXXXXXX-->

Codex Books - exterior (used)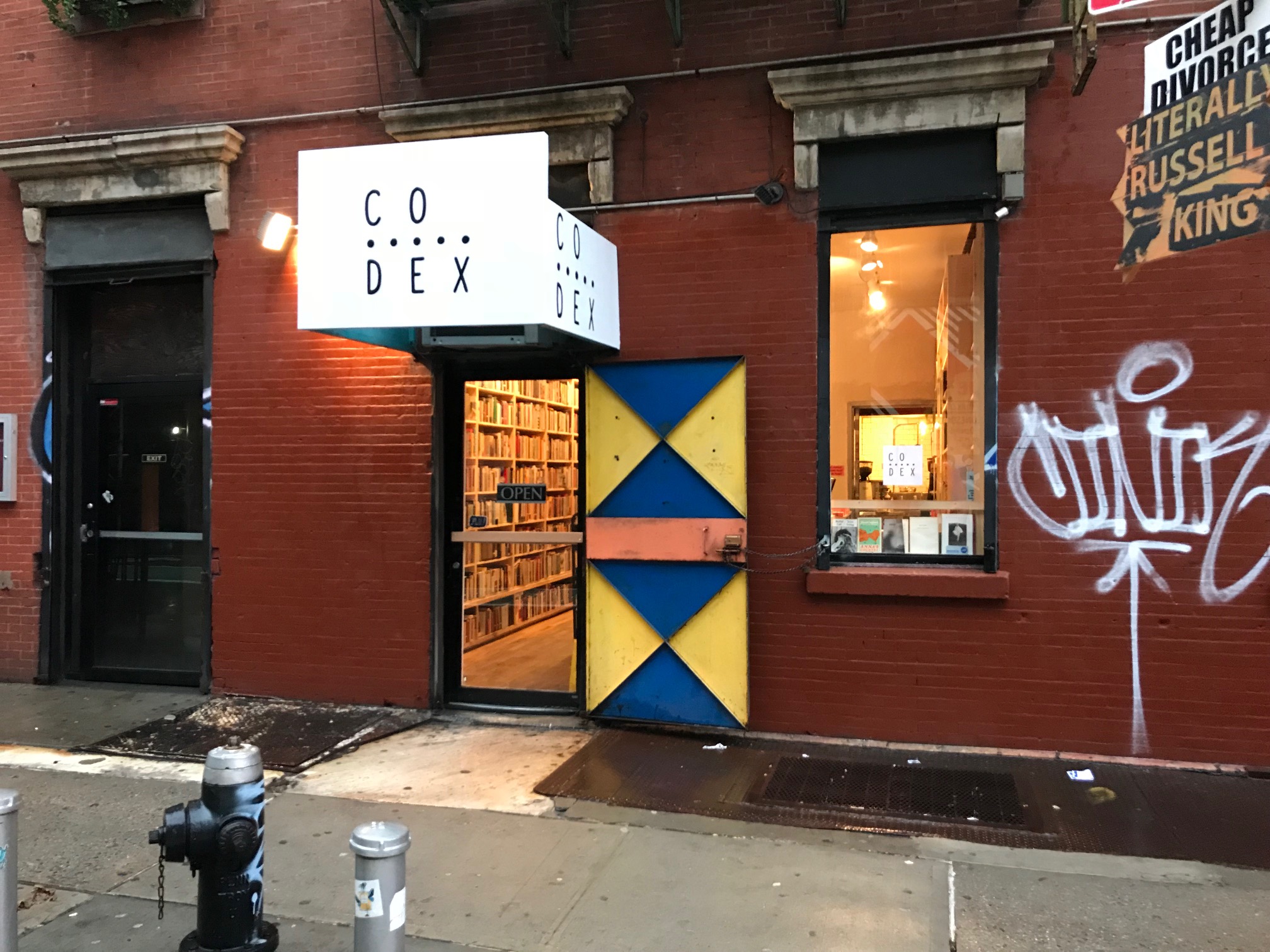 ---
<!z--XXXXXXXXXXXXXX NEW PHOTO XXXXXXXXXXXXXXXXX--> <!z--XXXXXXXXXXXXXX NEW PHOTO XXXXXXXXXXXXXXXXX-->

Codex Books -interior (used)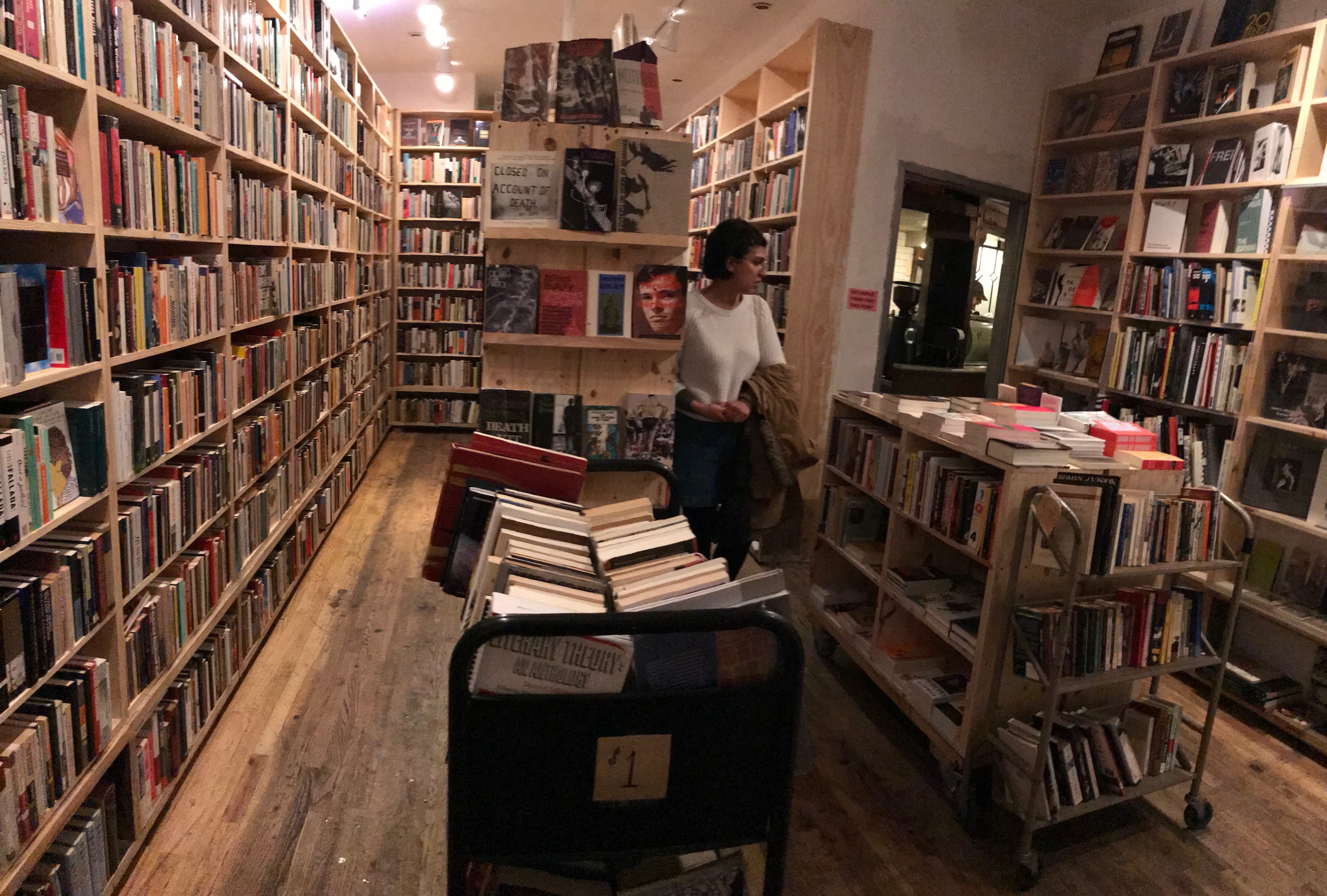 ---
<!z--XXXXXXXXXXXXXX NEW PHOTO XXXXXXXXXXXXXXXXX--> <!z--XXXXXXXXXXXXXX NEW PHOTO XXXXXXXXXXXXXXXXX-->

Unoppressive, Non-imperialist Bargain Books - (art, photography, music, literature, poetry. Mostly discounted off cover price.)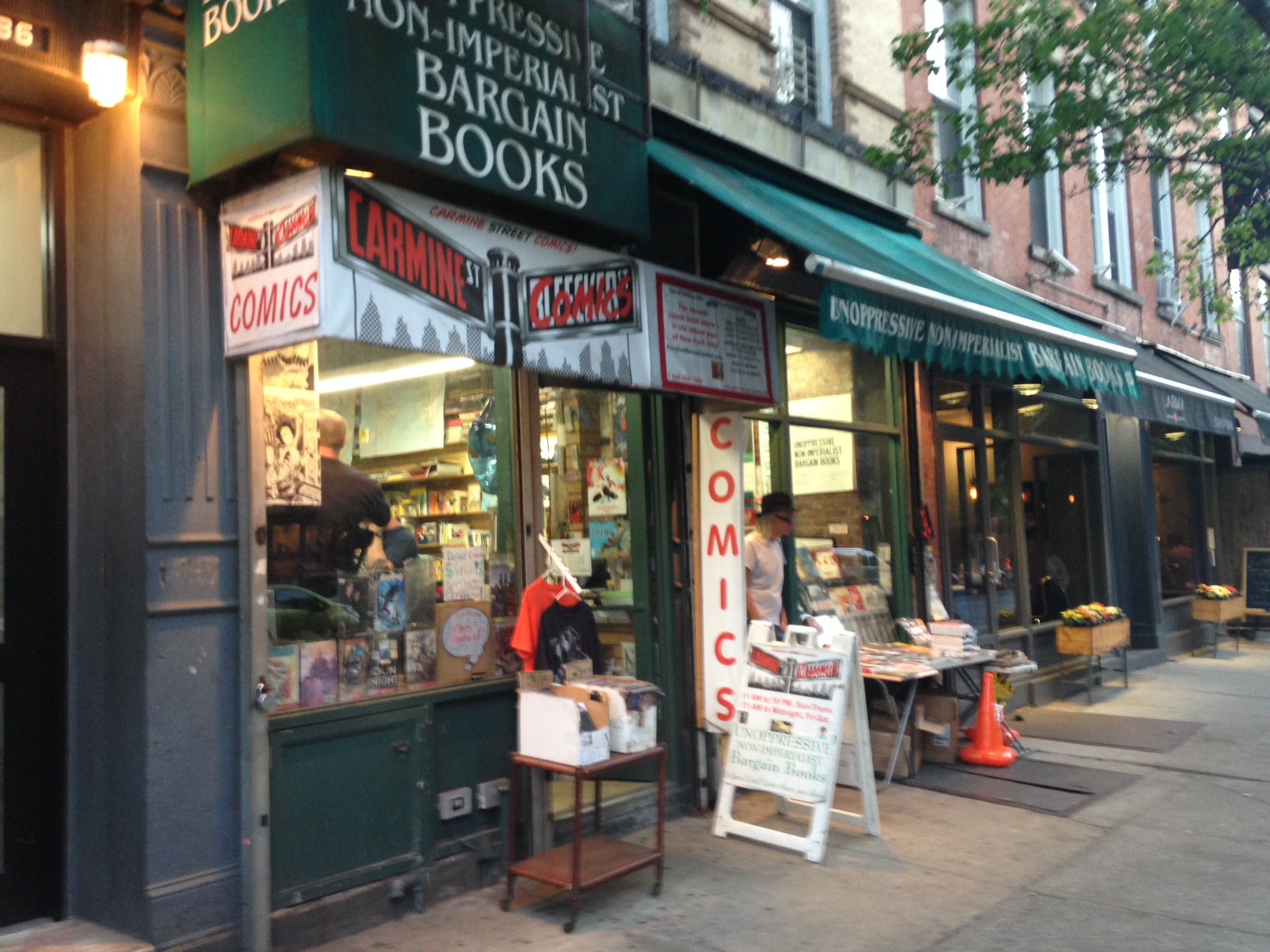 ---
<!z--XXXXXXXXXXXXXX NEW PHOTO XXXXXXXXXXXXXXXXX--> <!z--XXXXXXXXXXXXXX NEW PHOTO XXXXXXXXXXXXXXXXX-->

Mercer Books - (used) - Greenwich Village



---
<!z--XXXXXXXXXXXXXX NEW PHOTO XXXXXXXXXXXXXXXXX--> <!z--XXXXXXXXXXXXXX NEW PHOTO XXXXXXXXXXXXXXXXX-->

Westsider Books - (used) - Broadway - Upper West SIde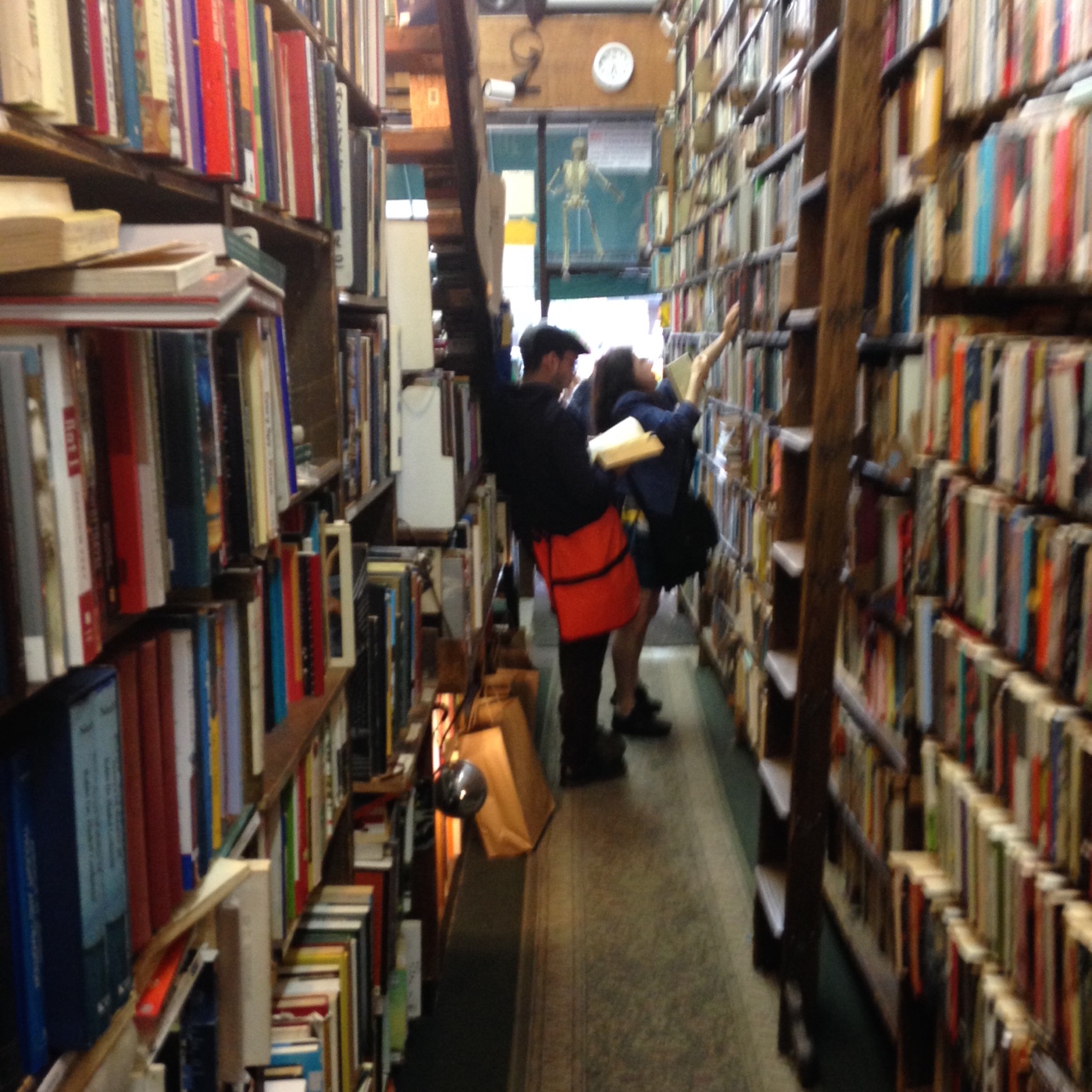 ---
<!z--XXXXXXXXXXXXXX NEW PHOTO XXXXXXXXXXXXXXXXX--> <!z--XXXXXXXXXXXXXX NEW PHOTO XXXXXXXXXXXXXXXXX-->

Westsider Recoirds (and books) - (used) - 72nd Street - Upper West SIde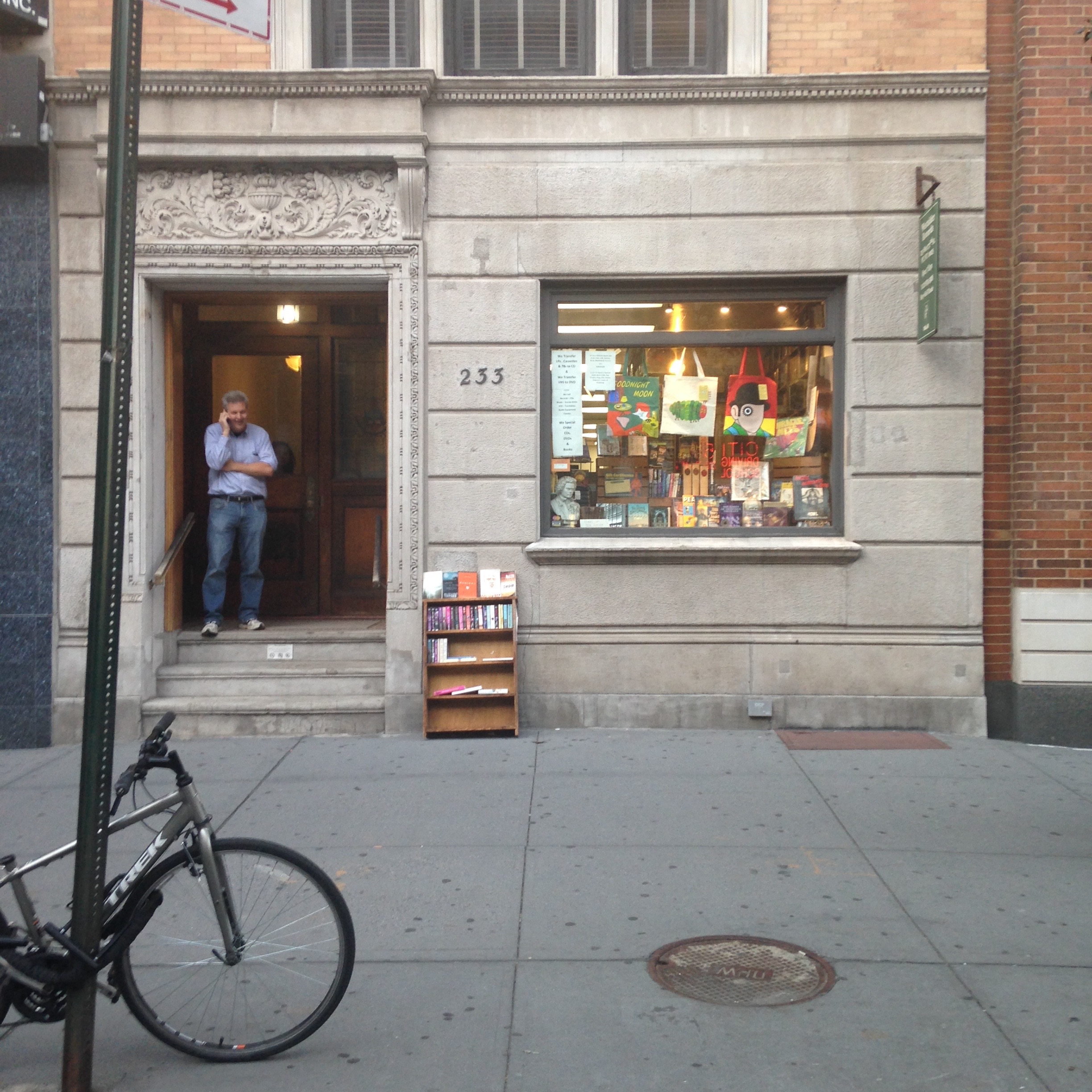 ---
<!z--XXXXXXXXXXXXXX NEW PHOTO XXXXXXXXXXXXXXXXX-->