Paul Simon: "Still Crazy After All These Years" Album Cover Location


---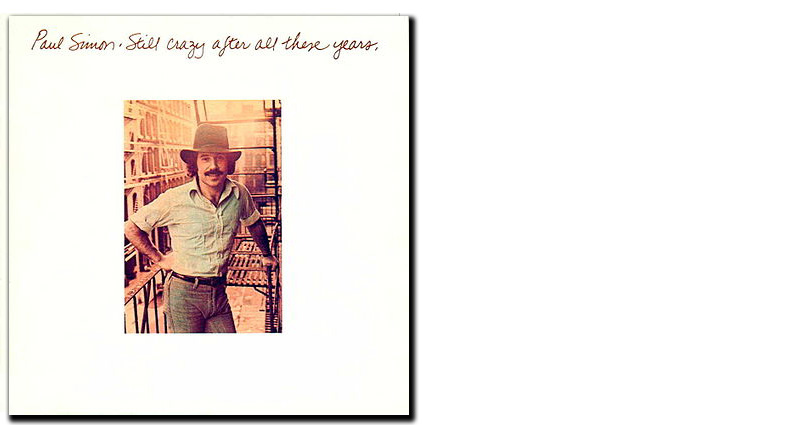 The album cover. (Columbia Records)
---
The album cover was photographed in the Soho neighborhood of New York with Paul standing on a fire escape at the southern end of Crosby Street just north of where it meets Howard Street.
I've put the album cover on the 3rd floor fire escape, on which I calculate the photo was taken.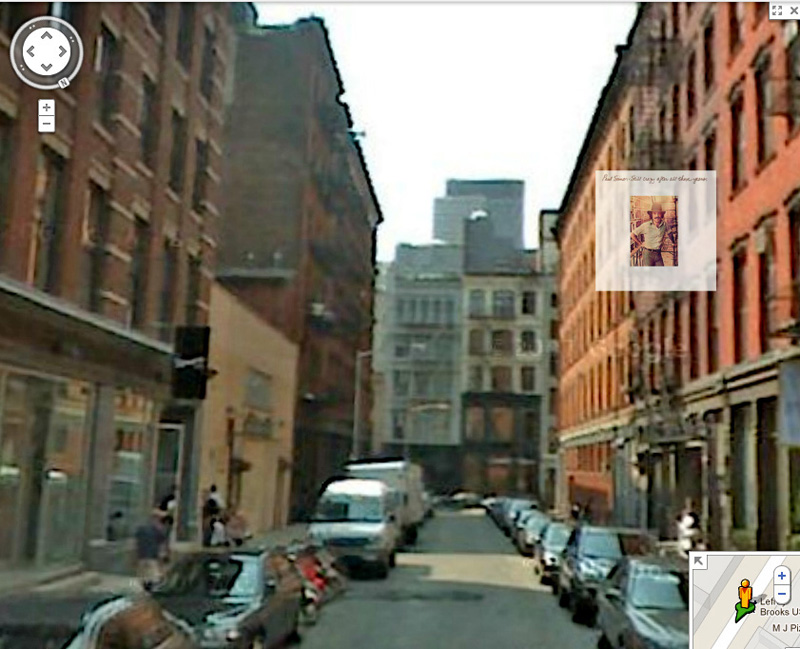 (photo: Google Street View)
---
The fire escape is above the doors of #10 and #12 Crosby Street. That is the wider, back-half of a building that has a front on Broadway at 506 Broadway in Soho's historic cast iron district.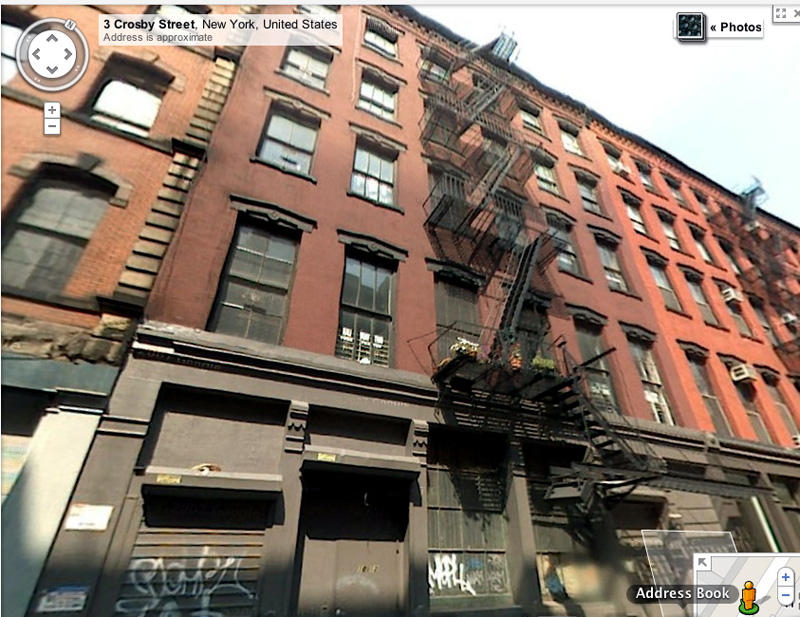 (photo: Google Street View)
---
The photograph was taken in 1974 or 1975 by Edie Baskin, who was dating SImon at the time. Edie Baskin was the official photographer for Saturday Night Live. Each week she took the shots of the hosts and music performers that would be hand tinted and shown during the shows introduction and before and after commercials.
According to the book Thirty-Nine Years of Short Term-Memory Loss: The Early Days of SNL by Someone Who Was There by Tom Davis and Al Franken, Edie knew the producer, Lorne Michaels, from California, and when he moved to New York to begin the show, he asked her to be the photographer. If the name sounds familiar, she as also the daughter of Baskin of Baskin-Robbins Ice Cream fame. She is currently a photographer in Beverly Hills.
---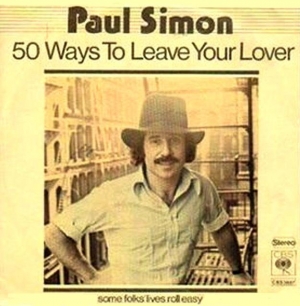 (45: Columbia Records)
The album featured the 1975 hits, "50 Ways to Leave Your Lover," "Still Crazy After All These Years," and "My Little Town" - the latter in a reunion with Art Garfunkle. It won the Grammy for Album of the Year in 1976.
---
---
---
How I found the album cover location...
---
---
---
In a way, I had been looking for this site since 1977, when I moved to New York and ended up living on Broome Street at Broadway in a loft that, it turns out, was 2 blocks from where this photo was taken.
The key mystery of the photo was that the street Paul was on came to an end at a "T" and most streets in New York don't. So in the intervening years when I would see a street coming to a "T" in Soho, Tribeca, or Nolita (which was northern Little Italy then) I would think of the album, but I never pursued an exact matchup...
until a month ago...
... at which time I said that now that I have Google and Bing Maps "I should be able to find this scientifically."
---
So I made a map of the three neighborhoods I just mentioned - the areas with the most cast iron buildings, like in the photo - and marked off all the intersections that came to a "T" with red circles.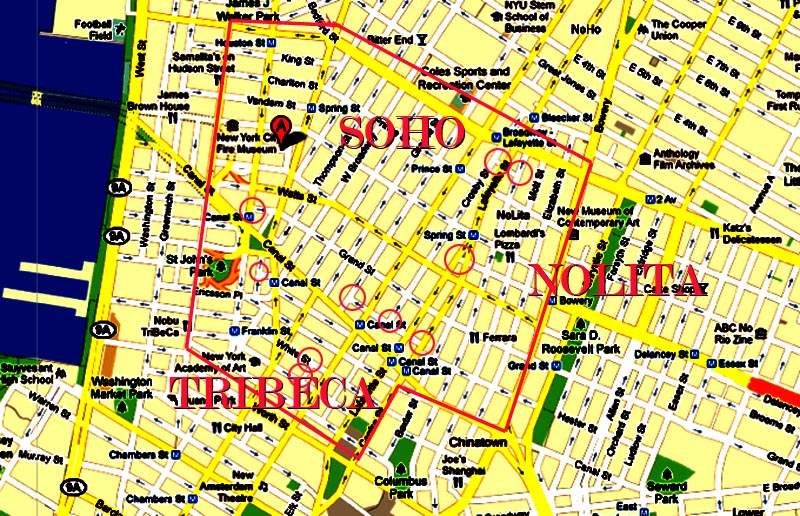 (map: Google Maps)
---
Meanwhile, by Googling the album title, I was eventually able to find out the connection between Paul and Edie Baskin, who I had found out was the photographer. And while I wasn't able to find out her address during the late 1970's, by further Googling her name in books and blogs, I discovered that she had once had a photo exhibit at Central Falls, a restaurant/gallery that I remembered was in the center of Soho in the early 1980's (it was at 478 West Broadway at Houston.) So, since I figured she had frequented that restaurant, I figured her loft would be near that address.
---
So the first place I chose to look was nearby at the base of Crosby Street, where it come into Howard Street, a little street who's two ends, which also came to "t's" (offscreen), I had also marked to look at.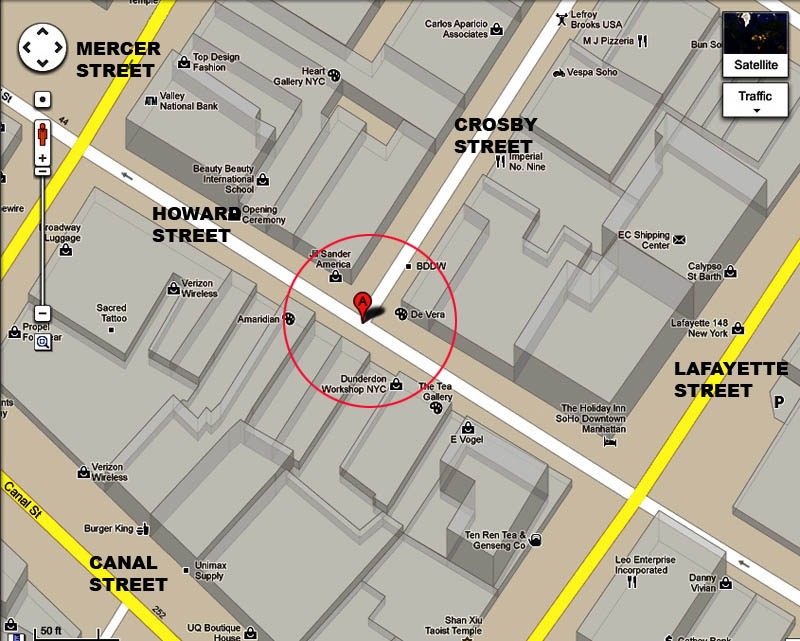 (map: Google maps)
But I never had to look at them. Because I struck gold at Crosby/Howard.
---
This was where Google Street Views landed me. I'm on Crosby looking south to Howard.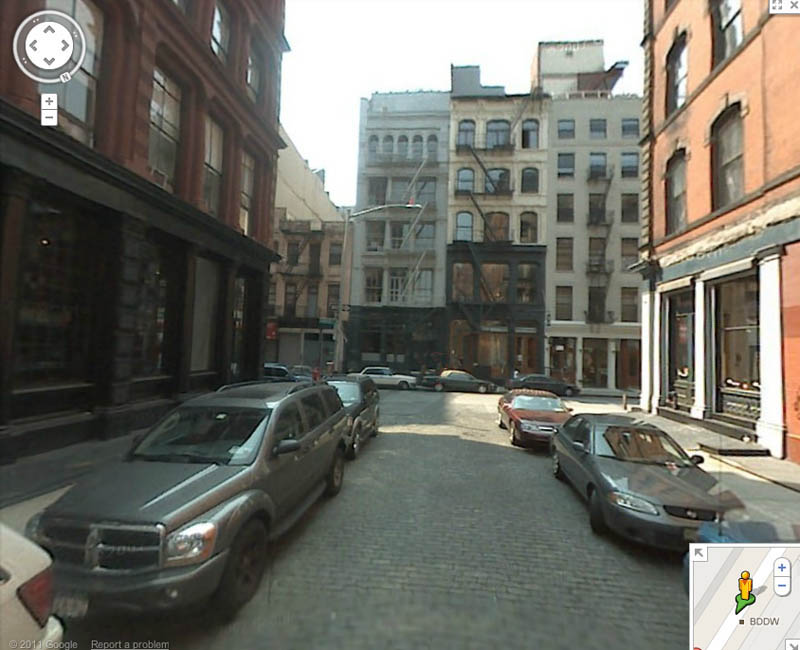 (photo: Google Street View)
So, still on Google Street Views, I pulled back, up Crosby Street, and saw this scene.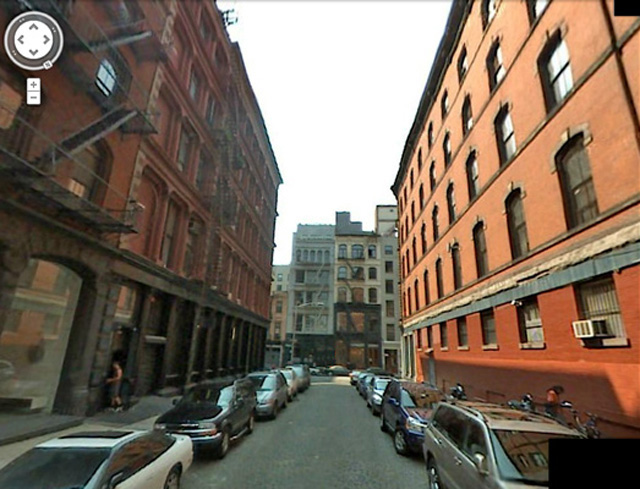 (photo: Google Street View)
---
The feeling was promising. So then I checked the patterns of the fronts of the three different buildings: there was a fire escape on the 1st building, large squarish windows on the 2nd, and the corner building had rhythmic, smaller windows....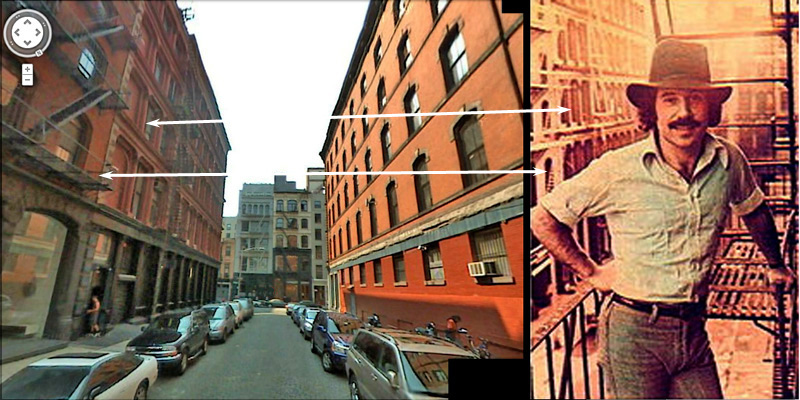 (photo: Google Street View)
...just like on the album.
---
So, I checked the scene out from above.

And all four buildings matched.

Eu-Re-ka!

.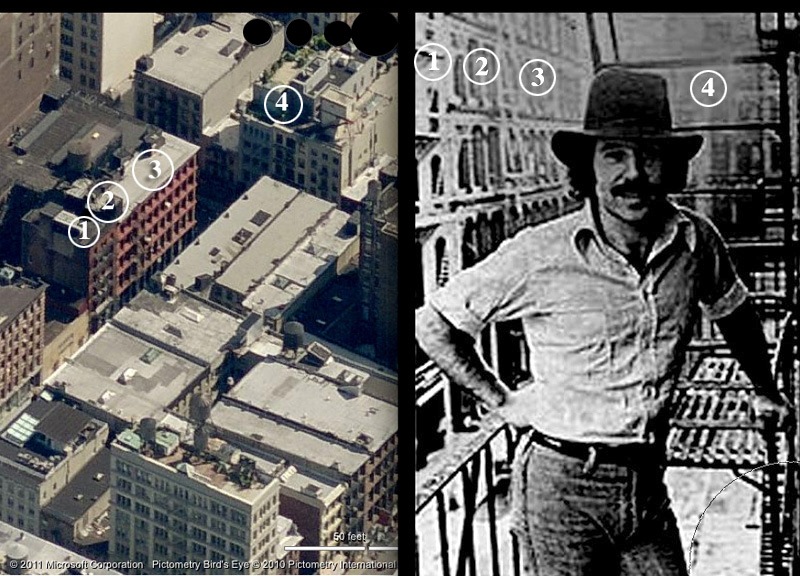 (photo: Bing Maps/Columbia Records/Baskin)
---
Not bad - it only took me 34 years.....plus an hour on Bing and Google.
---
So I went back down to the street level and, pulling back further from Howard Street, I could now see the fire escape that Paul and Edie must have been on during the photoshoot.
Here again is the album cover in the position where the photo was token (I may be off by one floor).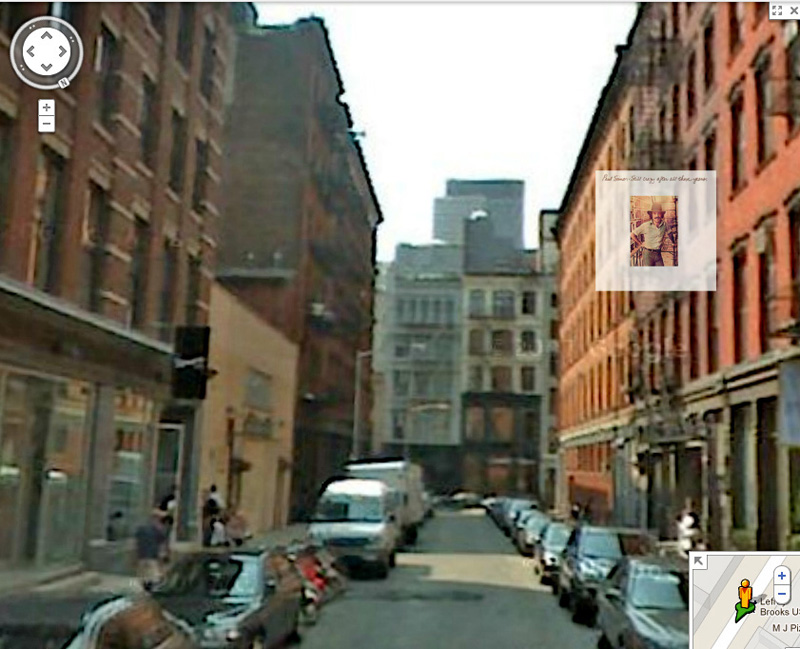 (photo:Google Street View/Columbia Records/Baskin)
---
...and here's one with just Paul. (Neighbors: "Hey, isn't that Pawl Simon up there on that fire escape? Hey, Pawl, where's Julio? Down at the schoolyawd?")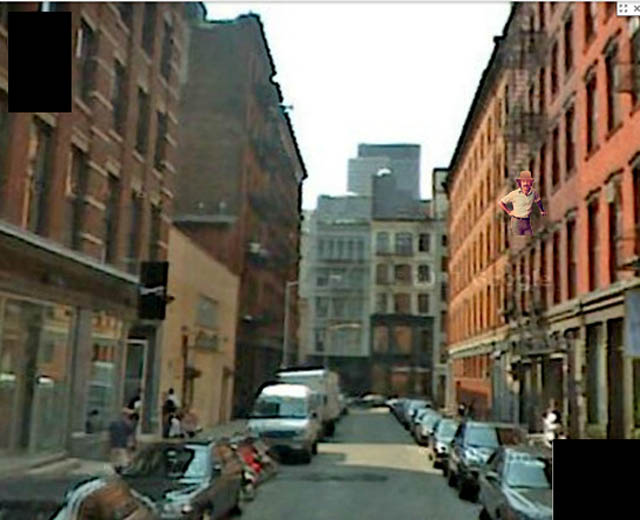 (photo: Google Street View/Columbia Records/Baskin)
---
And here's the fire escape again from below on Crosby Street..."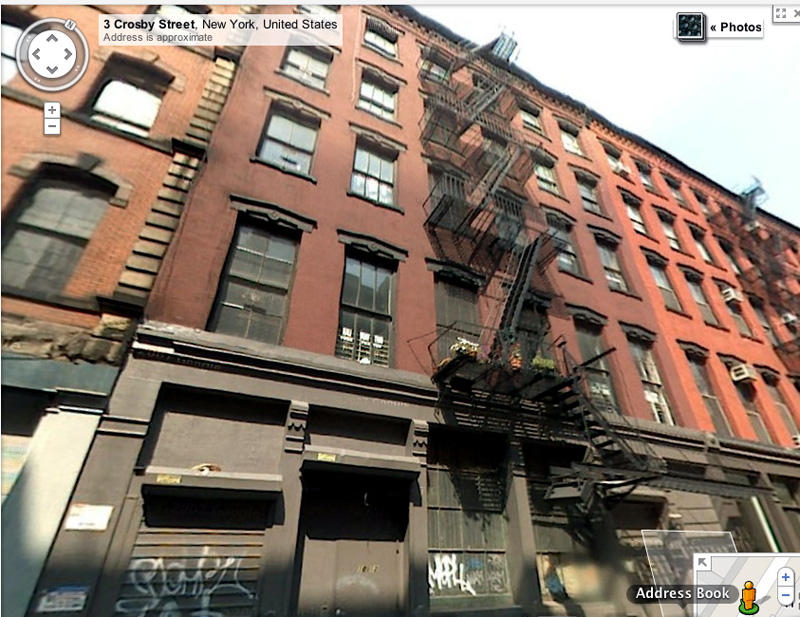 (photo: Google Street View)
---
And a map with an arrow of where the shot took place all those crazy years ago.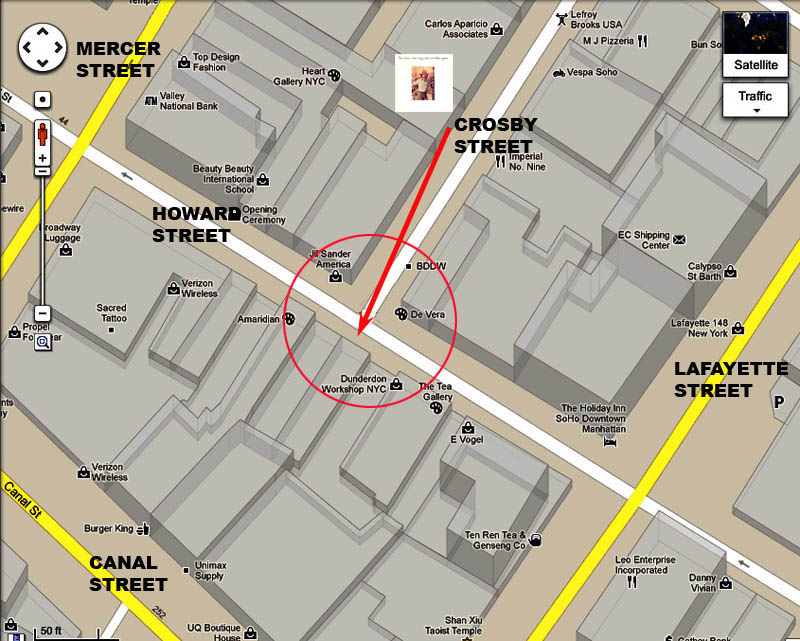 (map: Google Maps)
---
---
---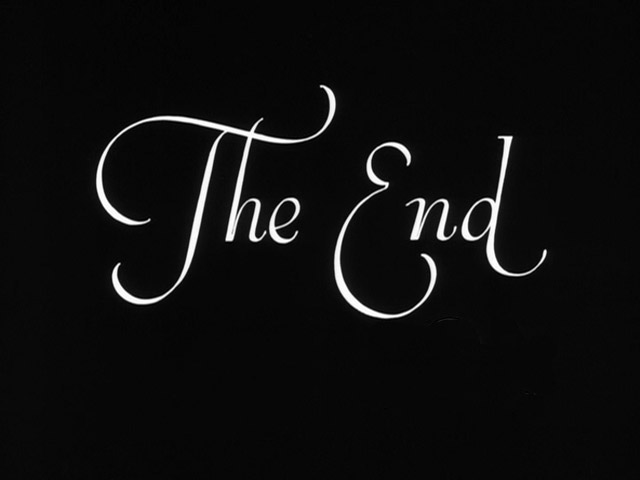 ---
---
---
ADDENDUM #1

PopSpots reader Paul Simms sent this interesting "heads up" regarding the Crosby @ Howard Street location. It's fun to check out:


Great website.

Just wanted to let you know about a funny coincidence regarding the "Still Crazy After All These Years" album cover.

In Episode 4 (Season One) of HBO's Flight Of The Conchords, the video for the song at the end ("Cellotape") was filmed in the same location -- on Crosby, looking south to Howard.

Not only that, but also: At the end of the video, there's a shot that used a forklift to raise the characters up in the air while they're singing -- so that the vantage point ends up approximating that of the Still Crazy shot.

It's here on YouTube (The relevant part starts around 3:40 in.):


Thank you, Paul!

- Bob
---
---
---
---
---
---
---
---