STREETLIFE SERENADE (1974) by Billy Joel - album cover location: Cabrillo Hotel/ Godmother's Bar - 615 South Centre Street, San Pedro, California
---
Streetlife Serenade was Billy Joel's third album (his second with Columbia Records) and was released on October 11, 1974.
---
The cover illustration was painted by Brian Hagiwara and the art direction and design was by Ron Coro.
---
Here's the album cover.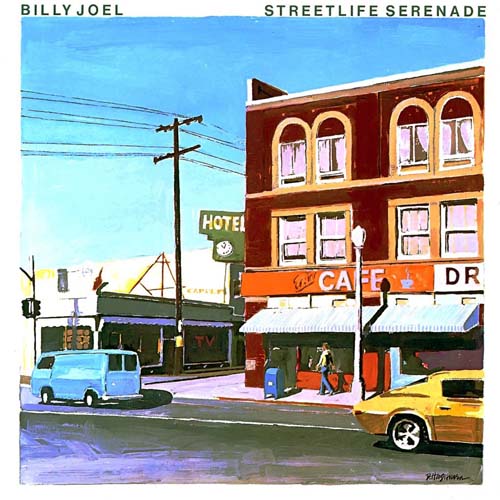 ---
The cover depicts a street corner that could be Anytown USA, although the street lamp is a popular type found in California.
The painting has similarities to some of Edward Hopper's work, such as "Nighthawks" (below) - a mostly deserted street, large areas of flat color and an overall feeling of little movement.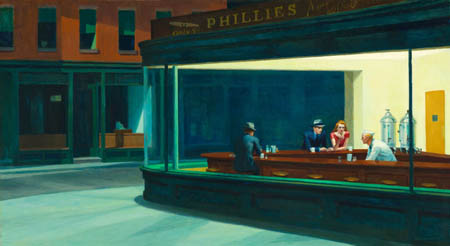 ---
The track listings include:

Side One :
1) "Streetlife Serenader"
2) "Los Angelenos"
3) "The Great Suburban Showdown"
4) "Root Beer Rag" (an instrumental)
5) "Roberta"

Side Two
6) "The Entertainer"
7) "Last of the Big Spenders"
8) "Weekend Song"
9) "Souvenir"
10) "The Mexican Connection" (an instrumental)

---
The back cover indicated that the cover was painted by Brian Hagiwara. I Googled Brian and found that he is a multi-talented artist: a painter, a graphic designer, and art director, and on top of that - a commercial photographer.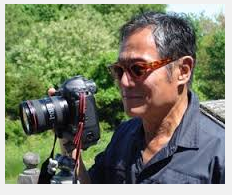 ---
On Discogs and ALL Music, he's been credit with participating in the creation of almost 100 record covers: For example:
1976 Alice Cooper: Alice Cooper Goes to Hell (Designer)
1982 Willie Nelson: Always on my Mind (artwork, cover art)
1986 The Gregg Allman Band: I'm No Angel (photography)

---
In general, I try to locate the album covers locations without contacting the photographer or illustrator, so as not to bother then -- and because it's more fun to discover it myself or with various collaborators.
But in this case, Since there were no specific clues as to the name of the drugstore, or the name of the hotel depicted, I decided to ask the illustrator, Brian Hagiwara, for assistance.
I emailed him and asked if he had based Streetlife Serenade on a real building someplace, and if so, did he remember where (as it was 40 years ago.)
He kindly responded: "Hi Bob, I did the painting based on a photo I took on a corner in old San Pedro, Ca. Billy Joel wanted an Edward Hopper like midwestern scene. I'd be surprised if that building still exited. Interesting site you have."
---

Well, that was a great lead. Thank you again, Brian.
---
Now where the heck was San Pedro, California? I had heard of it when I was growing up, because I remembered a TV show called, "The San Pedro Beach Bums." (note: It was about 5 young men living together in a houseboat in San Pedro. It only lasted from September 19th to December 19th, 1997)
So I found San Pedro on a map. It was near Los Angeles.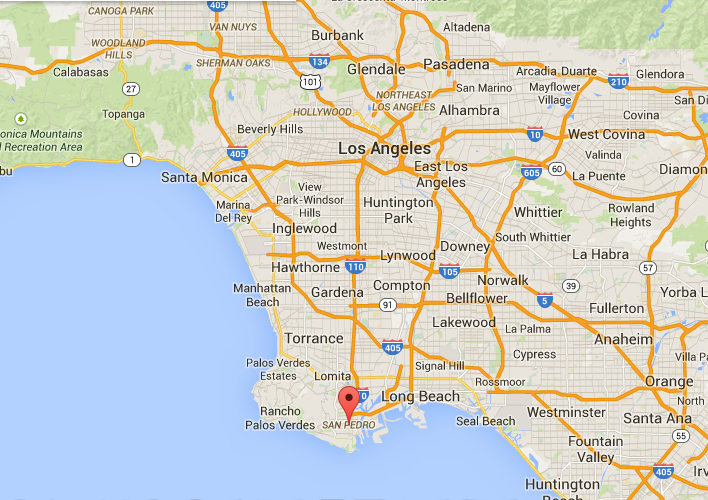 ---
---
So I zoomed in to get a feel for the town.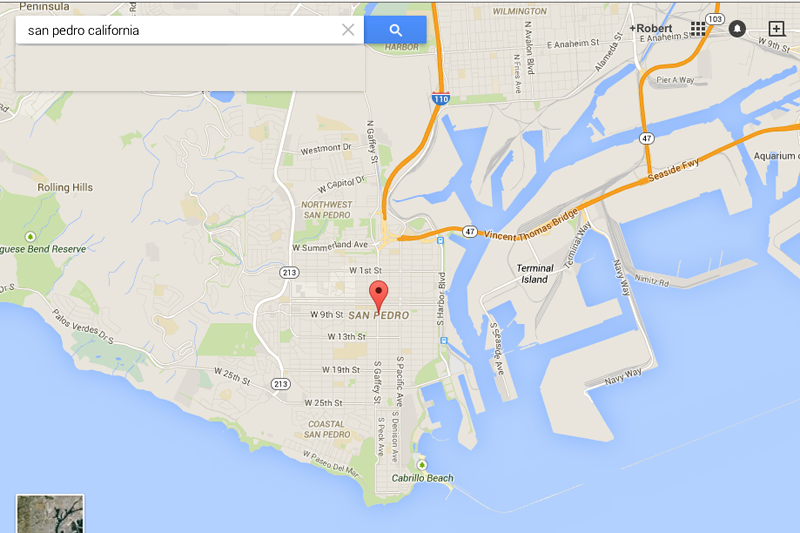 ---
When I got in close, I could see it was laid out like a classic American town in a grid shape.
Let me backtrack: When I was in college, I took an architecture course nicknamed "Gas Stations," that was really about the design of American cities (my favorite course ever).
The professor, J.B. Jackson, said that most American cities start at either a river or a railroad track, which is often called River Road or Depot Way, then are numbered 1st Street, 2nd Street, and 3rd Street, etc, from there.
The center of town us usually near 5th or 6th Street. Big example: New York City - Fifth Ave is the center of town, right in the middle.
San Pedro was layed out a little differently - but the streets were numbered, and as I thought the center of town was about 5th to 7th Streets, so I concentrated my search there.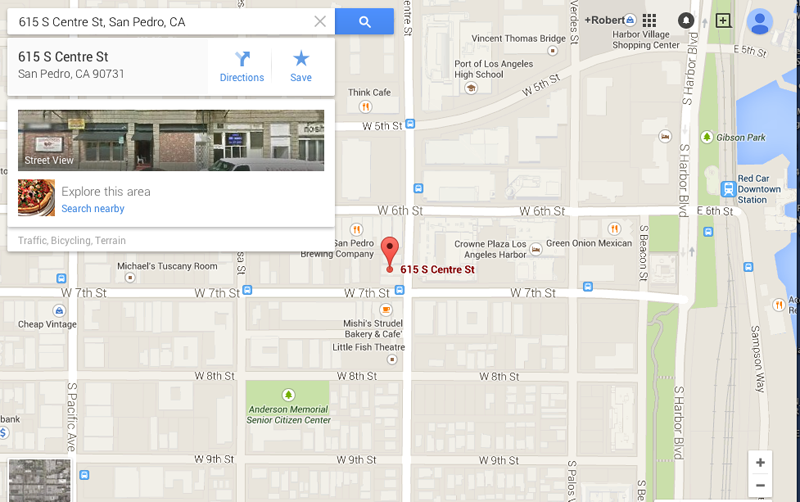 ---
---
So I went to Google Streetview and "landed" on 5th Street and started prowling around, moving down the streets and checking out what buildings looked like Streetlife Serenade. For example, this one did not. (The album is on the right for comparison.)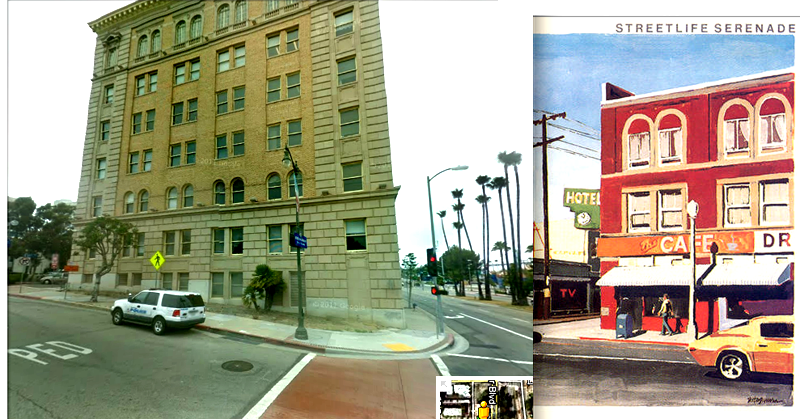 ---
---
Pretty soon, having through most of downtown San Pedro, I came up on this building, that had a green sign saying "HOTEL CABRILLO." It had the right height, and the green of the sign looked like the green in the sign in Streelife.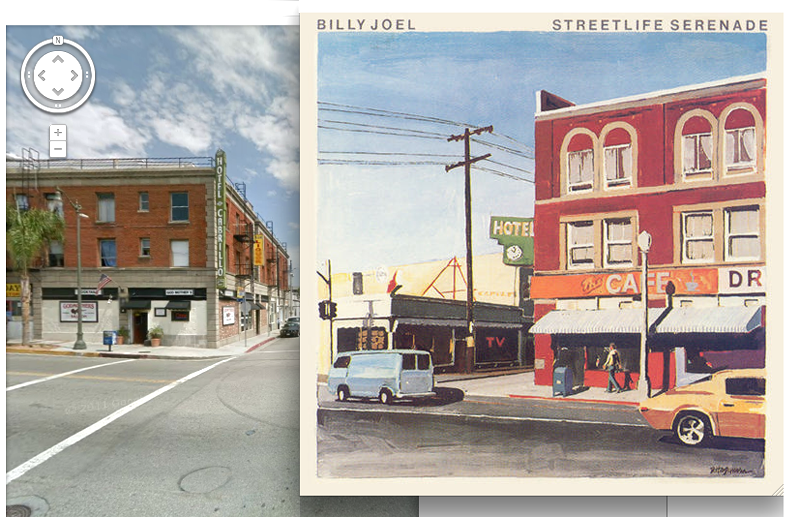 ---
So I checked it out from another angle. Bingo! There were certain differences in the windows, and no streetlight, BUT THE OVERALL FEEL felt the same.
An artist could easily have made the painting from the picture on the right from a photo of the building on the left.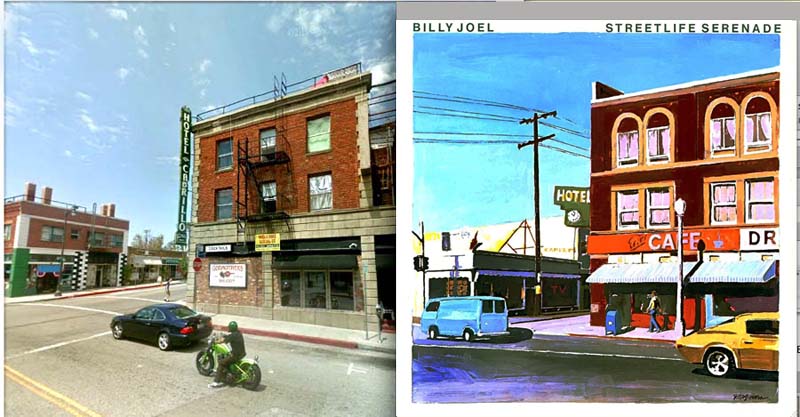 ---
So, I wrote back to Brian, sending along the picture.
And he wrote back (to paraphrase, since I've misplaced the email in a computer move):

"I think you found it. That certainly looks like the building I based the cover on. Who would have thought it would be up after all this time."
So I had located it!. Right at 615 South Centre Street in the center of San Pedro. J.B. Jackson had come through.
---
Let's look at it again. Here's the street corner. . .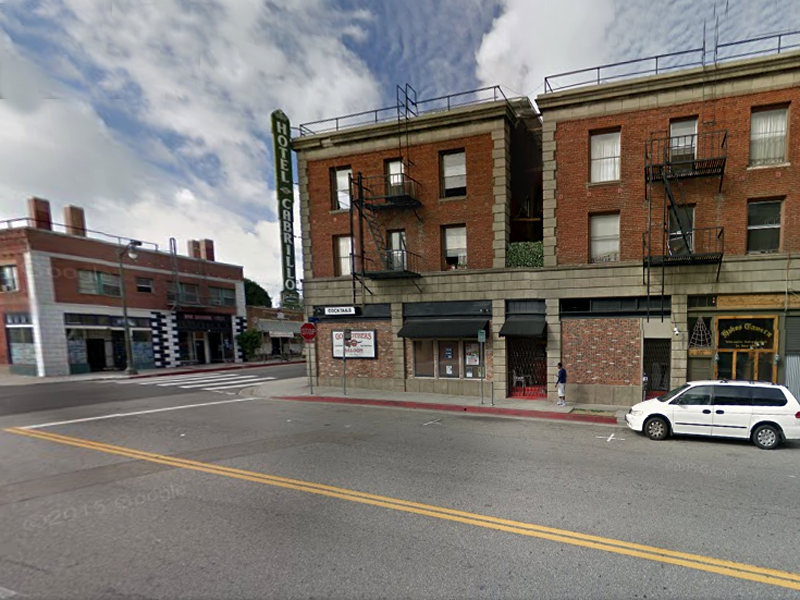 ---
. . .and here's the PopSpot.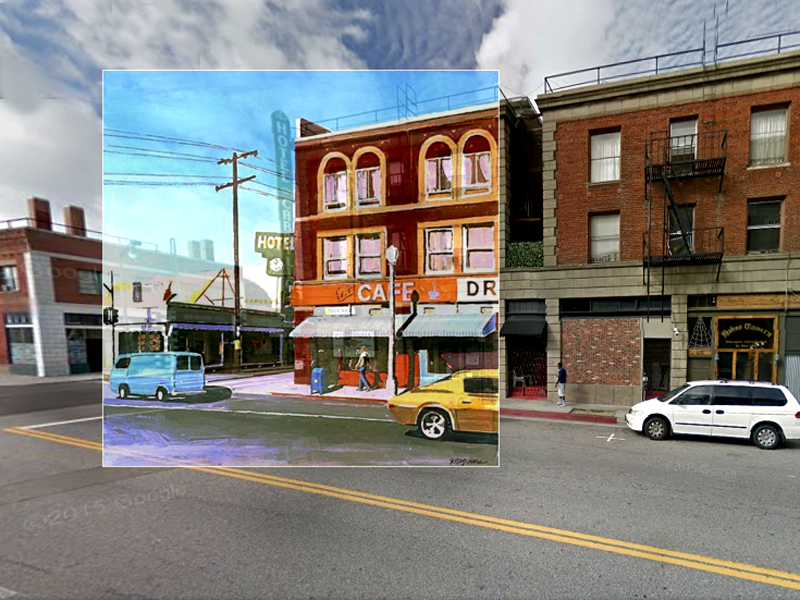 ---
---
Now I wanted to know more about the building and what was inside. This was after all, historic to Billy Joel fans and could be a place they want to visit.
So I did some Googling. Here's the first thing that came up:
---

---
It was a hotel that was closed.
So, I clicked for more information...and under the wording "Yelpers report this location has closed" there was a picture of an empty hotel entrance.
So I guess Billy Joel fans wouldn't be saying in the hotel part.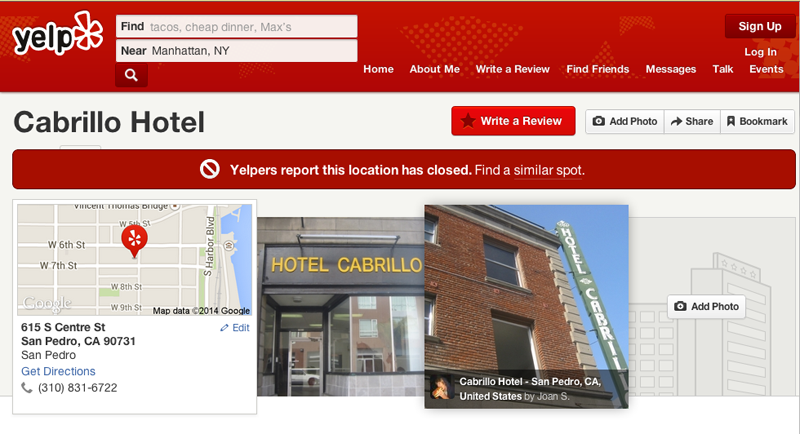 ---
I looked on some more sites. . . like this, where a former resident says there's a dive bar on the ground floor. That sounded promising.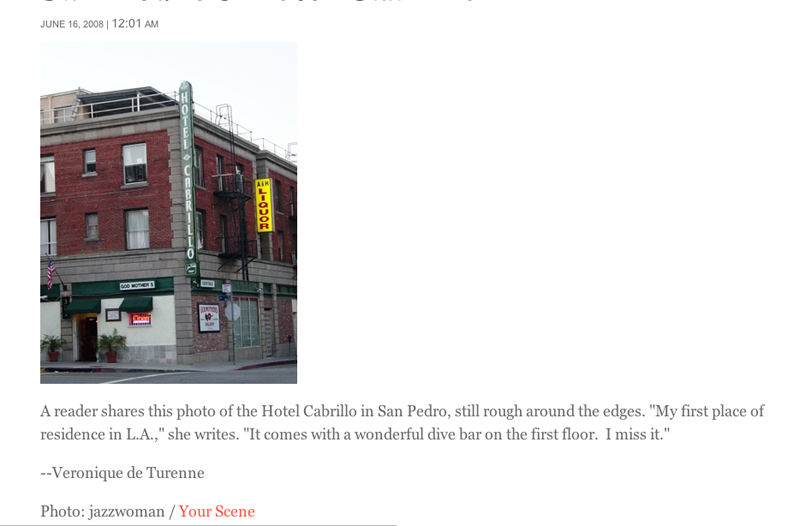 ---
As we can see in this photo, the bar is called "Godmother's."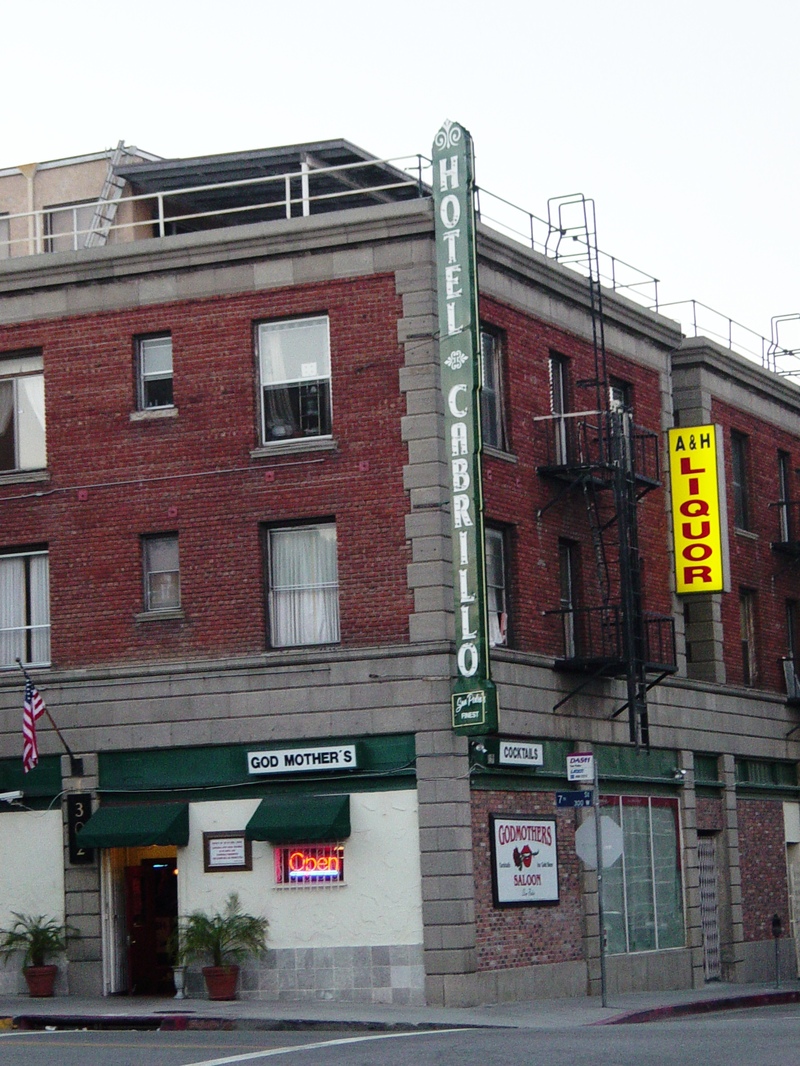 ---
On Flickr, Marshall Astor added that there was a diner called "Happy Dave's" on the side. Good to know if you're on a Billy Joel pilgrimidge.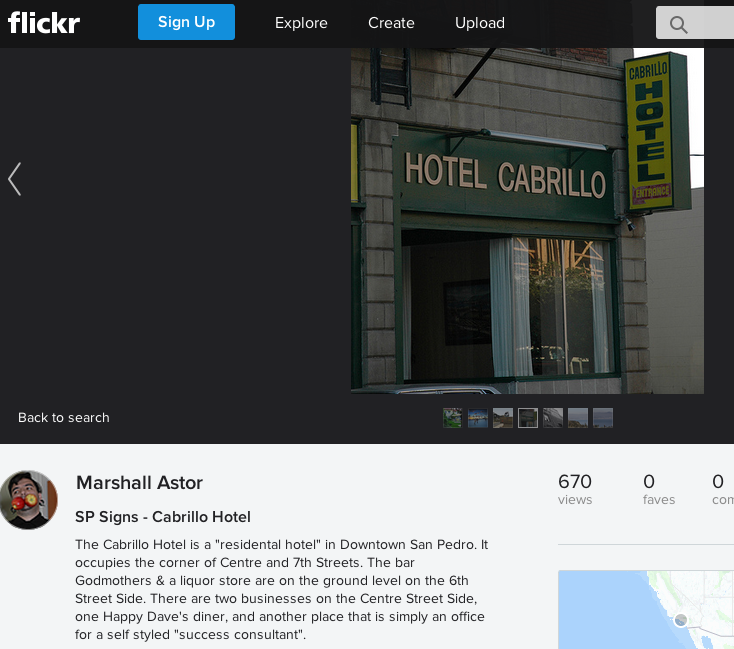 ---
Again on Flickr, Chris says it's perfect for sailors. And Kent adds that They film Dexter and movies there. Well, that's pretty cool.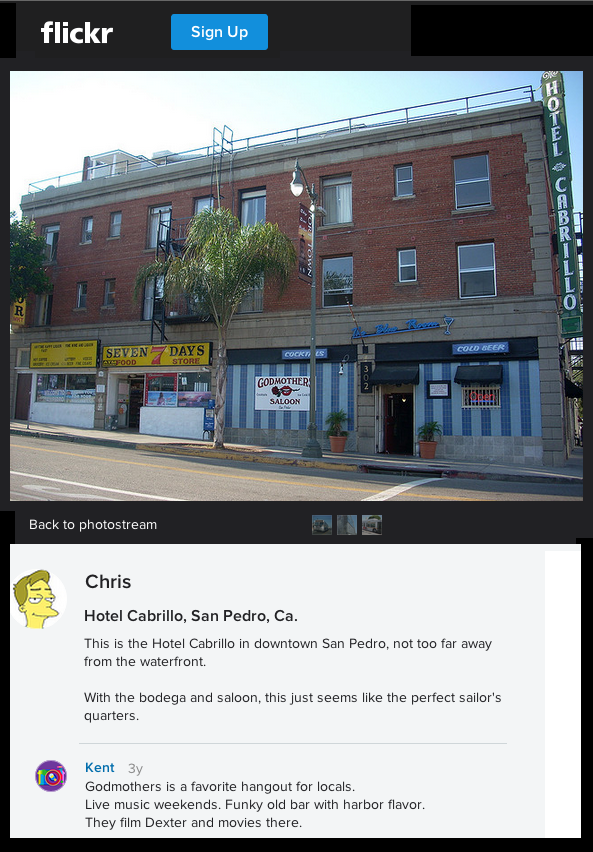 ---
So I lookd up Dexter filming locations. And sure enough, they use "GodMothers" as a place called "The Blue Room Bar."

---
So, if you visit, you get two PopSpots in one - Billy Joel AND Dexter.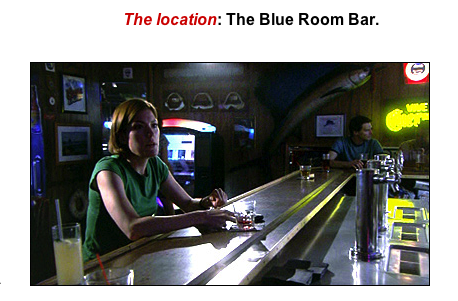 ---
Hey, while we're here, why don't we check out Godmother's courtesy of Google Street views.
Here's the entrance.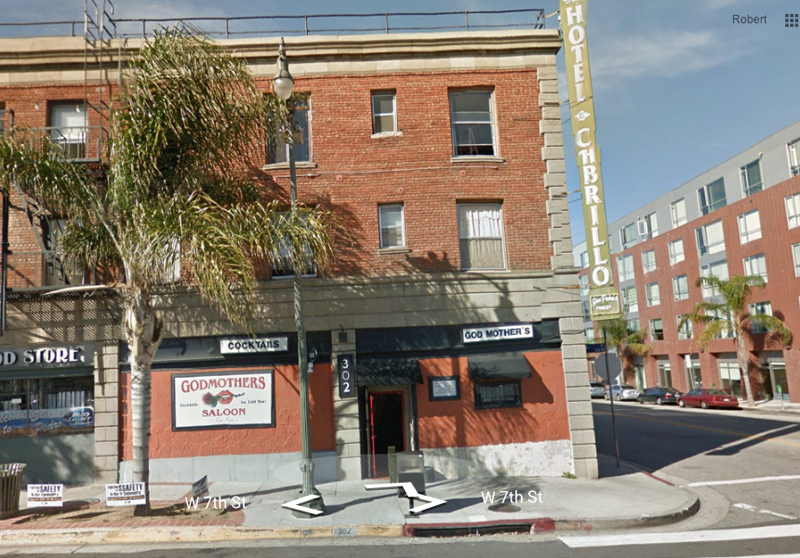 ---
You go through the red curtains...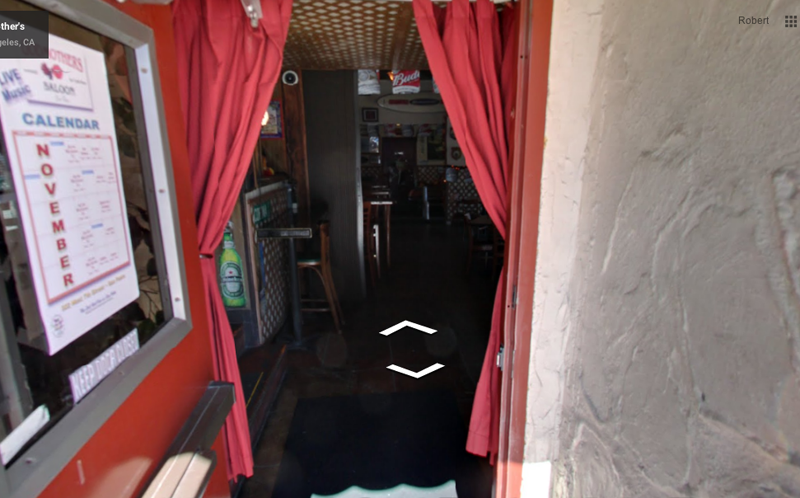 ---
There's a big room straight ahead of you. But if you turn left...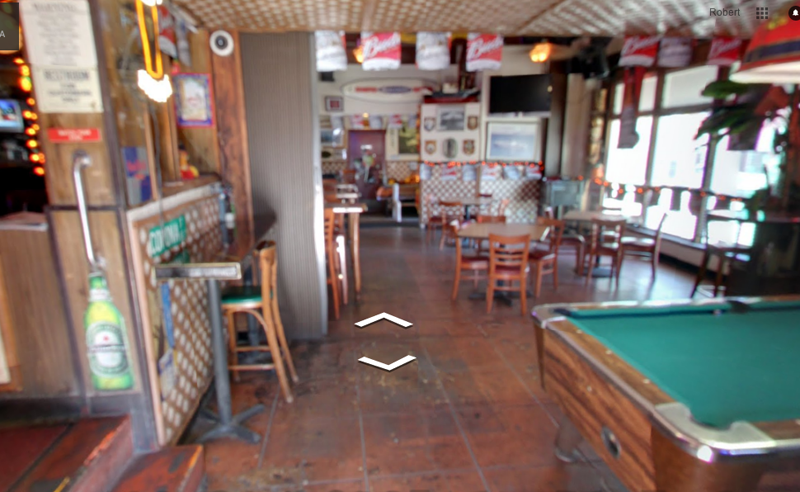 ---
...you walk into the barrrom.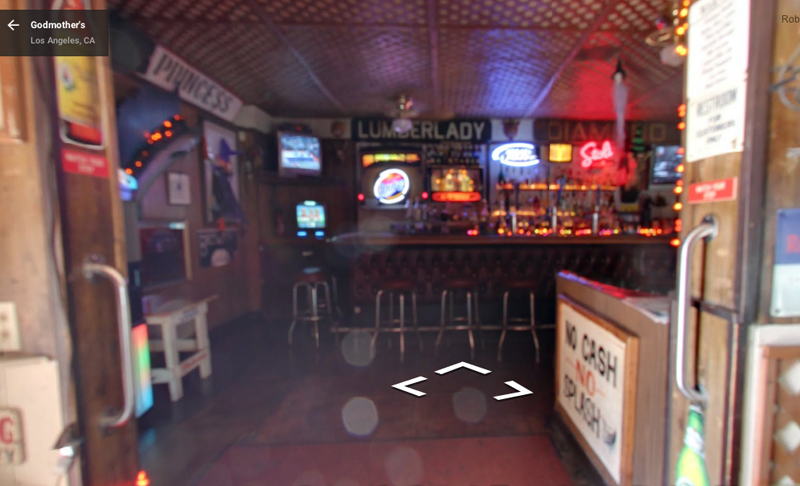 ---
So, in this photo, I've walked to the other end of the bar and turned around - right next to where the character in Dexter was sitting. Ah, the wonders of Google!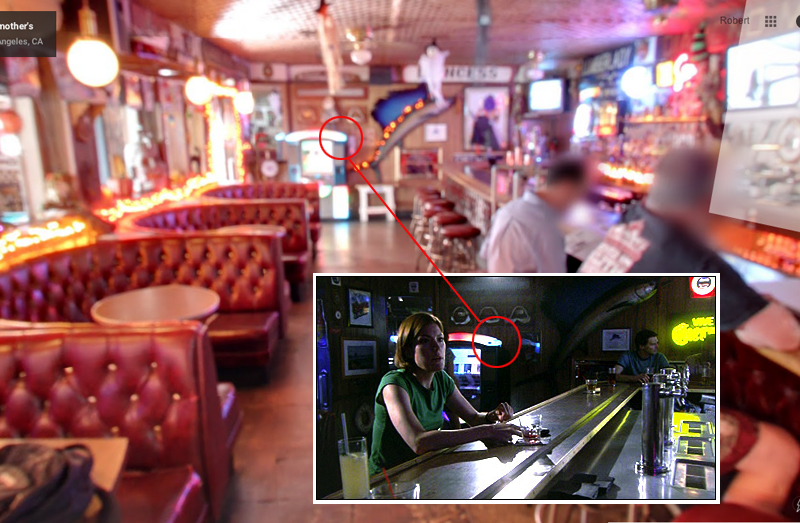 ---
Here's an aeriel shot of the building. Looks like there would have been a lot of hotel rooms.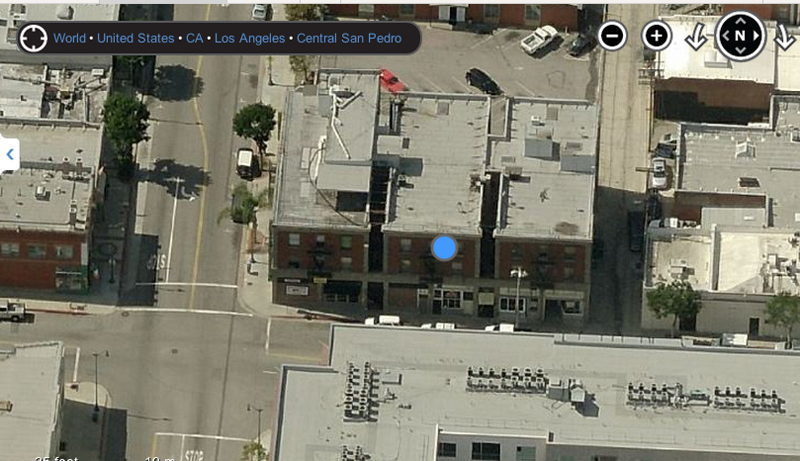 ---
Here's another shot from the angle Brian Hagiwara painted the album cover.
---
Here's the other side of the building.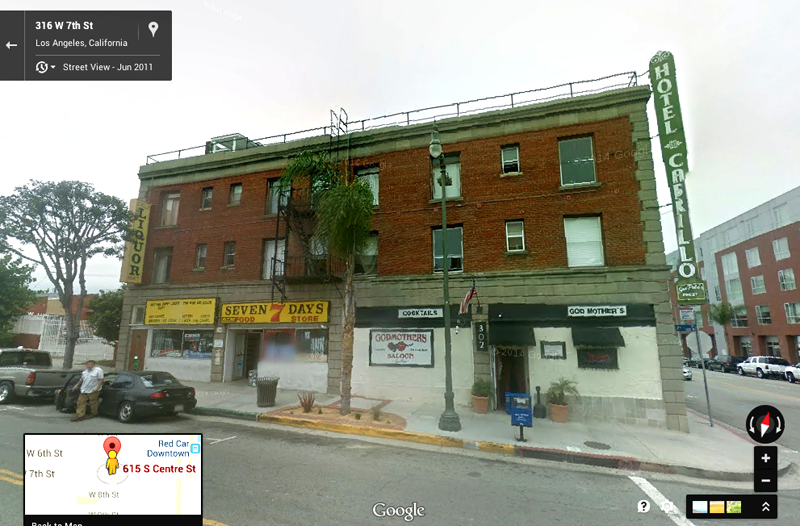 ---
And here are the building across the street - on the left on the cover.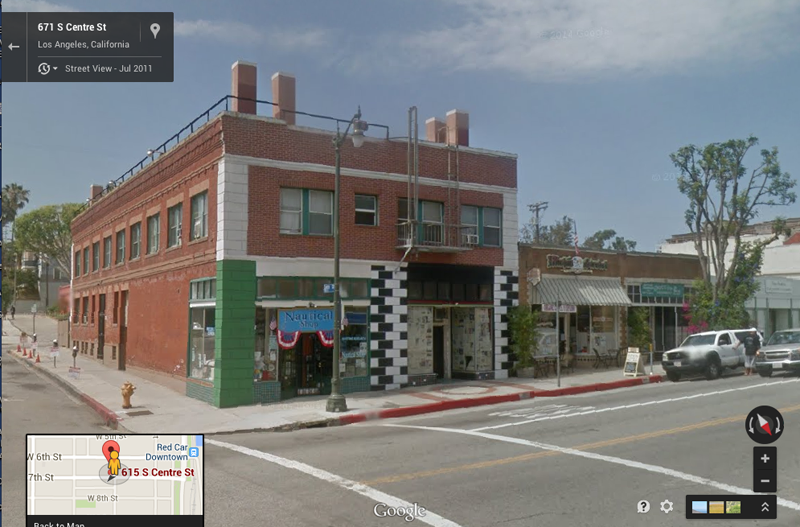 ---
So, while researching this, I found a lot of promotional material for the record that I thought you might enjoy. Here's an ad.
---
This looks like a series of small promo newspapers to hand out at record stores.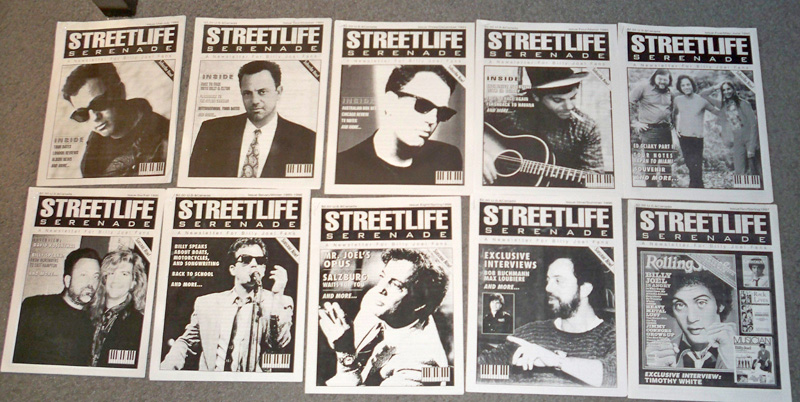 ---
And here's an ad that was in Rolling Stone.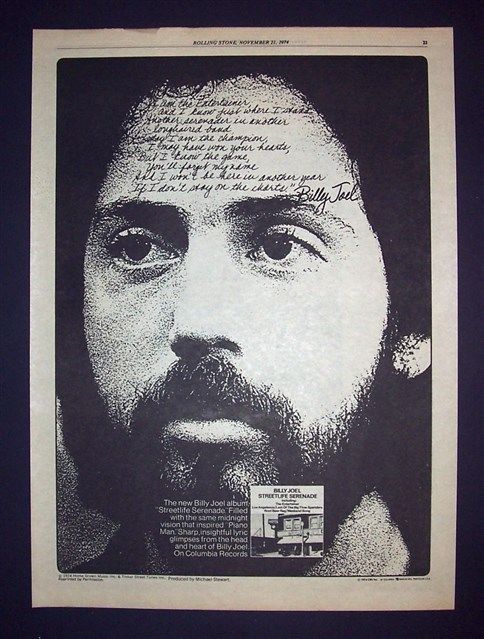 ---
Now, as I gather material for these Billy Joel PopSpots, I keep a file of other Billy Joel photos that I have come across that I figure fans would like to know the locations of, because I get a lot of emails from Billy fans who say they come to NYC to see all the places on PopSpots where Billy's albums were shot, etc.
So here are some more, for your viewing pleasure.
In this first photo, Billy is on 59th Street at 6th Avenue, across from Central Park. In the background was the doorway to what was the former St. Moritz hotel.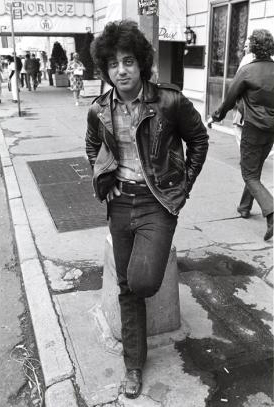 ---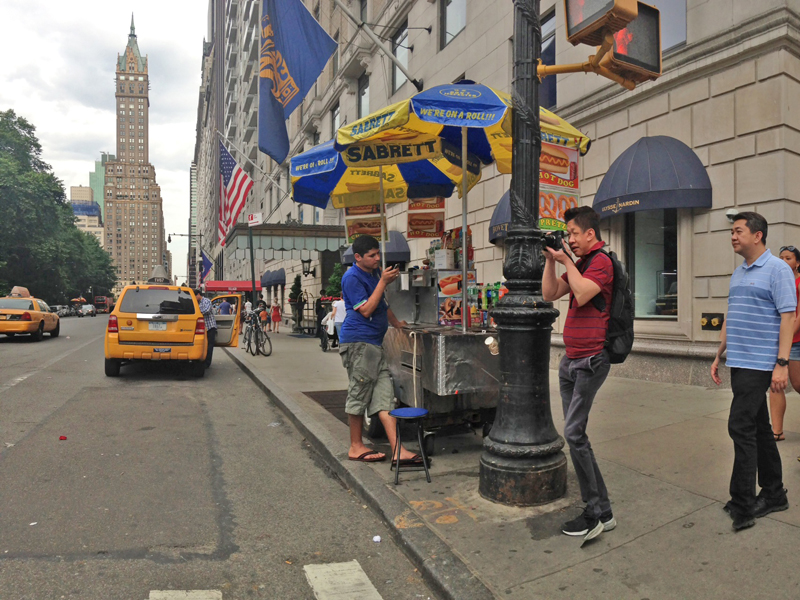 ---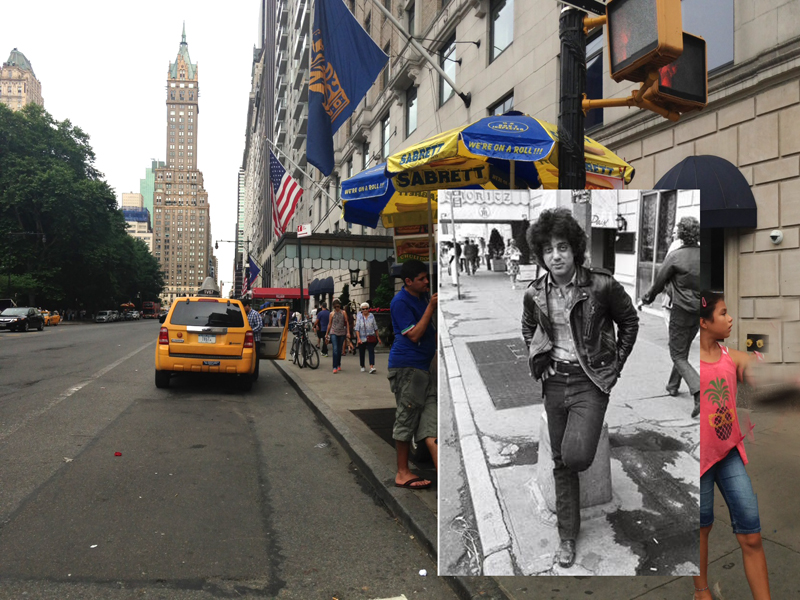 ---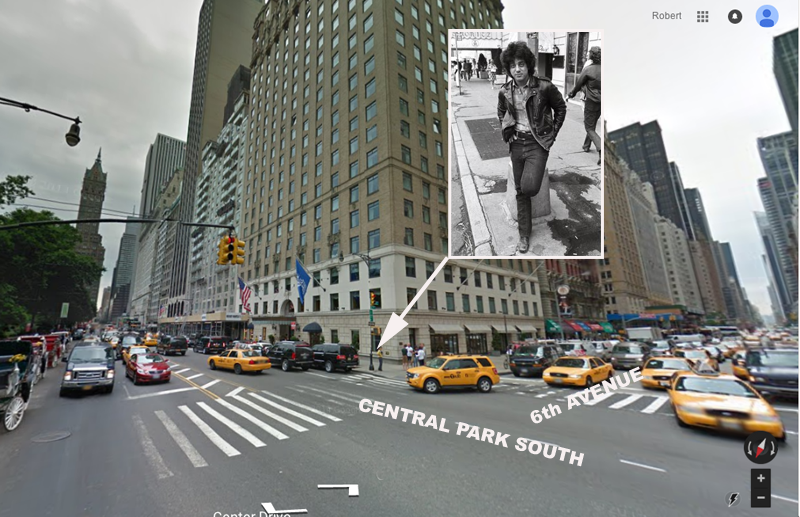 ---
---
This picture didn't have many clues in it. But once I knew the other shot was 59th Street, and he was wearing the same clothes, I "prowled around" on Google Streetview until I got a background match a few blocks away.
The Columbia/CBS Records headquarters is nearby and maybe he met the photographer there before walking around.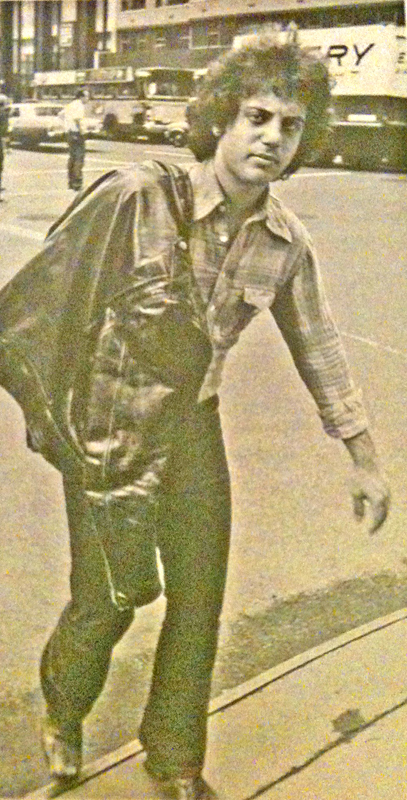 ---
This is taken from the southwest corner of West 55th Street and 6th Avenue, looking north
---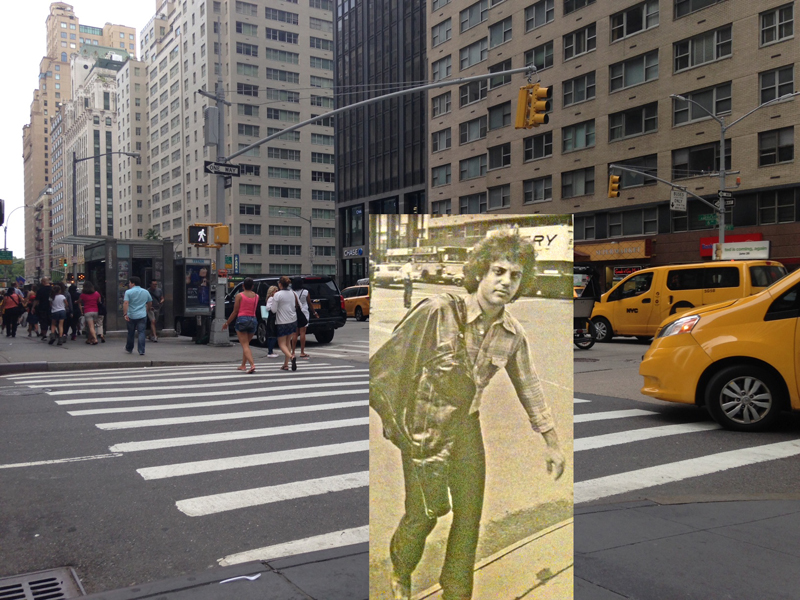 ---
Here's a wider version.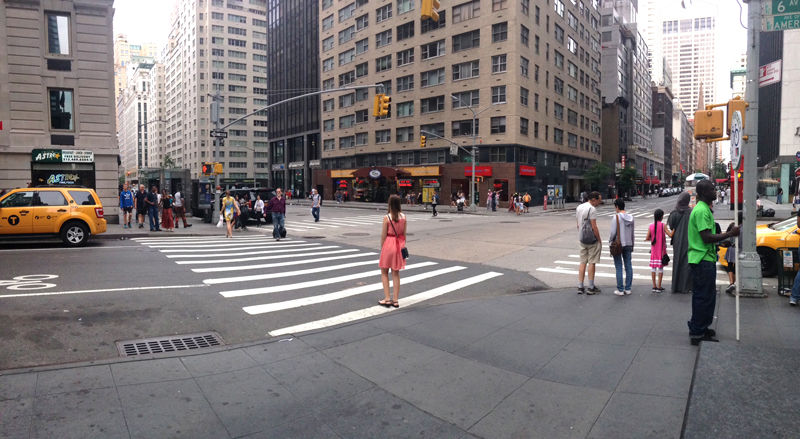 ---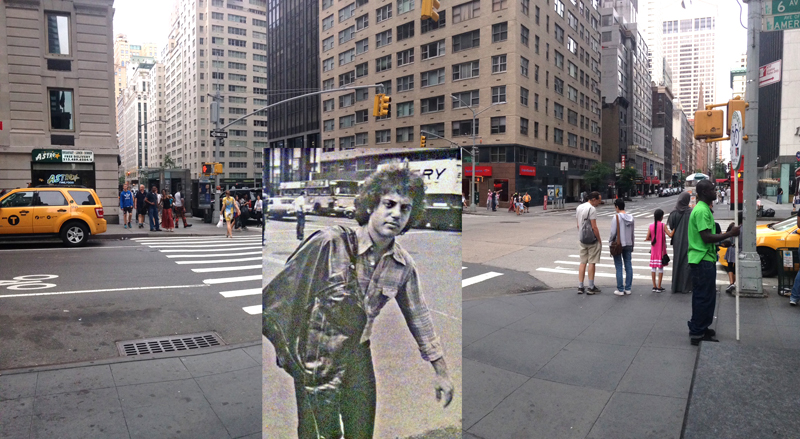 ---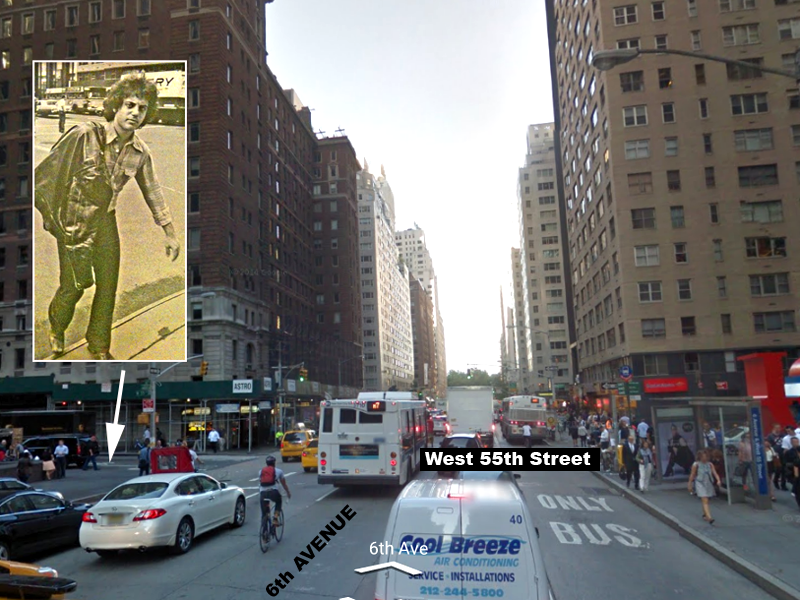 ---
This shows where the shots were taken in relation to each other.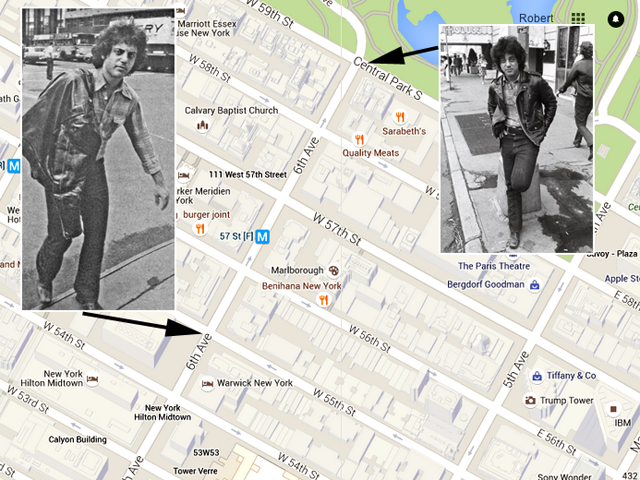 ---
Here's a promo shot of Billy's early band called "The Hassles." They are in Central Park. The picture is taken with a fish-eye lens.
In the background is an often-photographed bridge called Bow Bridge which is about 1/4 mile east of the West 72nd Street entrance to the park.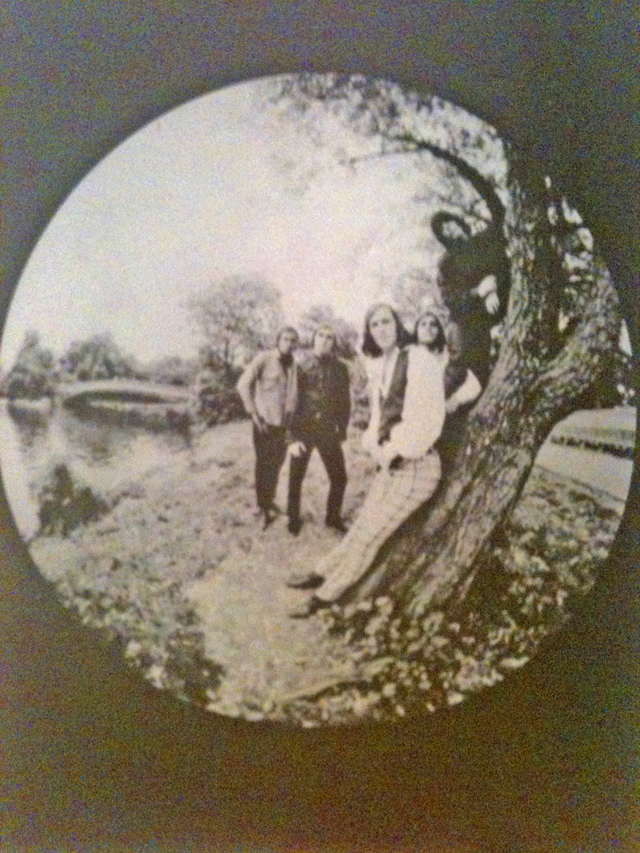 ---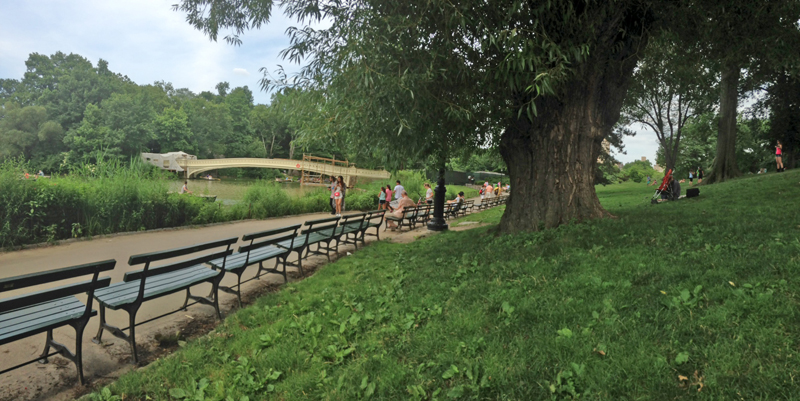 ---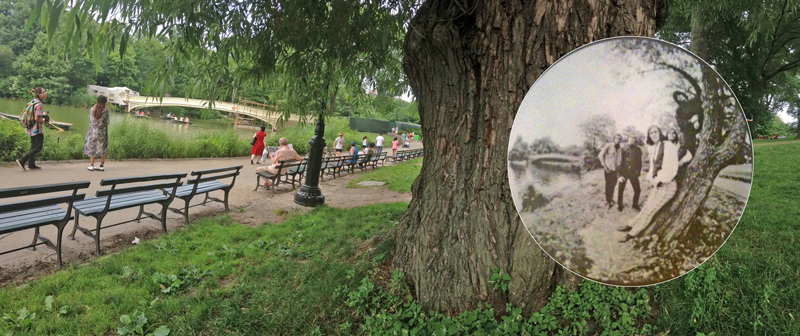 ---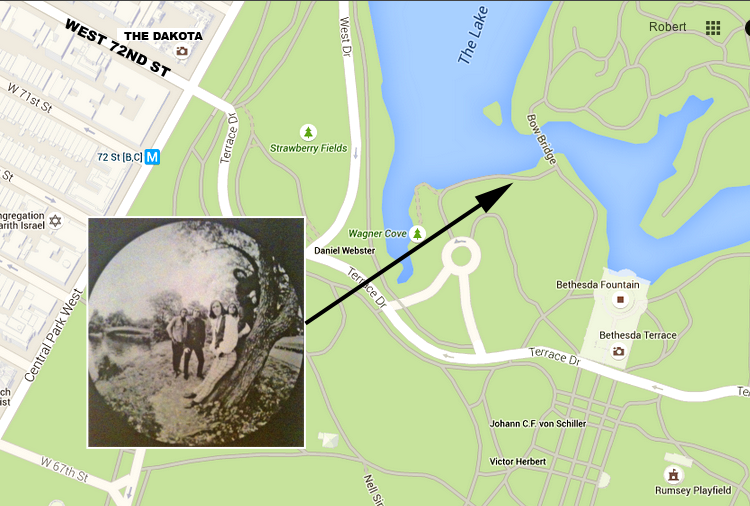 ---
Here's the cover for "Kontsert" (Concert) - the live album Billy recorded in the former U.S.S.R. in 1987.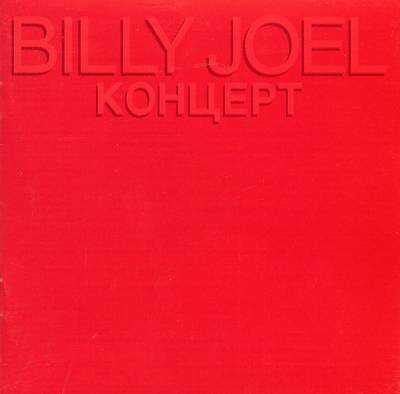 ---
On the binside of the cover is a small photo of Billy in Red Square, Moscow, taken by Neal Preston.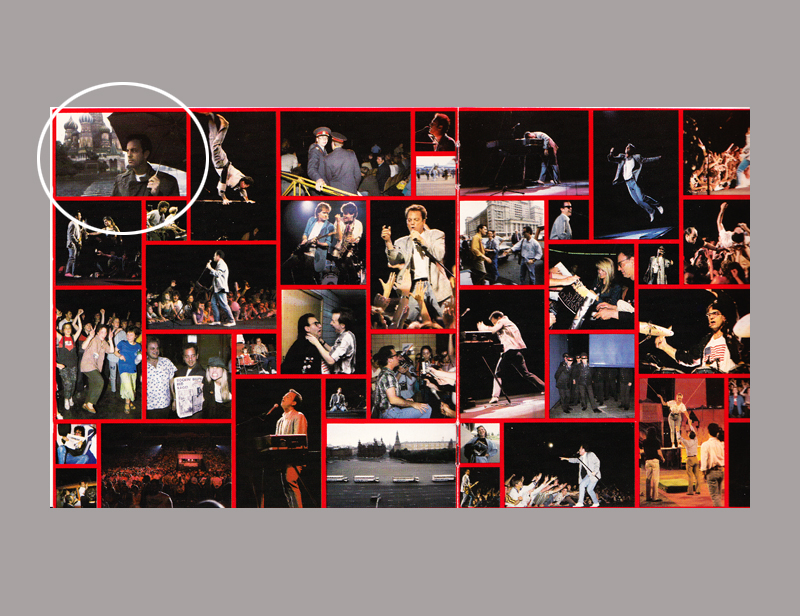 (photo by Neal Preston)
---
A bigger version is on the 45 for "Back in the U.S.S.R."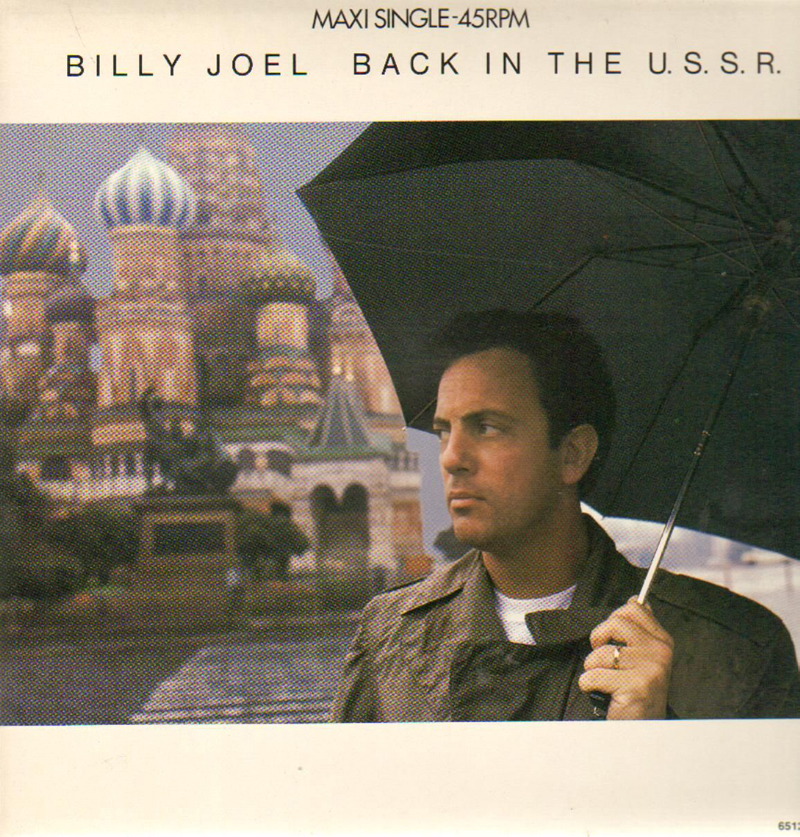 (photo by Neal Preston)
---
It's also on the back of a CD.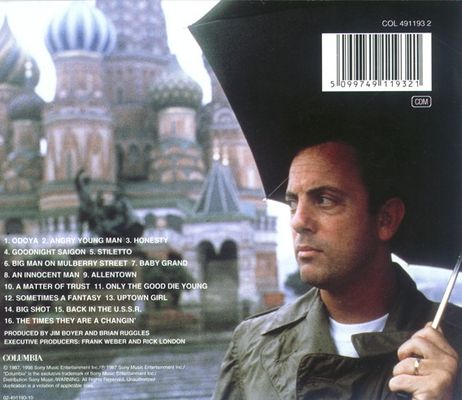 (photo by Neal Preston)
---
Here's what's in the background: St. Basil's Cathedral.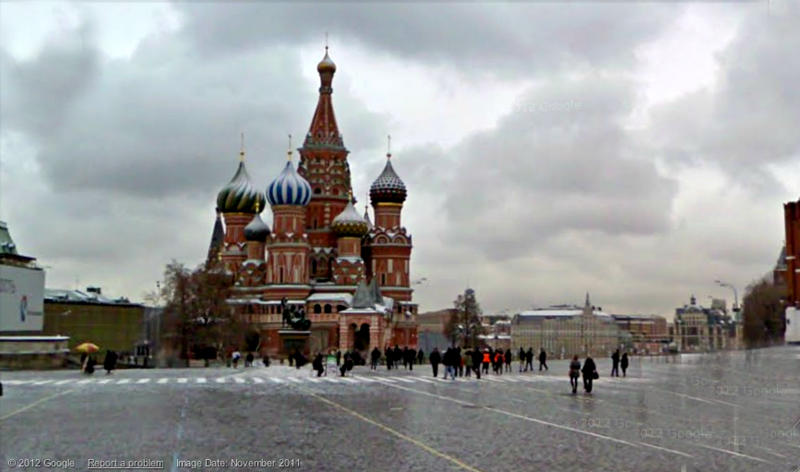 ---
Here's the PopSpot.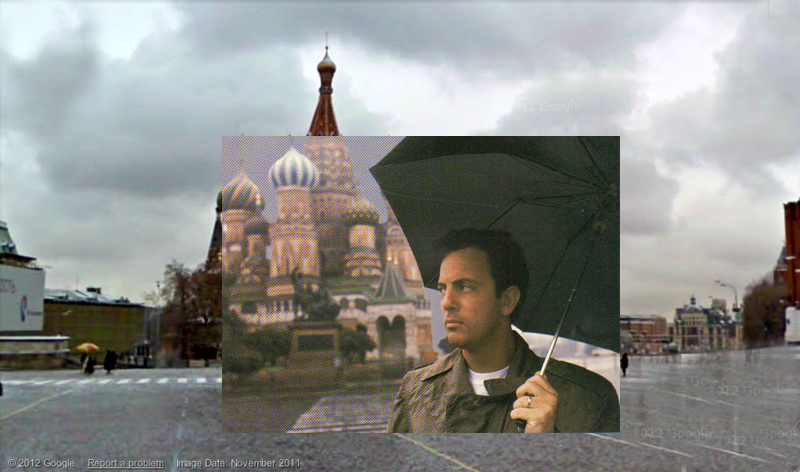 ---
And here's an outtake.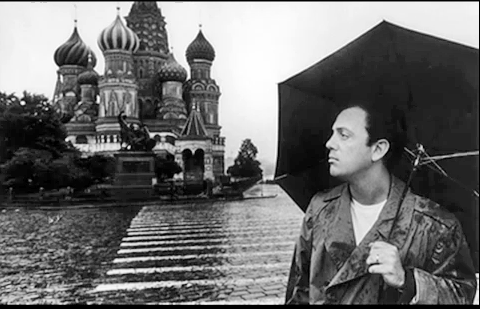 (photo by Neal Preston)
---
The arrow on this map of Red Square shows the direction the photo was taken.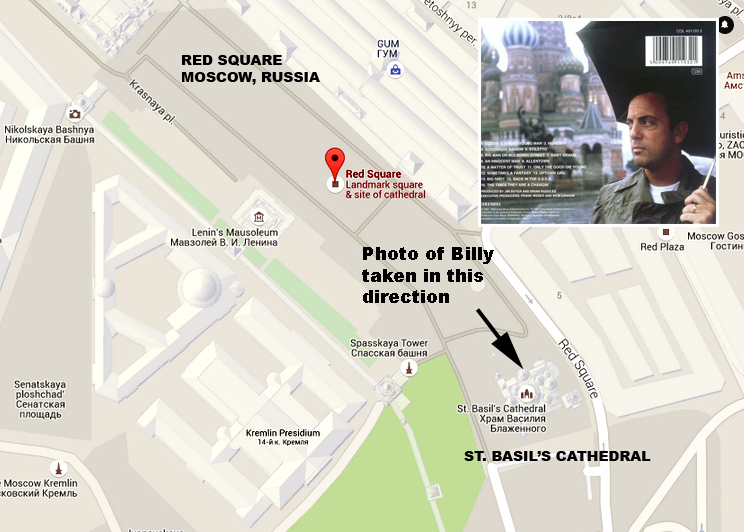 ---
THE BACK COVER OF STREETCAR SERENADE
---
Right below this is the back cover to Streetlife Serenade. It's a photo of Billy by the noted rock photographer Jim Marshall (see PopSpots # 41 (Dylan) and #50 (Allman Brothers)).
Rhys Clark, a former drummer with Billy from the Cold Spring Harbor album to the Streetlife Serenade album, sent this interesting note to PopSpots :
" I have a "tidbit" to add, and that is, that the church chair (painted bright yellow) on the back cover, belonged to the pedal steel player in the band at that time and the photoshoot took place at a house on Mulholland Drive right below the "Hollywood" sign in Hollywood."
(According to the album back, the pedal steel guitarist at the time was Tom Whitehorse.)
Thank you, Rhys. Now we have the front and back cover covered.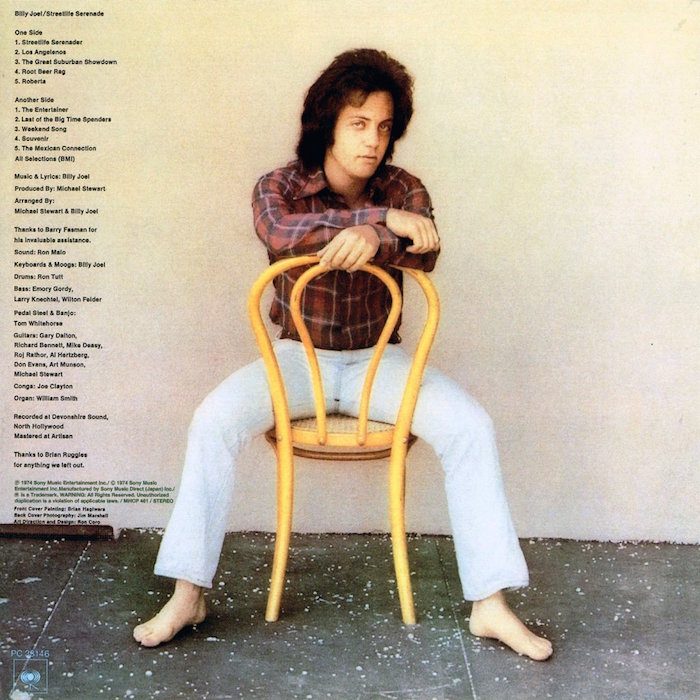 ---
Here's a photo of Rhys and Billy that I found online from 1972. Rhys is on the right on drums.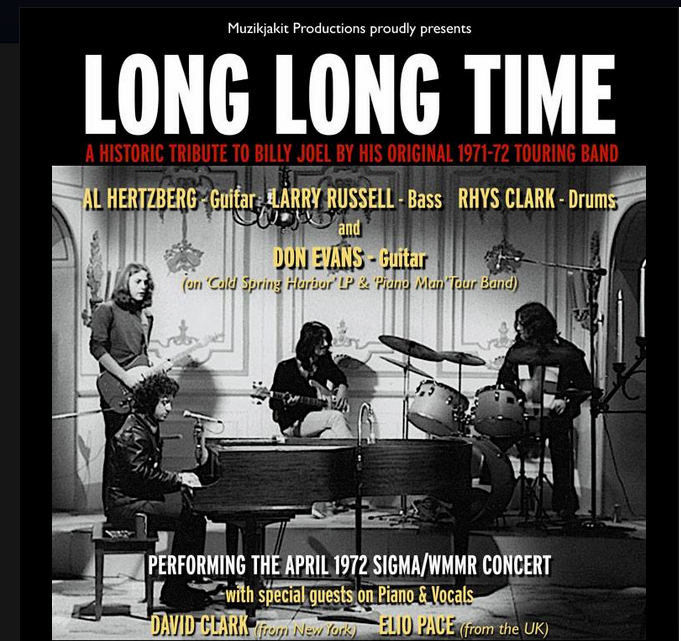 ---
That wraps things up. Thanks for visiting!
P.S. Congrats to Billy for recently breaking the record for "Most performances by a single artist" at Madison Square Garden, NYC, with 65 shows as of July 2015. The home town hero (born in the Bronx) is playing there once a month indefinitely.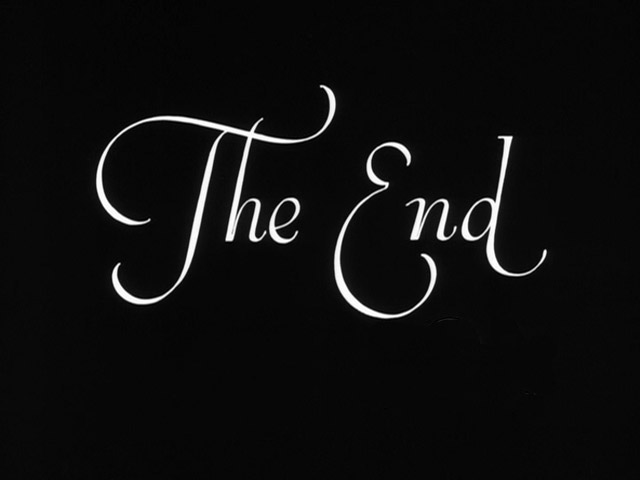 ---