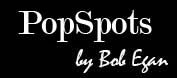 <!z--THIS BEGINS A SUB-TABLE OF NAV BUTTONS--> <!z--THIS BEGINS A SUB-TABLE OF NAV BUTTONS--> <!z--THIS BEGINS A SUB-TABLE OF NAV BUTTONS-->

<!z--FIRST TABLE ROW IN THE NAV--> <!z--FIRST TABLE ROW IN THE NAV--> <!z--FIRST TABLE ROW IN THE NAV-->

To be notified of new PopSpots entries, follow PopSpotsNYC on Twitter:

For questions or comments you can email me (Bob) here.

<!z--BEGINNING OF TABLE D--> <!z--BEGINNING OF TABLE D--> <!z--BEGINNING OF TABLE D-->

<!z--BEGINNING of TEXT or PICTURES inside TABLE D--> <!z--BEGINNING of TEXT or PICTURES inside TABLE D--> <!z--BEGINNING of TEXT or PICTURES inside TABLE D--> <!z--DON'T PUT IN P FOR FIRST PARAGRAPH AND IT GOES FLUSH--> <!z--DON'T PUT IN P FOR FIRST PARAGRAPH AND IT GOES FLUSH--> <!z--DON'T PUT IN P FOR FIRST PARAGRAPH AND IT GOES FLUSH--> 25 GREAT POP CULTURE MOMENTS IN NYC SPORT HISTORY
---
Babe Ruth Bows Out, June 13, 1948 Yankee Stadium. (photo: Nat Fein)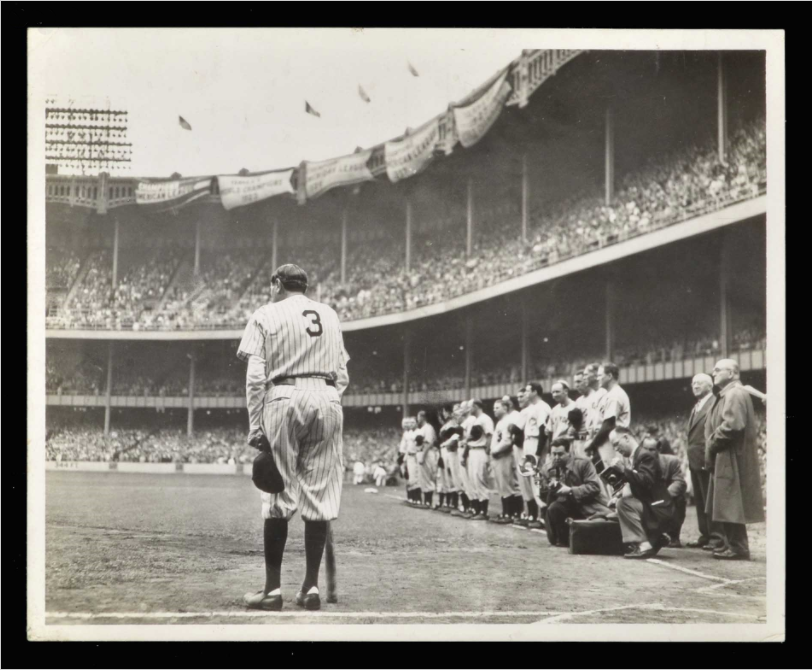 ---
BASEBALL

1) Lou Gehrig's Retirement Speech (July 4, 1939)

Lou Gehrig, "The Iron Horse," had played 2,130 consevcutive games for the Yankees but on MAy 2, 1939 Lou Gherig had to give up baseball because he was suffering from ALS, later to be calld Lou Gherig disease. He would be dead 2 years later at age 37. On July 4, 1939, between games of a doublehear and in fron tof 62,000 people baseball helf Lou gheri Appreciation day. where he was given gifts and toasts. His own speech, about getting "a bad break" but talkig about the "privilege" of having played baseball, is said to be on of the most quoted in American history - and also filmed as "The Pride of the Yankees" with Gary Cooper.

2) The photo of Babe Ruth "Bowing Out" (June 13, 1948)

One of the most iconic images in baseball history was taken of Babe Ruth by photographer Nat Fein on June 13, 1948 at Yankee Stadium, the day Babe Ruth's number was retired. Ruth had played for 22 seasons from 1914 to 1935 but as he aged baseball decided to honor him by retiring his number. Most great photo of of a person's face, but Fein stood in back of Ruth so he could record the number 3 on his shirt. HIs photo - "The Babe Bows Out" - of the the bent but heroic Ruth taking in the love of his fans, won him a Pulitzer Prize, the first to a sports photographer.

3) The 1969 "Miracle of the Mets"

For most of their original 8 years, the Mets were the Rodney Dangerfield of professional baseball. No gave them any respect. But in 1969, with a miraculous turnaround, they became known America-wide as "The Amazin' Mets," not only making it into the world series, but beating the Baltimore Oriels to win the championship

4) The Dodgers and Giants leave New York for California in 1957.

When two beloved National League Baseball teams decided to move the the West Coast at the same time in 1957 , it was a crushing blow for New York City sports fans. But LA offered to build the Dodgers a new Stadium and New York wouldn't. And the Giants attendance was down and a move was thought would fill seats. So they left, leaving Brooklyn teamless and only the Yankees in the Bronx to cheer for until the arrival of the Mets in 1962 in the Polo Grounds.

5) Simon & Garfunkel ask the question:"Where Did You Go, Joe Dimaggio?" (1968)

They called him "Joltin' Joe" and "The Yankee Clipper" partly for his 56-game hitting streak from May 15 to July 16, 1941. An American hero, he married America's #1 female movie star in an elopement at San Francisco. Bit the marriage didn't last and Paul Simon turned his lament for the "short supply" of "true American heroes" into the 1968 hit song, Mrs Robinson."

6) Roger Maris breaks Babe Ruth's Record. (1961)

Babe Ruth's record of 60 homes runs in the 1927 season held for 34 years. But on October 1, 1961 Yankee Roger Maris slammed his 61st home run against the Red Sox in the very last game of the season. Maris had been in a back-and-forth race for home runs with Mickey Mantle, his friend and roomate in Queens, all season, but a hip infection put Mantle in the hospital allowing Maris to go after Ruth's record alone. Ruth hit his homers in a season of fewers games, thus the (*) asterisk sometimes next to Maris's name in the record books.

7) Don Larsen's Perfect Game in the 1956 World Series. (1956)

A perfect game is when a pitcher pitches a nine inning game and not one of the opposing players ever reaches a base. It's happened only 23 times, and only once in a World Series game. That was Yankee Don Larsen's perfect game against the Dodgers in Game 5 of the World Series on October 8, 1956. At the game's close, catcher Yogi Berra left into Larsen's arms - an iconic moment in sports photo history.

8) Jackie Robinson "breaks the color barrier" in professional baseball (1947).

When Jackie Robinson stepped onto Ebbets Field for the Brooklyn Dodgers on April 15, 1947, he became the first African America player in Major League Baseball, heralding a new wave of integration of American sports and American society. Robinson went on to beome a member of baseball's Hall of Fame. And his home from 1947 to 1949, at 5224 Tilden Ave., Brooklyn, was declared a National historic Landmark in 1976.

9) Jerry Seinfeld's has second thoughts on his newfriendship with Keith Hernandz when KEith asks him to help move some furniture in an episode of Seinfeld. (1992)

One of New York baseball fandom's greatest moments came in an 1992 episode of Seinfeld when Jerry makes a friend of Yankee baseball legend Keth Hernandexz, then gets jealous where Eliaine statrts dating him. When Hernandex then asks Jerry to gelp him move his furniture, Jerry thinks Hernandez is abusing the friendship and breaks it off. Meanwhile, Hernandz has to defend himself to Kramer and Newuman who say he spit on them after a game.. The incident is acted like in slow motion like the Zapruder tape of the Kennedy assination.

10) "The Shot Heard 'Round the World" : Bobby Thompson's pennant winning homer. (1951)

At then end of 1951 two National League teams were tied with 96-58 records: cross-town rivals the New York Giants (of Manhattan) and the Brookyn Dodgers. A 3-game playoff would have to determine the league victor. Playing at the Polo Grounds and Dodger Stadium the games evened up at 1-1; then in the last and determining game at the Polo Grounds on October 3, 1951, the GIants were down 4 to 2 in the ninth inning with two man on base. That's when third baseman and outfielder Bobby Thompson of the Dodgers hit a game-winning home run to win the game 5-4. That homer became known as "the shot heard round the world" as the gripping game was heard by millions on radio around the world as well millions more watching on on TV in baseballs first nationally-televised game.

BASKETBALL

1) The Knick captain Willis Reed returns, though injured, and inspires a big win. (1970)

Sometimes the attemp counts more than the result. When a torn muscle kept team captain Willis Reed out of the 6th game in the 1970 NB Playoffs in Madison Square Garden, everyone wondered: would he play in the all-decisive 7th game of the NBA finals? Reed surpsided both his fans and fellow teammates by hobbling onto the court and starting first period, causing excited pandemonim in his New York fans. Although he only scored 2 baskets, his determination to pay inspired the team to clich the league victory against the Lakers 113-99 on May 8, 1970.

BOXING

1) The two Joe Louis vs Max Schmelling Boxing Matches (1936 and 1938)

There were two matchups in Yankee Stadium betwen these forees of nature. In the first on June 19, 1936, Schmelling, a German, won by a knockout in round twelve against, Joe Louis, an African-Amerian folk hero. And In the seond, a rematch 2 years later on June 22, 1938, Joe Lewis, won by a knockout in Round One. But more than just about boxing, the fight was took on greater symbolism as the larger fight between American democracy and rise of the Nazi German fascism in the 1930's. His decising victory, listened to on radio the world over, would make Louis one of the greatest Afriacan-American heroes.

2) "The Fight of the Century" between Muhammed Ali and Joe Frazier (1971)

Muhammed Ali had his World Heavyweight Champion title taken away from him in 1967 by boxing authorites for refusing induction into the artmy. Subsequently an undefeated "Smokin' Joe" Frazier won the title. So when the two paired off against each other on March 8, 1971, it was truly "The Fight of the Century" - would the brash Ali win his title back?" In the end Frazier won by a unanimous decidision in 15 rounds. In a larger sense the fight was also about Liberals vs. Conservatives in America. During this time of the Vietnam war would left-leaning conscitious-objector Ali dominate over Frazier, who somewhat represented the American status quo?

3) Martin Scorcese's Raging Bull elevates the story of boxer Jake LaMotta into a film for the ages.

The story of Jake Lamotta, formerly a footnote in boxing histry, was not much on its own - some winning bouts and then a fall from grace due to persnal problems, but inthe hands of Martin Scorces, it became an epic film of obsession, jealousy, and self-desc=truction and often found on lists of the greatest films of all time. In adition to a mostly New York Cast, the film was primarily set in the Bronx and Manhattan and featured the Carmine St. Pool (1 Clarkson St.), The Copacabana (then at 10 East 60th), and Webster Hall (128 East 11th.).

FOOTBALL

1) "Broadway" Joe Namath's Noxema Shaving Cream commercials"

Handsome New York Jets superstar "Broadway Joe" Namath was asked to endorse a lot of products in the 70's but his tvad's for Noxema with have stoof out of Pop Culture time. In the ad, Joe says "I'm so excited I'm gonna get creamed!" Then Farrah Fawcett rubs his face with shaving cream all the while singing "Let Noxema Cream your Face" to which he responds, "Youve got a great set of hands. They don't make em like they used to."

HOCKEY
1) The Rangers win the Stanley Cup after 54 Years (1994)

Afte a 54-year championshjip drought, it came down to the last game of seven in the 1994 Stanley Cup Playoffs at Madison Square GArden. But the New York Ranges came through with a 3-2 win against th Canucks to clinch the title on June 14, 1994. It was the Rangers' first Cup victory since 1940 when they defeated Toronto.

PRO-WRESTLING
1) The era of giant audiences for octogon fighting and pro-Wrestling entertinment begins with Wrestlemania. (1985)

Combat sports on cable TV are billion dollar indistry now with the UFC (Ultimate FIghting Championshp) and the WWE (World Wrestling Entertainment) the industry leaders. Though the former is real fighting, and the latter scripted entertainment, they entertain millions around he world. One of the prime events that led the way was Wrestlemania 1 a pay series of 9 (scripted) wrestling matches that took place in Madison Square Garden on March 31, 1985. With 19,121 in attendance and over one million viewers watching through closed-circuit television, it harkened the combat cable revolution. The main event featured Hulk Hogan and Mt. T. who would defeat Roddy Piper and "Mr Wonderful "Paul Orndorff. TO add to the fun, Muhammed Ali was the special outside-ring guest referee and Liberache was the time keeper, with the aid of some Radio City Rockettees.


SAILING
1) The New York Yacht Club loses the America's Cup after 132 years. (1983)

In 1851 the schooner America won a sailing race around the Isle of Wight to claim title to The America's Cup for The New York Yacht Club. The trophy would stay in their clubhouses, including their 37 West 44th Street headquartes, financed by J. P. Morgan in 1899, for a recod 132 years - one of the longest winning streaks in the history of sports. Then in the 1983 competition, an Australian boat, Australia ii, in an highly-charged 7th race, beat the American boat by 41 seconds to claim the Cup and ending Amerca's domination of the sport. Soon after, the Cup was placed in a Brink's armored truck to eventually make its way to Perth Australia.



---
SOURCES FOR THE SPORTS CHAPTER:

Books:
1) The Street Where They Lived: A Walking Guide to the Residences of Famous New Yorkers. Stephen W. Plumb. Parlor Press. st. Paul Minnesota. 1989
2) The Almanac of New York City. Edited by Kenneth T. Jackson and Fred Kameny. Columbia University Press, NY. 2008.
3) New York Celebrity Map : The Original NYC Star Map. www.NYC CebrityMaps.com
Web:
1) NewYorkTImes.com "FYI" BY KATHERYN SHATTUCK APRIL 7, 1996.
2) NewYorkSonglines.com
3) Inside New York's Most Expensive Apartment Buildings - Nov 7, 2015 - Hana R. Alberts NYPOST.com
4) "10 Defining Sports Moments from the Big Apple", BleacherReport.com, Jan. 13, 2014, by Brian Leigh
5) "The 20 greatest moments in New York Sports History" FoxSports.com, NOv. 11, 2016, by CHris Chase.
6) "WFAN'S 25 Top Moments in New York Sports" , newYork.cbslocal.com, by the editors.
7) "Greatest Moments in New York history", SI.com, by the Editors.