Bo Diddley: Have Guitar Will Travel (1960) - Album Cover Location: 368 Livingston Street,
Brooklyn, N.Y.


---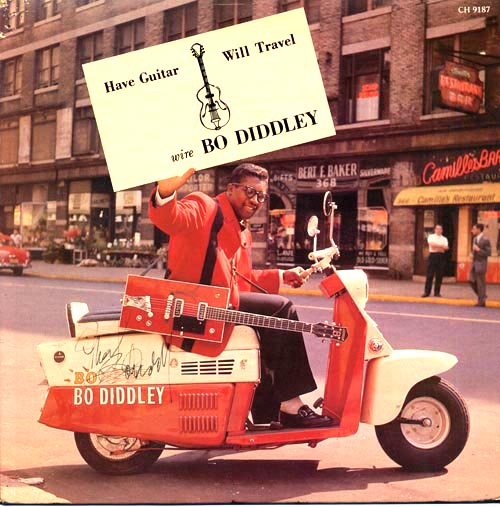 The album cover. (released in 1960 by Checker Records; cover photo: photographer not identified)
---
The site of the album cover photo location: 368 Livingston Street at Flatbush Avenue, Brooklyn, N.Y.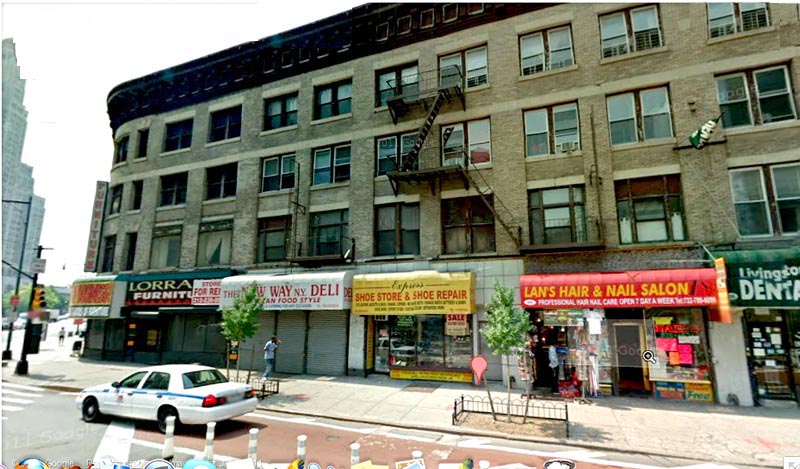 ---
Superimposing the album over over the present day location...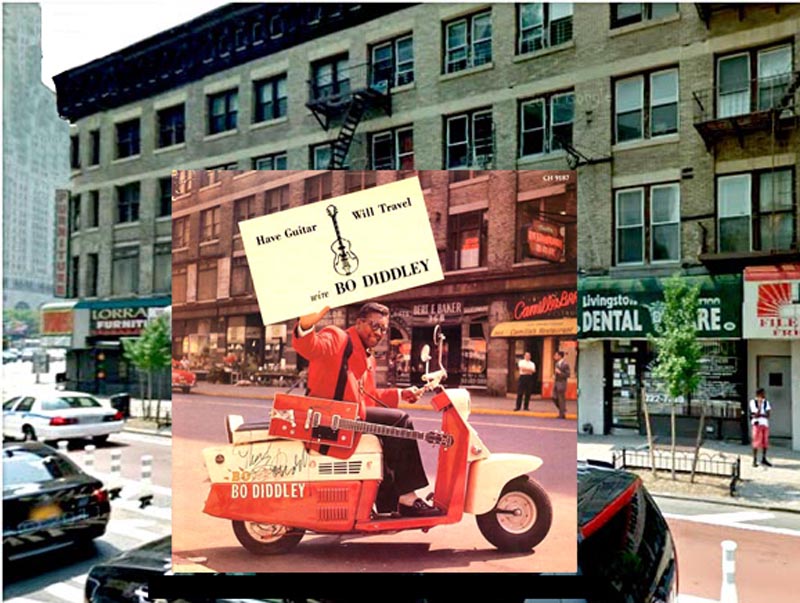 ---
In this case, I like the "non see-through" look, but just for tradition, here it is in transparent PopSpots style...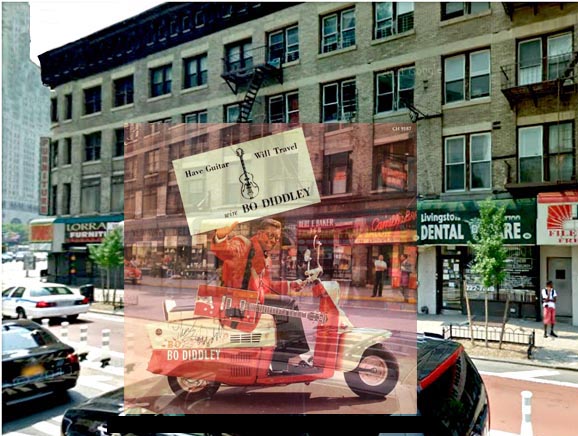 (courtesy of Checker Records)
---
The location is in the southern part of downtown Brooklyn.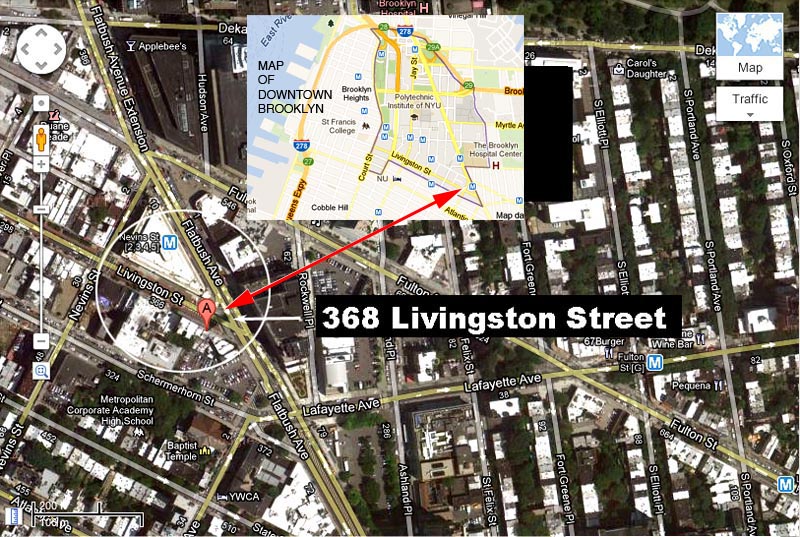 ---
And here's where that location is in relation to Manhattan.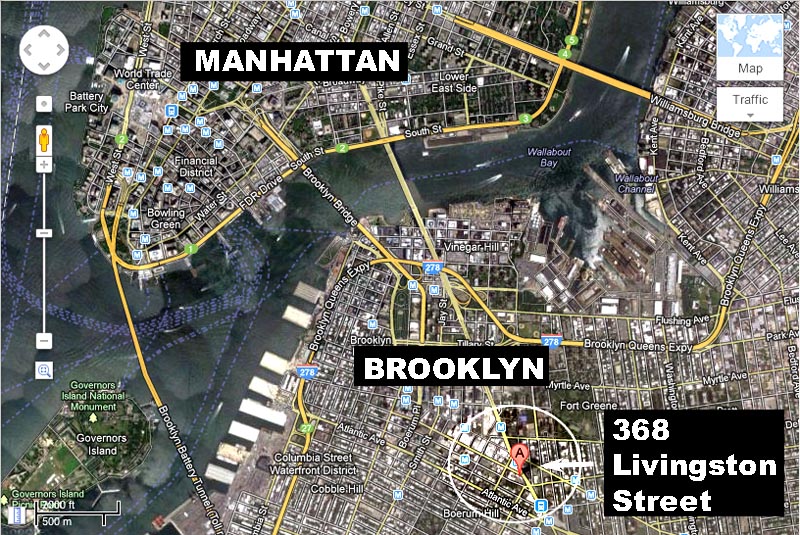 (courtesy of Checker Records)
---
---
---
How I found the the location of the album cover photo.
---
---
---
Bo Diddley was one of the great rock innovators and was there at the beginning with Elvis, Chuck Berry, Little Richard and Buddy Holly. He was most known for inventing "The Bo Diddley Beat" a rhythm many have described as "shave-and-a-haircut, two-bits." He used that rhythm in hits like Hey! Bo Diddley and Who Do You Love, a song later covered by George Thorogood and the Destroyers. Buddy Holly used the beat in Not Fade Away and the Rolling Stones recorded Holly's song on one of their first albums.
---
If you want to hear what it sounds like, here's Bo playing his song "Hey! Bo Diddley - from 1964.
---
The title of the album "Have Guitar - Will Travel (wire Bo Diddley)" is a take-off on a popular TV show of the time called Have Gun Will Travel about a pay-for-hire gunslinger named Paladin played by Richard Boone. Paladin's business card read "Have Gun, Will Travel - wire Paladin - San Francisco." Palladin had a horse; Bo is mounted on a funky pink-and-cream Vespa. (*update: see addendum: The scooter is most likely a 1957 Cushman Eagle.)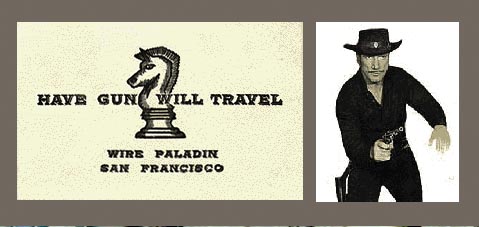 ---
In fact, Bo later entitled an album: Bo Diddley is a Gunslinger, so he must have enjoyed the concept of the rebel gunslinger, i.e. a traveling rock'n roll cowboy.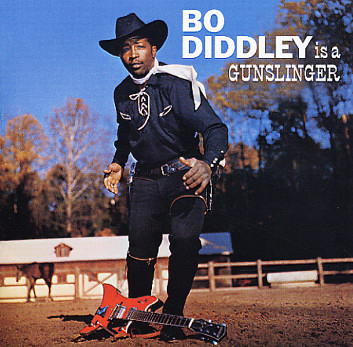 ---
I don't remember where I first came across Have Guitar Will Travel, but my thoughts were that the cover photo was taken in Chicago, since Bo Diddley mostly recorded on Chess/Checker Records which was located there, and the picture didn't seem like anyplace I recognized in Manhattan.
In looking for the location, there were 3 main clues, which I have circled:
1) The orange license plate of the car in the background looked like an old New York state plate.
2) The name of the store near Bo's head read "Bert F. Baker 368" and, looking closer with a magnifying glass, "silverware."
3) The bar/restaurant on the right was called "Camille's Bar."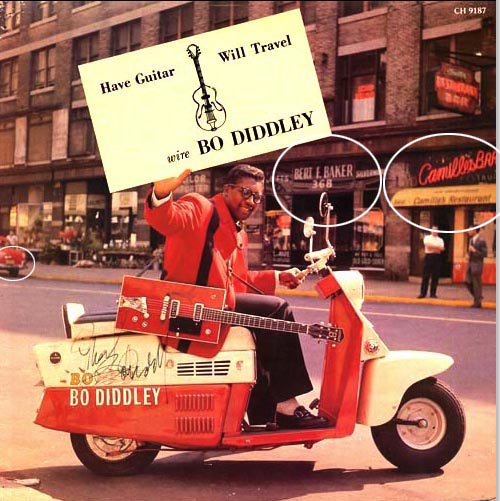 ---
I started by searching for "Camille's Bar" in Google and, more specifically, I went to "advance search" and searched "Google Books between years 1950-1970," because the restaurant might have been listed in a magazine restaurant review. Dead end.
Next, I searched Ebay for a postcard of a Camille's restaurant, but that search also came up empty. Time to switch clues to "Bert Baker."
---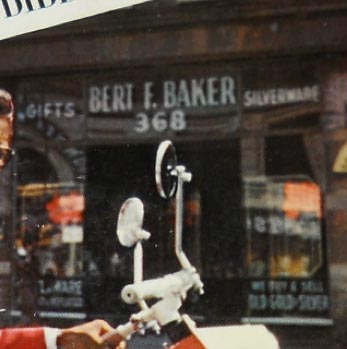 ---
So I started a search for "Bert F. Baker", and because I saw the word "silverware" in the window, I added that word, too.
Bingo!
---
The search led me to this listing that said "Silversmiths Bert F Baker"

---
Clicking on that link, in turn, led me to a really long list of silversmiths at a site called "LookOOH." So I entered the name "Baker" in the search field at the bottom, and it highlighted a silvermith named Bert F. Baker of 1031 Northern Boulevard, Roslyn, New York.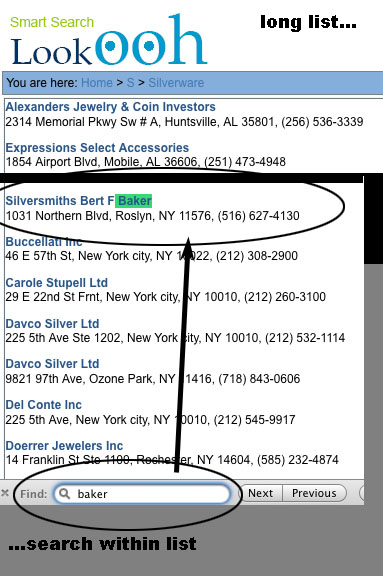 ---
Roslyn is a leafy suburb out on Long Island and I was pretty sure it didn't have a building like Bo's building in it, but I checked it out anyway. Nothing.
So then, I searched for more results of "Bert F Baker Silversmith," but this time adding "Roslyn" to the search. And I came up with the 2 results below:
1) Number one indicating that the Roslyn store had closed, and
2) Number two, that "for 30 years...Bert F. Baker...has a store at 368 Livingston Street, near Flatbush Ave."
Double bingo!

---
So I clicked on the top link and came to this: a story from a society page from an old Brooklyn newspaper confirming the 368 Livingston Avenue address.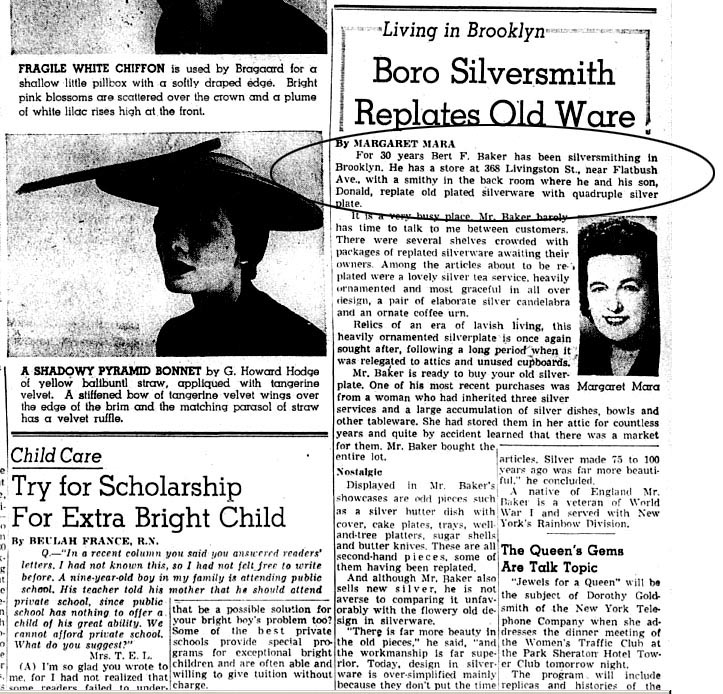 ---
I immediately went to Google maps and, with Streetview, "landed" outside 368 Livingston. And right away my heart started playing the Bo Diddley beat.
Bert F. Baker's store now had a yellow awning that read "Shoe Store & Shoe Repair" and Camille's now had a red awning that read "Lan's Hair & Nail Salon"...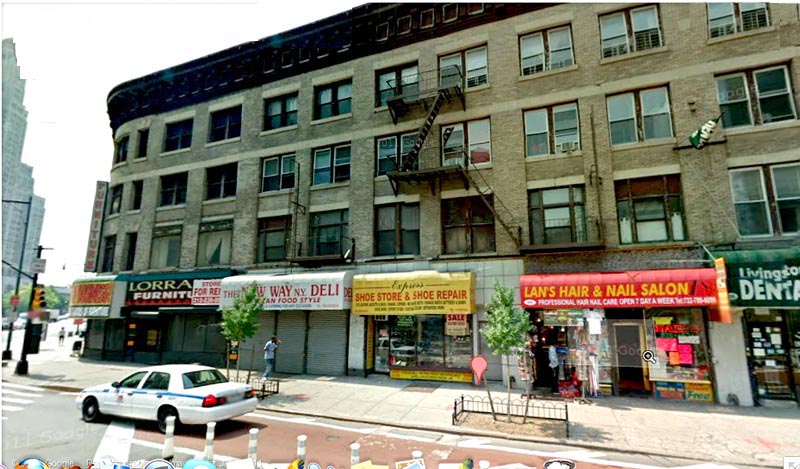 ---
....but all the window tops and bottoms (I'll call them ledges) were the exact same, and you could even see the metal bracket which used to hold up the upper Camille's sign." I had a match.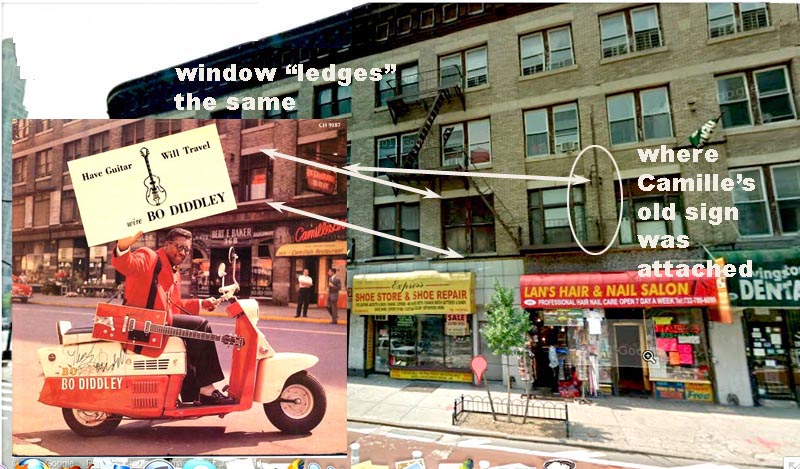 ---
So long, Bo. Meet you down the street at Junior's cheesecake!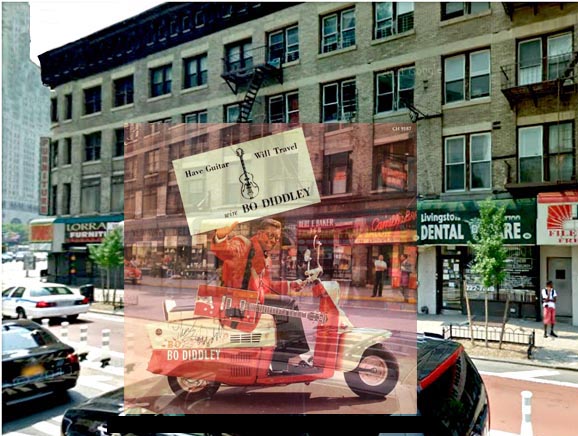 ---
Thanks again for reading along. "Have PopSpots - Will Travel"
(Be sure to read the ADDENDUMS below, too! Some new pictures came in.)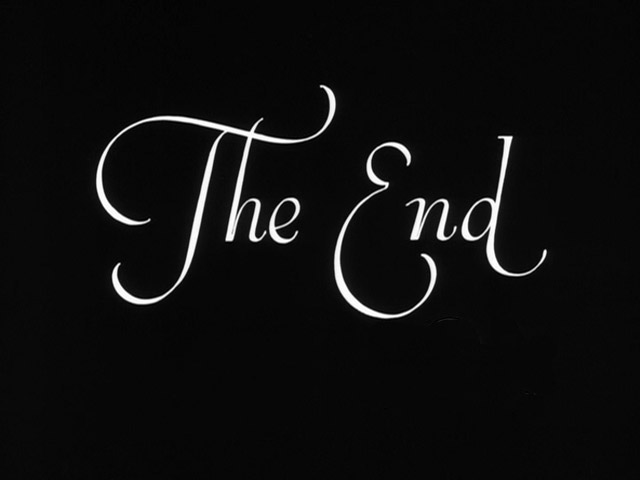 ---
---
---
ADDENDUM #1
Beppe Kin of Italy emailed PopSpots that he believes Bo's scooter is not a Vaspa but rather possibly a Cushman scooter from 1957, so I decided to check it out.
First, using Google Images, I ran across another picture from the photo shoot, which was on several different websites (the other passengers on the scooter weren't named. If someone knows them, please write in. NOTE: someone did: see below this picture) Here's the picture...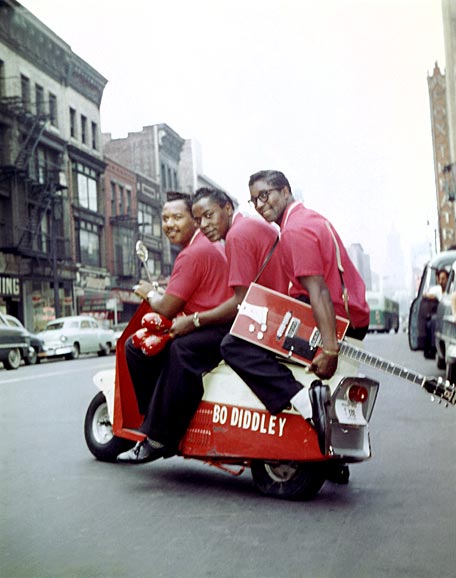 ---
---
---
(from an e-mail to PopSpots)
I've just recently discovered your PopSpots site, and am enjoying working my way through your posts. Your detective work is pretty impressive.
I see that you were looking for IDs on the other two guys riding the scooter with Bo Diddley in Addendum #1. Since they seem to have been doing a concert in the area, the guy with the maracas is probably Jerome Green, a member of Diddley's band at the time who was credited as the maraca player in the liner notes on the album.
The other guy is harder to identify, but I believe he was drummer Clifton James. See the cover photo from GO BO DIDDLEY (below).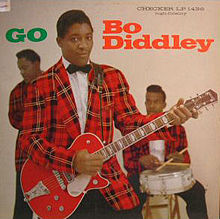 Both James and Green are on the cover, and to my eye, they look like the guys you were looking to ID.

I hope this is helpful. Keep up the good work.

Best,
Sean P. Fodera

---
---
---
Then I found a good picture of a Cushman scooter with the distinctive chevron tail and red/white color pattern on a website called "classic-motorbikes-net" They referred to it as a "1957 Cushman Step Thru Scooter."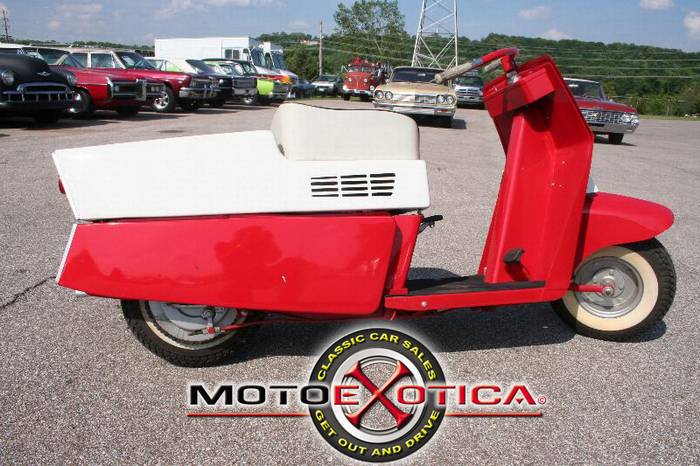 ---
Then digging deeper, I found that "telleutellme" on tdpri.com refers to the scooter as a "Cushman Eagle," so it's looking like 99% chance that's it's a Cushman, as you suggested Beppe. Thanks!"

---
---
---
ADDENDUM #2
In February of 2013 Joe @ Errols sent in this photo of Bo in front of the Fox Theater in Brooklyn, taken during the same ssesion. Read Joe's analysis of the photo after the description. Thanks, Joe!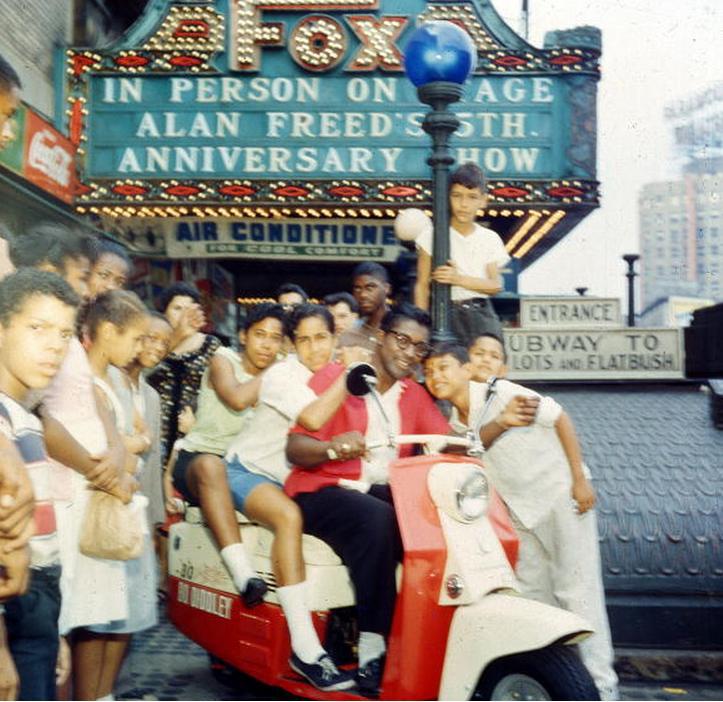 Re your Bo Diddley entry (great!), I think I might know the reason that this shot was taken in Brooklyn. The Brooklyn Fox Theater used to be right across the street from where the cover photo was taken. The Fox used to host famous early rock n roll shows hosted first by Alan Freed and later by Murray "the K" Kaufmann. The Fox Theater was demolished in the late 1960's.
I just saw a photo on FaceBook showing Bo and fans seated on that scooter and in front of the Fox Theater. The marquee shows that one of Alan Freed's shows were being presented. Presumably, Bo Diddley was one of the acts.
Alan Freed's shows were originally in the Brooklyn Paramount until that theater closed. The show then moved to the Fox. I assume that Murray the K took over after Freed was convicted of accepting payola. I'm old enough to have seen a Murray the K show (and a few movies) at the Fox. The Fox was demolished in the late 60's and replaced by a butt-ugly Con Ed office building. The Paramount Theater building still exists as part of the LIU Brooklyn campus. You can see the Paramount Theater building in the distance in the photo. The theater entrances were both on Flatbush Avenue and only two blocks apart.
---
ADDENDUM #3
(More specifics about the scooter. Thanks, Troyce!)
Sir,
Not that it matters at this point, but being an OCD motorhead, I can point out that the scooter in question under Mr. Diddly is an Allstate "Jetsweep." This scooter is essentially a re-badged Cushman Pacemaker. The difference mechanically is that many of the Cushmans have a shift lever on the left side under the seat for the two-speed transmission. The Allstate is a single speed, with no lever.
http://www.usscootermuseum.com/sears_023.jpg
http://www.hobbytech.com/FeatureBikes/Mark%20Perkins.jpg
Note the abbreviated tri-pointed "Twinkle" on the cowling under the headlight on the Allstate, and in this image in front of the theater as well.
http://www.popspotsnyc.com/bo_diddley/Bo_Fox_Theater.jpg
Note that the Cushman has a Cushman cast logo in that location.
Too many years on my part studiously following Sears/Allstate scooters and motorcycles. For what it's worth, Sears sold several motorcycle models made by Puch in Austria, others by Gilera in Italy, homes made by Jim Walter, cars that were a rebadged Kaiser Henry J, washing machines by Kenmore . . . . on and on.
Troyce Walls, gearhead.
Greeneville TN.
---
---
---
---