The location of the cover shoot for Bob Dylan's Saturday Evening Post cover photo by Jerry Schatzberg (July 30th, 1966 issue); Also similar photos found on the I WANT YOU single and in the inner gatefold of Blonde on Blonde.


---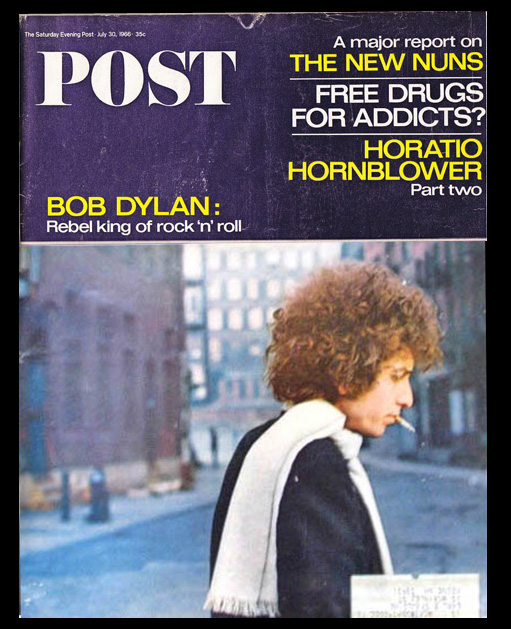 The cover of the Saturday Evening Post, issue of July 30th, 1966. (photo by Jerry Schatzberg)
---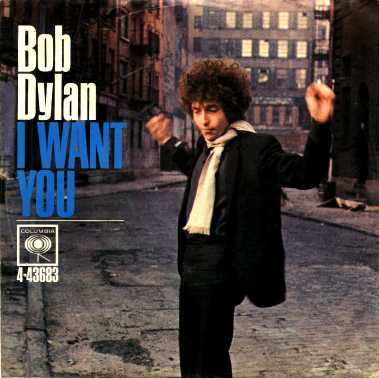 Same photo session, different angle.
The cover of the 45 rpm of I WANT YOU, released June 1966 by Columbia Records (45 rpm photo courtesy of Sony Music Entertainment; photo by Jerry Schatzberg)
---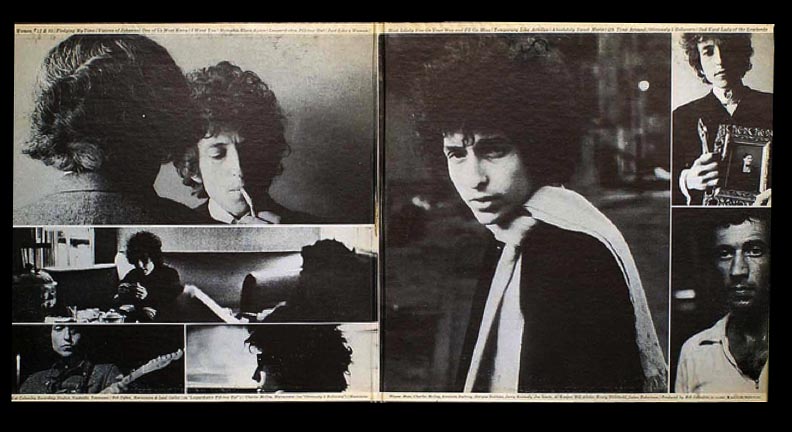 And another shot of Dylan in a white scarf from that photo session.
The inner right sleeve of the album BLONDE ON BLONDE, released officially May 16, 1966; recorded in Columbia Records - Studios A, NYC, January 25th, 1966; and also Feb 14-17, and March 8-10, 1966 in Columbia Music Row Studios, Nashville. (album photo courtesy of Sony Music Entertainment; all photos pictured by Jerry Schatzberg)
---
(below) Jacob Street, New York City, the street where all these photos were taken in lower Manhattan next to the Brooklyn Bridge, probably in early 1966.
The street and all the buildings on it were all razed within the next few years to make space for a large residential community called Southbridge Towers.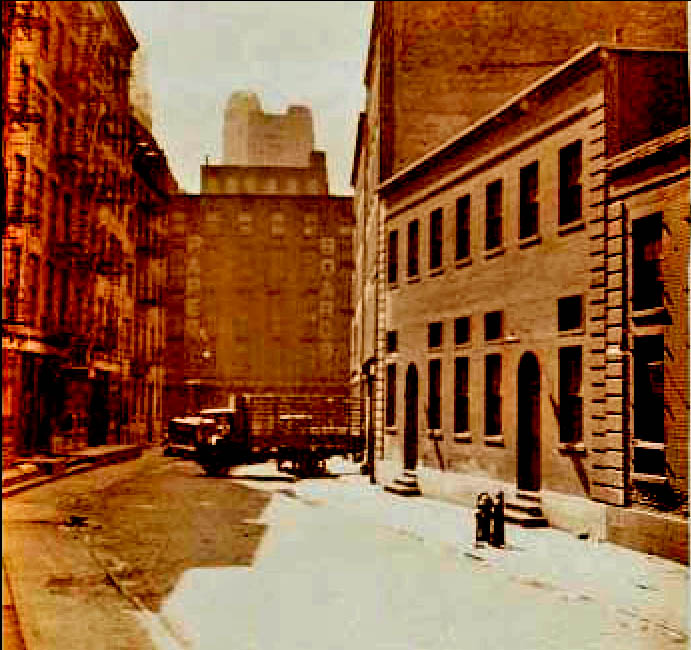 (photo: NYPL)
---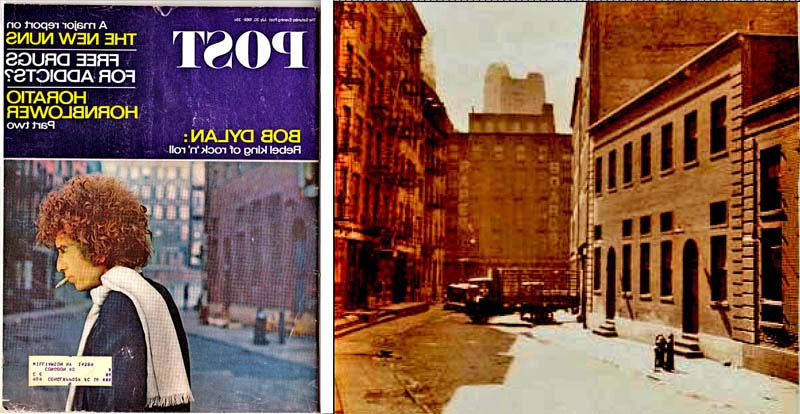 (Saturday Evening Post (flipped for accuracy) photo by Jerry Schatzberg; Jacob Street photo: NYPL)
---
(Saturday Evening Post photo by Jerry Schatzberg; Jacob Street photo: NYPL)
---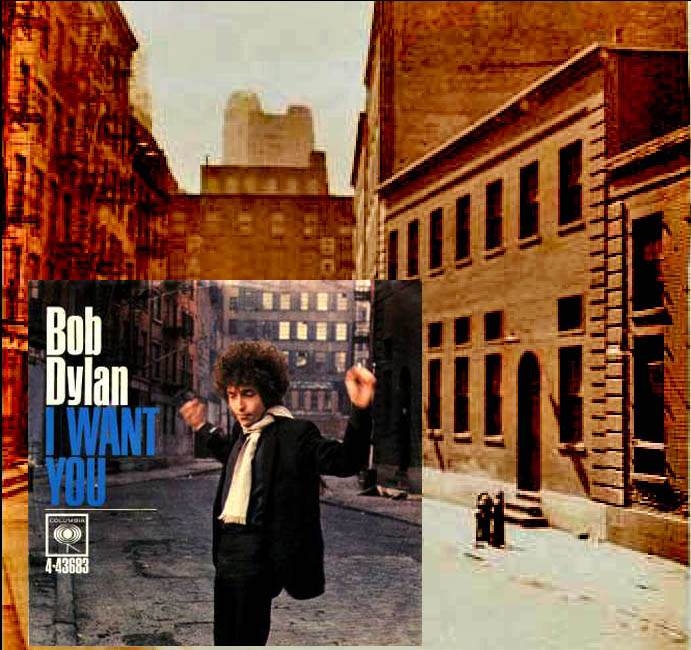 (I WANT YOU 45 rpm photo courtesy of Sony Music Entertainment; photo by Jerry Schatzberg; Jacob Street photo: NYPL)
---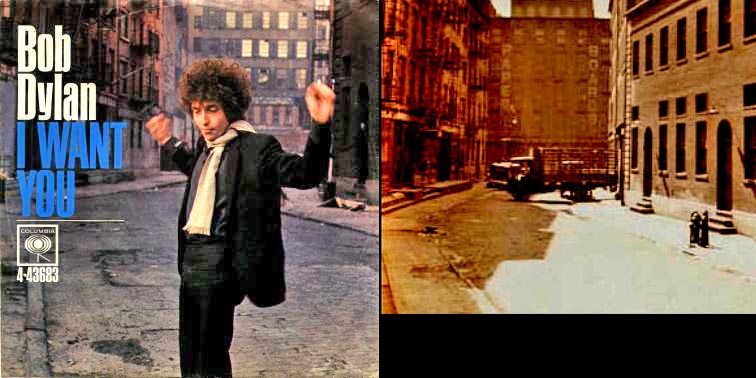 (I WANT YOU 45 rpm photo courtesy of Sony Music Entertainment; photo by Jerry Schatzberg; Jacob Street photo: NYPL)
---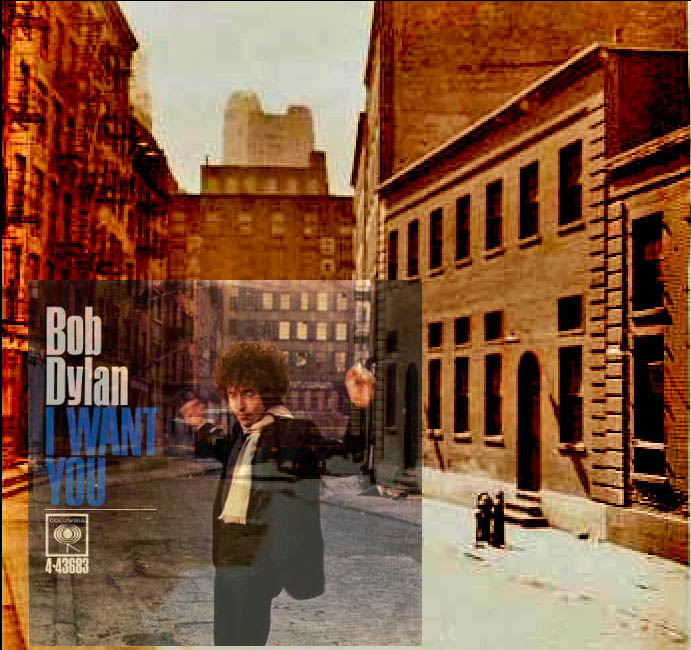 (I WANT YOU 45 rpm photo courtesy of Sony Music Entertainment; photo by Jerry Schatzberg; Jacob Street photo: NYPL)
---
Jacob Street basically went north/south. This is a shot in the other direction of the I WANT YOU photo. It is looking north. In the background you can see a supporting pier and round arch from the base of the Brooklyn Bridge.
The Jacob Street area was well known for the first half of the century as a center for leather manufacturing, wholesaling and warehousing. In fact, behind the doors you can see in the base of the Brooklyn Bridge were storerooms for finished leather ready for sale or export (See Addendum #1 at the end of this entry for more history on this area, whose 19th century nickname was "The Swamp.")
---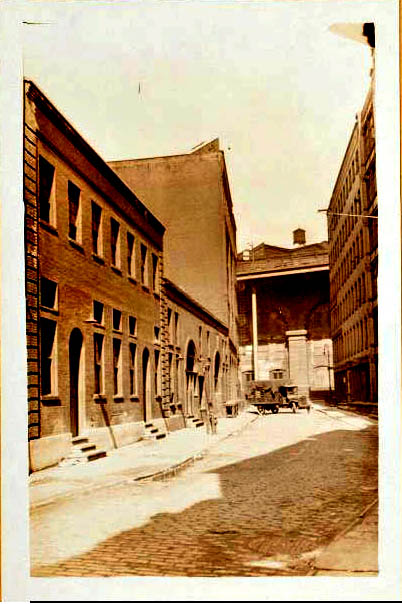 Jacob Street, looking north toward the Brooklyn Bridge (photo: NYPL)
---
Here's where Dylan would have been standing during the photo session. Hello, Bob! How long was the fish you caught?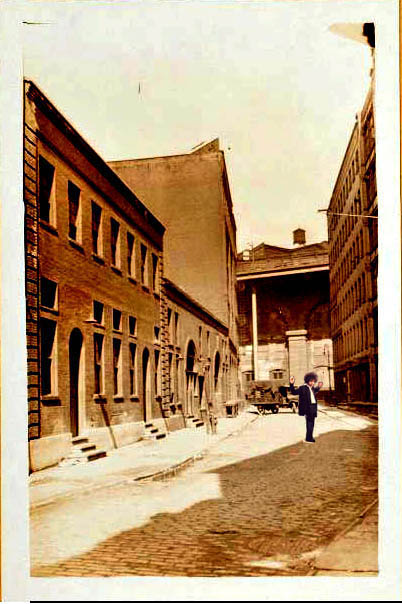 (photo: NYPL)
---
Here's a map showing the location of the former Jabob Street, which is marked by the "X."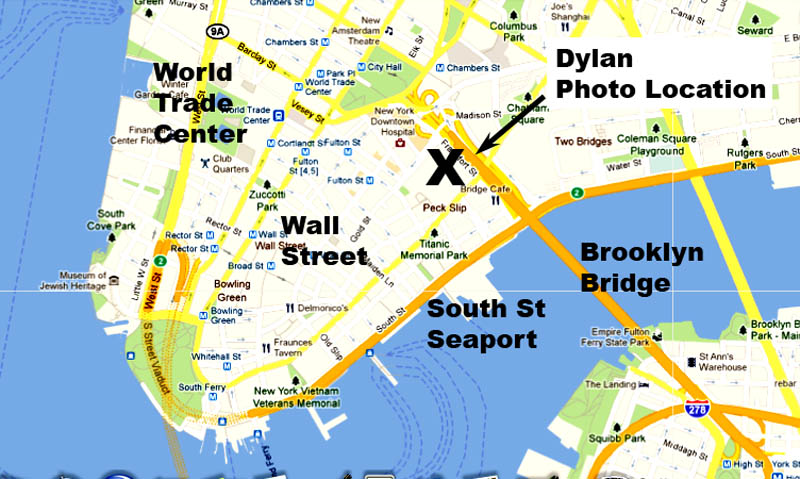 (map by Google Maps)
---
Here's an early 20th century map showing Jacob Street where it ran into Ferry Street, just like in the picture. A red arrow shows the direction of the photo. Ferry Street is the street labelled "Street" on the left.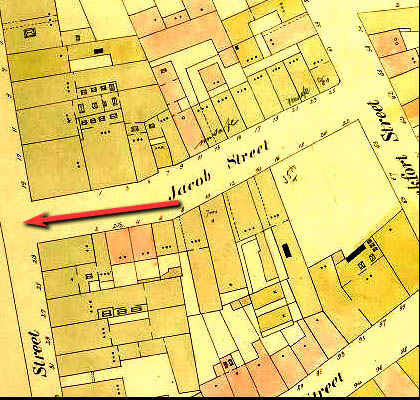 (map: NYPL)
---
This is an overhead photo of Southbridge Towers, showing where Jacob and Ferry Streets used to be in the center of it. Southbridge Towers is bounded by Gold Street to the north and Pearl Street to the south.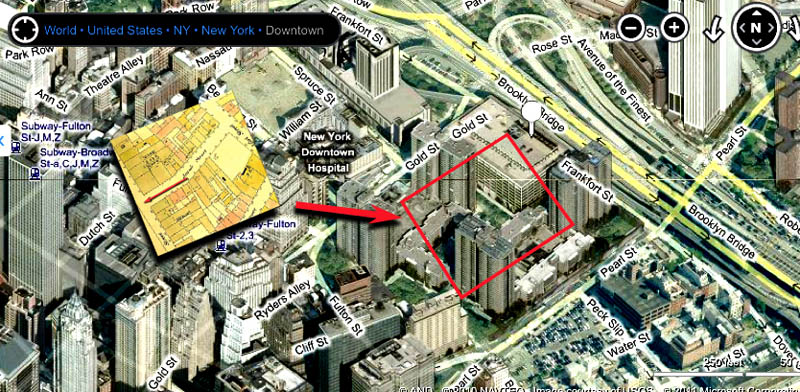 (map by Bing Maps)
---
And here's one final map, from before the Southbridge Towers were built. The area around Jacob and Ferry Streets is circled in red.
(map: NYPL)
---
What's that? You want another map ? Ok -- just one last one for you map freaks (like me). Jacob Street is near the bottom.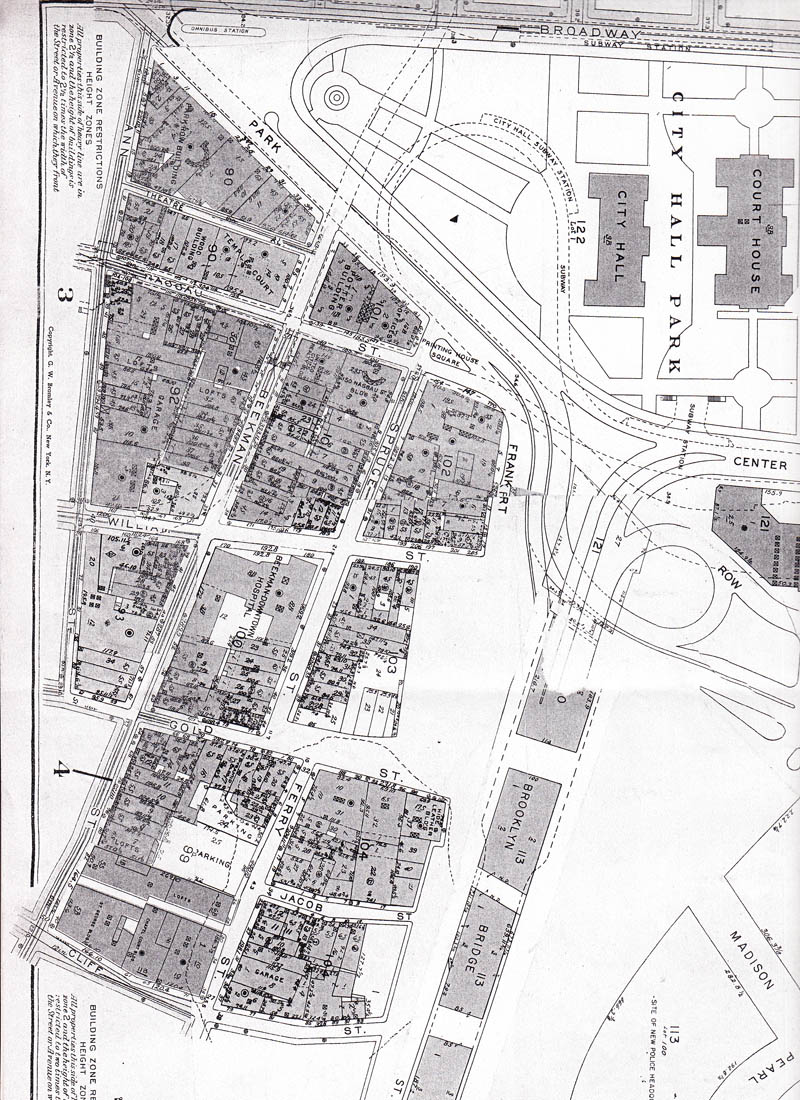 (map: NYPL)
---
Here is what the area looked like back in the day, from before the Southbridge Towers, from a photo I found at a flea market.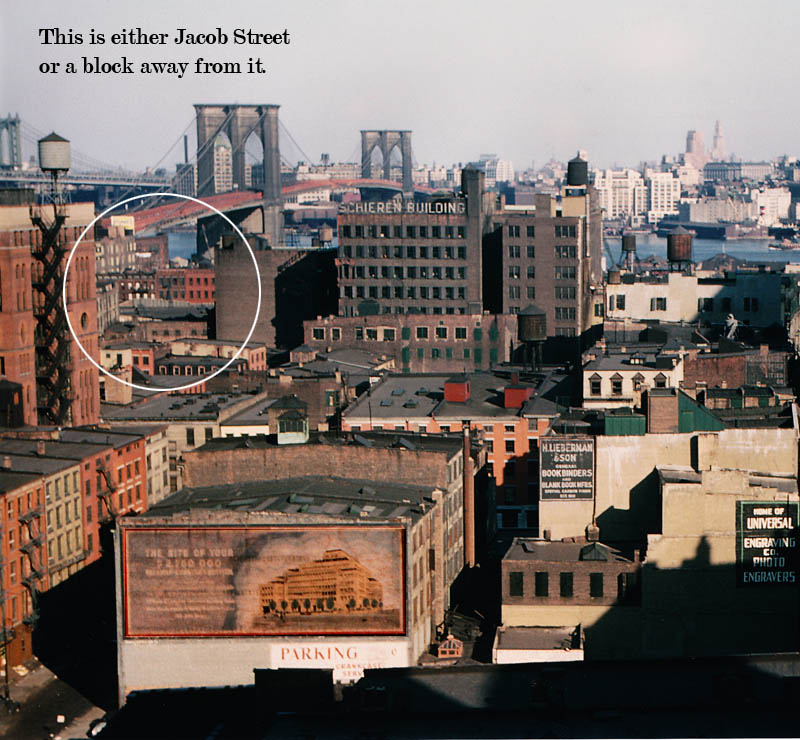 ---
If you went down there today, this is what the supportive piers on the side of the Brooklyn Bridge look like, which were in the backround of the picture of Jacob Street, looking north. These, in good sunlight, are at the corner of Gold Street a little north of where Jacob was.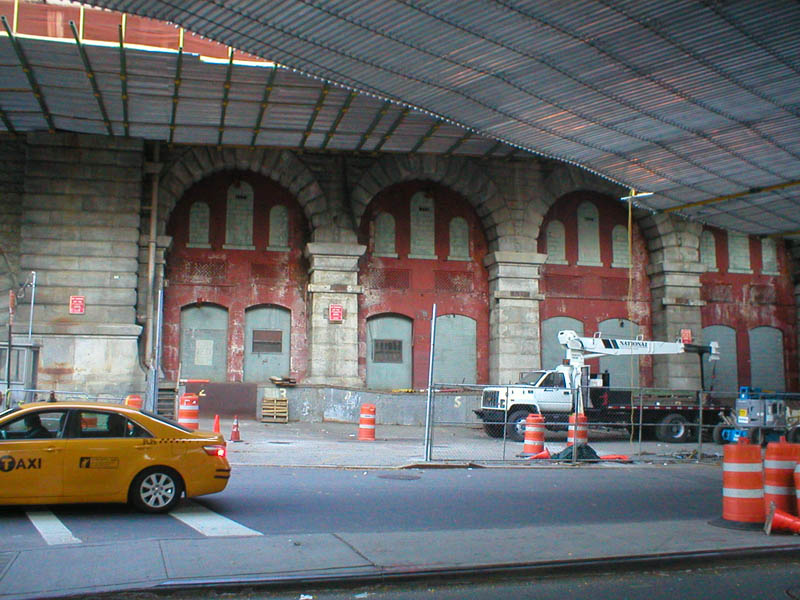 ---
This stone pier is more likely the one in back of the old photo of Jacob Street looking north, just about 100 feet down from the previous shot.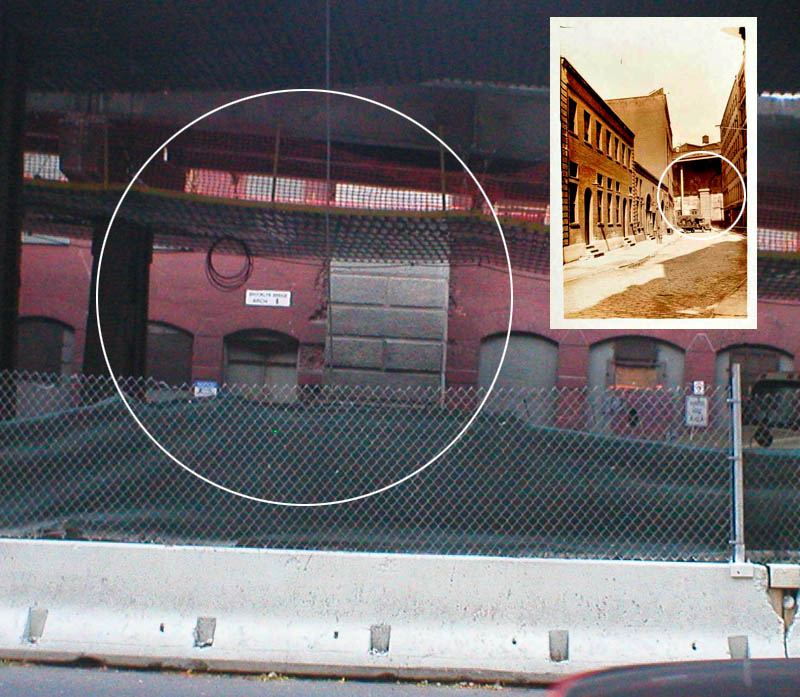 ---
---
---
How I found the location...
---
---
---
This search really took me back in time, to a New York City of not only Dylan's time from 50 years ago in 1965, but also the time of streets and buildings built near the turn of the century.
After I put my entry on the location of the cover photo of Highway 61 Revised on the PopSpots website, and discussed my continuing quest to find "my holy grail" -- the location of the cover of Blonde on Blonde , a number of people wrote in to me with their thoughts.
---
Two people in particular, Cameron Artigue from Arizona, and John DeAngelis from New York, suggested I tie my search in with looking for a photo somewhat similar to that of Blonde on Blonde -- a photo of Dylan that had been on the cover of The Saturday Evening Post, the sleeve of the 45-record for I WANT YOU, and was also in the inside gatefold of the Blonde on Blonde album -- all in 1966 -- the same year as the release of Blonde on Blonde.
---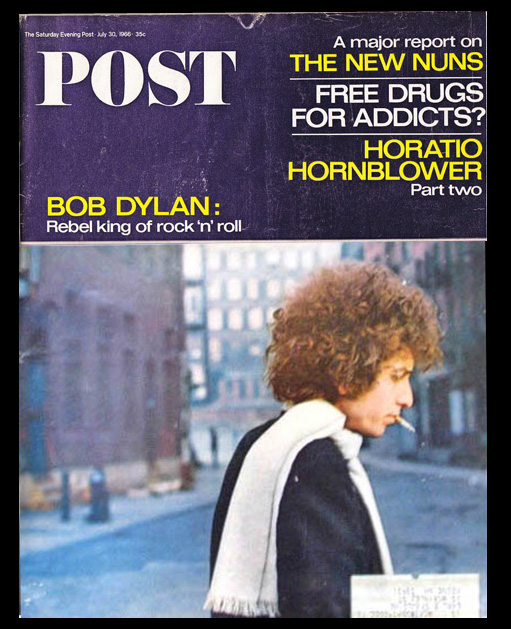 The Saturday Evening Post cover. (photo by Jerry Schatzberg)
---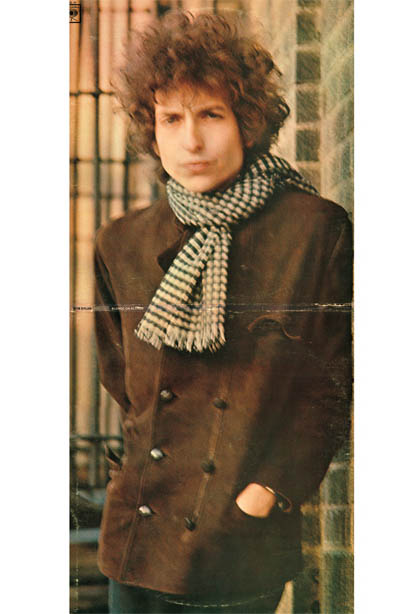 The cover of Blonde on Blonde, opened. (courtesy of Sony Music Entertainment; photo by Jerry Schatzberg.)
---
Cameron suggested that in each photo, Dylan was in an run-down or industrial area, and was photographed with a scarf. Perhaps, he wrote, the photographer, Jerry Schatzberg, and Dylan decided that would be the look for the cover, and they took the photos in one or more sessions, perhaps in the same industrial area. Finding the "white scarf photo" might give clues to the Blonde on Blonde cover.
That sounded reasonable to me. So I began to analyze the Saturday Evening Post cover from pictures on the internet.
---
On the cover, Dylan is walking across the sceen with a cigarette in his mouth. His white scarf is tied on his right side (opposite the side his scarf is tied on Blonde on Blonde). Most of the background buildings are somewhat is out of focus but you can see he's on a street that seems to bend. The buildings are all brick and there's a warehouse in the background.
---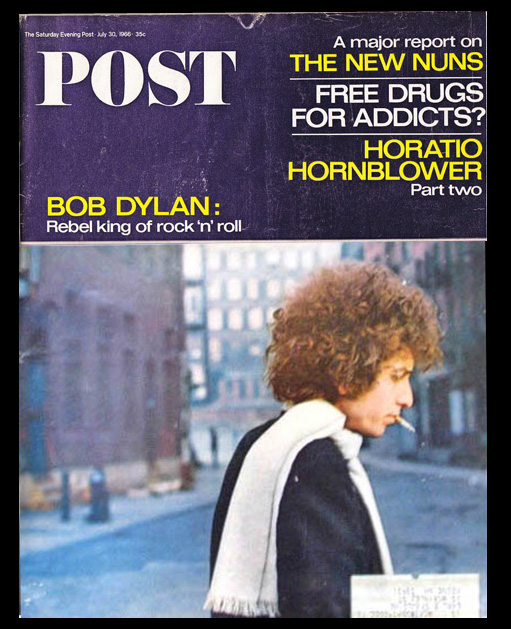 The Saturday Evening Post cover. (photo by Jerry Schatzberg)
---
My initial thought was that it looked like the photo was taken in England in one of those industrial-revolution cities like Leeds or Manchester where Dylan did several famous photo shoots while on his British tours. Dylan's hair is really long - similar to photos I'd seen of him on tour there and in the film of one of those years, DON'T LOOK BACK.
---
I next turned my attention to the photo of Dylan on the cover of the 45 for I WANT YOU to see if there were any further clues.
That photo had much better focus and a wider view of the scene. In that photo, Dylan has his scarf on the other side of his neck, so most likely either this photo or the "Post" photo was printed backwards. In this, Dylan has his hands above his head, as if in surprise. A cigarette is in his left hand. He's wearing kind of a black wool jacket, definitely different than the brownish outfit from Blonde on Blonde.
(Note: Later, by viewing parts of Don't Look Back on YouTube I determined that Dylan holds his cigarette with either hand, so that didn't give a clue as to which photo was backwards - that of the Post or the 45rpm. In general, Dylan is known to be left handed, but plays a guitar light a right-handed person.)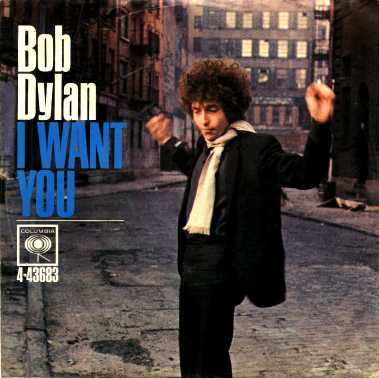 (45 rpm cover courtesy of Song Music Entertainment; photo by Jerry Schatzbeg)
---
The background of this shot comes more in focus than the "Post" shot. The street has a definite angle bend to it (unlike pretty much about 95% of Manhattan streets.) The street is pre-grid-system-thin, like those in the Village and old parts of the Financial District. And the street is made from cobblestone. (Which I thought would make a great hint, only to find out later that there are over 15 miles of cobblestone streets in New York City.)(Quick shout out here to Josh at the NYC Dept. of Transportation who passed the photo around his street-knowledgeable workmates to see if they knew this old, cobblestone street.)
The street comes to an end at a "T" on a block with a warehouse. And there are other warehouses behind and to the side of that in close proximity, meaning those streets would be small too. Streets coming to "T's" are also rather limited in Manhattan, even in the older sections downtown.
On the left side of the photo, the three or four reddish buildings look residential because they have fire escapes. In general, the street seems abandonded without much life, which would indicate an industrial area of town, empty on weekends, or a place like the Bowery.
---
Finally, I looked at photo of Dylan with the white scarf inside the Blonde on Blonde album and one from another outtake I found on a Dylan photo archive site, but they were both in close-up with and did not bring any new clues. (Dylan collectors will know that this was actually the 2nd version of the inner gatefold of Blonde on Blonde, the first had to be changed because of a copyright issue with the photo of an actress.)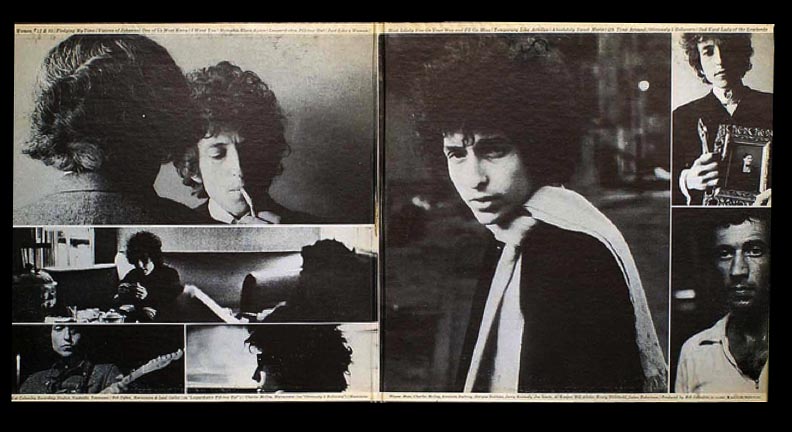 (Blonde on Blonde album courtesy of Sony Music Entertainment; all photos by Jerry Schatzberg)
---

(photo of Dylan by Jerry Schatzberg)
---
So, to sum up, at this point, all the clues seemed to point to England. Neither any of my friends nor I had ever seen a combination of streets like that in Manhattan or Brooklyn - a cobblestone street with an angle to it, coming to a "T" in an area with warehouses.
---
So I started to look first at: WHO took the pictures, and; WHEN the pictures could have been taken.
First, the photographer - Jerry Schatzberg. I knew a little about him from researching Blonde on Blonde. Born in the Bronx, and based in New York with a studio at Park Avenue South and 25th Street, he had been a fashion photographer for women's fashion magazines like Vogue, McCall's, and Esquire in the early 60's. His work was definitely high-end and glamourous; elegant women in beautiful clothes. He shot in the studio and with New York street backgrounds. (You can see his work at his official website: www.jerryschatzberg.com)
Later, he went on to make movies like Street Smart (1987) with Morgan Freeman, and Panic in Needle Park (1971) with Al Pacino. He also knew the Rolling Stones and took the cover of their single "Have You Seen Your Mother Baby, Standing in the Shadows," on 24th Street, midblock, between Park Avenue South and Lex - around the corner from his studio ( I will elaborate on this cover on another PopSpots). In short, he knew photography, fashion, and the look of cities.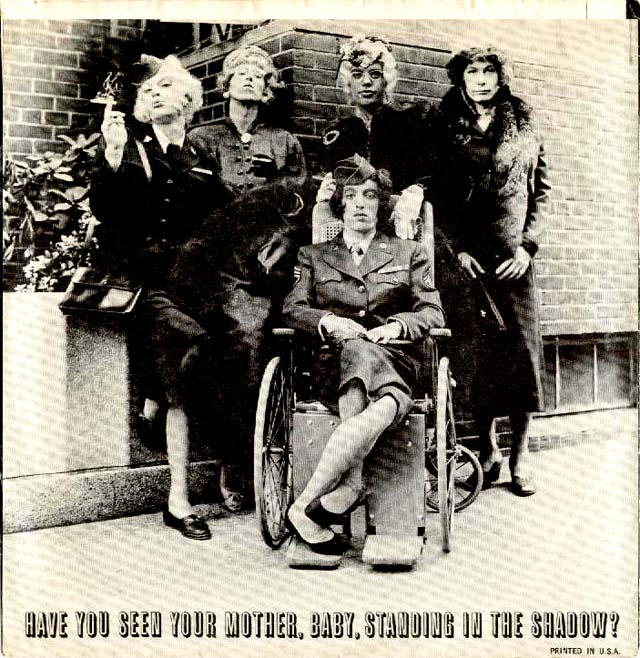 Cover of the 45rpm for Have You Seen Your Mother, Baby, Standing in the Shadow? (London Records (US) Decca (UK), released Sept. 1966) by
---
By the way, that's Jerry on the bottom right of the inner gatefold of Blonde on Blonde.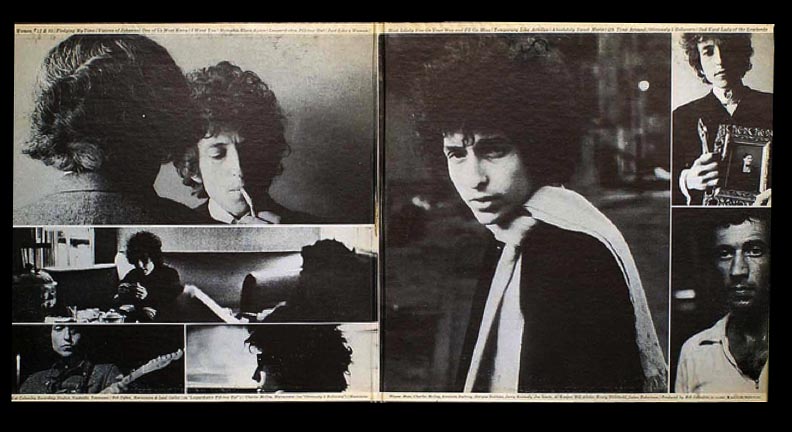 (inner gatefold of Blonde on Blonde courtesy of Sony Music Entertainment; all photos by Jerry Schatzberg)
---
In fact, I think it was Jerry Schatzberg's fashion sense to ask Dylan to wear a scarf in both the Saturday Evening Post photoshoot and the Blonde on Blonde photoshoot, because, with the exception of the cover of Desire, I can't remember seeing Dylan with a scarf on in any other photographs.
---
So my first step was to find out when Jerry might have photographed Bob. To do this, I needed to eliminate places the photograph could not have been taken.
---
At this point in my search I figured Jerry Schatzberg had flown to England, caught Dylan at one of his gigs, and taken some photos after a show.
But then I started matching up days of when Jerry Schatzberg could have taken the photo.
Searching through Google Books, I found that Schatzberg first met and first took pictures of Dylan during the Highway 61 Revisited sessions, which took place in New York City between June 15th and August 4th, 1965.
Blonde on Blonde (which had the picture inside the double sleeve) came out in May of 1966, about one year later. The I WANT YOU - 45 cover came out a month later, in June of 1966 and the Saturday Evening Post cover came out a month after that, in July of 1966.
For the picture to be in Blonde on Blonde, its first appearance of the three, I'd figure Jerry Schatzberg would have had to give it to the record company at least a month prior, so that's April of 1966. And since it's a winter photo (the scarf), it was probably taken in the winter months between October 1965 to March of 1966.
So Jerry Schatzberg probably took the photos for all three projects in either October, November, December, January, February or March of 1965-1966.
---
First of all, those dates precluded Dylan's photo having been taken on England, because his solo tour there ended in March of 1965, several months before Schatzberg and Dylan first met. And it couldn't have been taken in England in 1966 because Dylan didn't get to England on tour that year till May, which was just about when Blonde on Blonde was released.
---
So, other than New York, what other cities could the photo have been taken in?
For this information I went to a website run by a Dylan researcher from Sweden named Olof Björner (his site can be found at found at www.bjorner.com) who lists all Dylan's past (and present) performances and recording schedules.
According to Olof, between October 1965 and March of 1966, Dylan gave (by my quick addition) approximately 61 concerts in the U.S. and Canada.
Of all the cities, the only other cities outside of New York that I thought could have a district of warehouses, residential brick buildings with fire escapes and cobblestones streets were: Providence, Boston, Toronto, Chicago, Ottowa, Monreal, Vancouver and Seattle.
So I Google Image-searched all those place using a combination of search terms like "cobblestone street" and "warehouse" and "old city" and came close -- but no cigar. Of all, Boston, seemed to have the most possibilities, but in the end - no match.
---
At the same time I looked for more pictures that Schatzberg took of Dylan and didn't find any that had even been taken out of New York; so I doubted Schatzberg had ever photogrphed Dylan out on the road. Most of the photos were in Schatzberg's studio, including the one that became the cover of Dylan's first book Tarantula.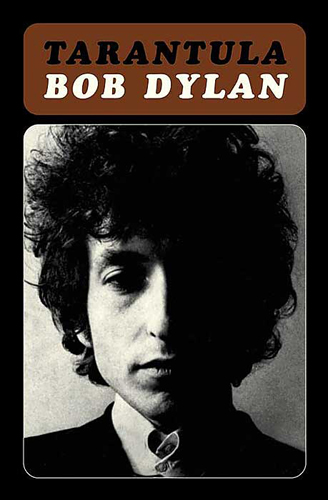 (Cover of Tarantula, Macmillan & Scribner, 1971, cover photo by Jerry Schatzberg)
---
And in addition, a friend of mine named Jason informed me that New York was the only major city requiring outside fire escapes on 6-story, walk-up buildings.
So AFTER ALL THAT, I concluded that the photo was probably taken around Good ole New York City where I figured it was in the first place.
---
Time to dig deep. Get medieval on this search.
---
I was left with Manhattan and its environs, including Brooklyn, The South Bronx, Yonkers, Jersey City, Hoboken, etc. The latter - those outside the 5 boroughs of New York City - I disregarded because of the fire escape law (which may or may not be the law, but it sounded right).
Though I looked next on Google Images and Flickr in Brooklyn and the Bronx for areas that looked like the cover, nothing came up. The closest were the cobblestoned streets around DUMBO (Down Under the Manhattan Bridge Overpass) in Brooklyn. But no bent street came up.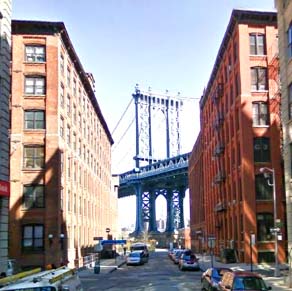 (via Google Street Views)
---
So therefore, it looked like the picture was taken most likely taken in Manhattan. But where was the bent street and the warehouses?
First I checked some of the old Sanborn Maps at the New York Public Library Map Room. I knew most of the curved or bent streets that I saw on the maps. But there were also large sections of Manhattan, especially down by Wall Street, that had been built over, and I couldn't tell if certain small streets on the maps had been covered up by huge downtown skyscrapers, without a lenghthy process of scanning maps and overlaying them on each other.
---
So I tried to figure out which neighborhood the photo was most likely taken in.
First I made a map of Manhattan and circled the spots that might have that combination of cobblestone, bent street, and warehouses. It included: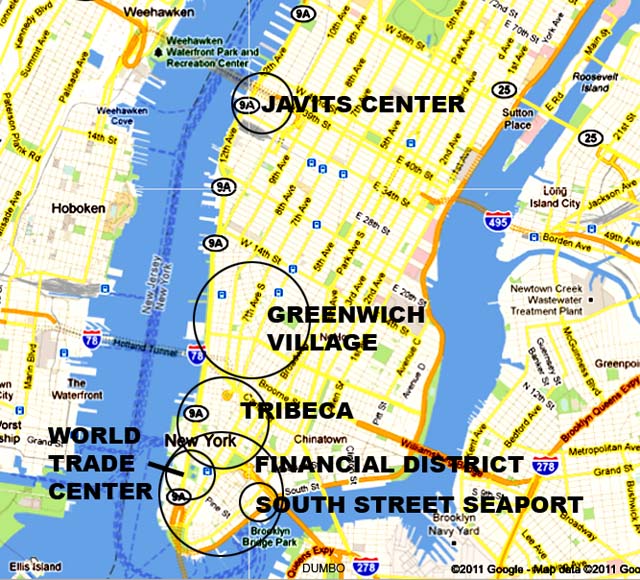 (map: Google Maps)
---
The map included:
1) The bottom of the Financial District. Home to lots of little streets, like Stone Street, a curved street and old buildings, like Faunces Tavern where George Washington once ate. (teeth in or out I'm not sure.)
2) Tribeca: Home to warehouses and cobblestones.
3) Greenwich Village. Home to some bent streets, but not too many large warehouses, except next to the river.
4) The South Street Seaport area, also home to lots of tiny 19th century streets.
5) The pre-1960's World Trade Center area - before they built it. Once known as Washington Market. Many old fashioned buildings but, I would find out, no curved streets according to old maps. Here's the market in the 1950's: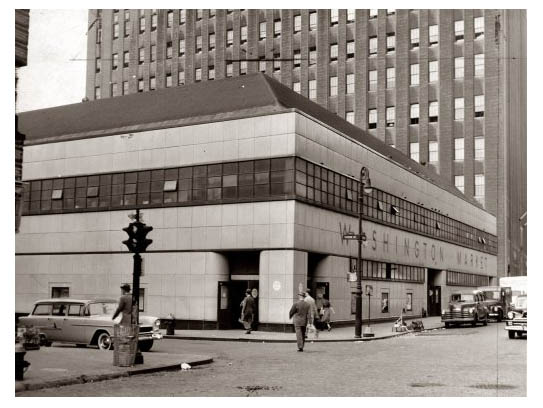 (photo: NYPL)
6) The area of the Javits Convention Center in the West 30's before they built the center. Same thing. Lots of old buildings taken down for the Center, but no curved streets.
---
So on weekends, I walked around to all the possible sites, even though from looking at them ahead of time on Google Street Views they didn't seem to be the perfect fit. But I needed to get "boots on the ground" to see for myself and get a feel for the area.
---
Pictured below are some photos from the various sites that ALMOST fit the bill - thin streets, cobblestones, and old neighborhoods, but never quite made it. Most were streets, some were alleys. A website called Forgotten New York (www.forgottenny) has an extensive collection of pictures of alleys and that saved me time. The actual cobblestoned street Dylan was on seemed wider than an alley which are only about 12 feet across, but lenses sometimes distort, so I had to check out the most promising alleys physically.
---
THE FINANCIAL DISTRICT
---
STONE STREET, looking south.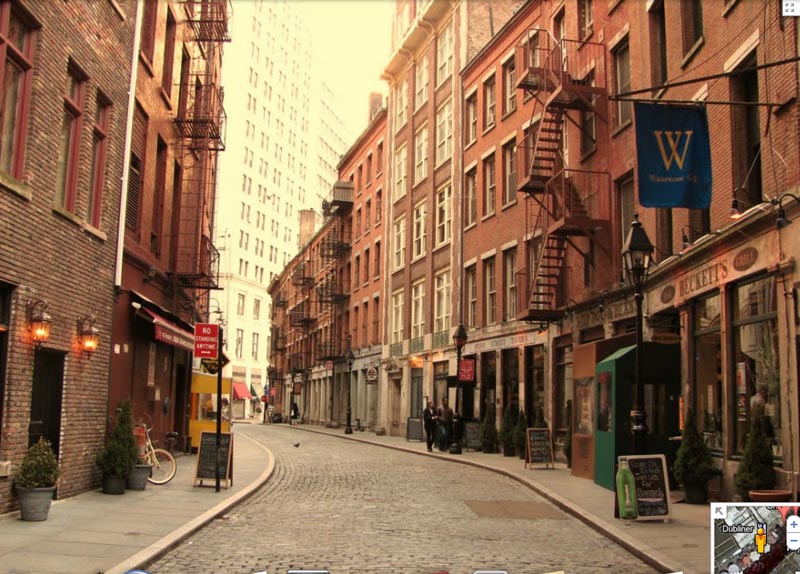 (photo: Google Street Views)
---
STONE STREET, looking north.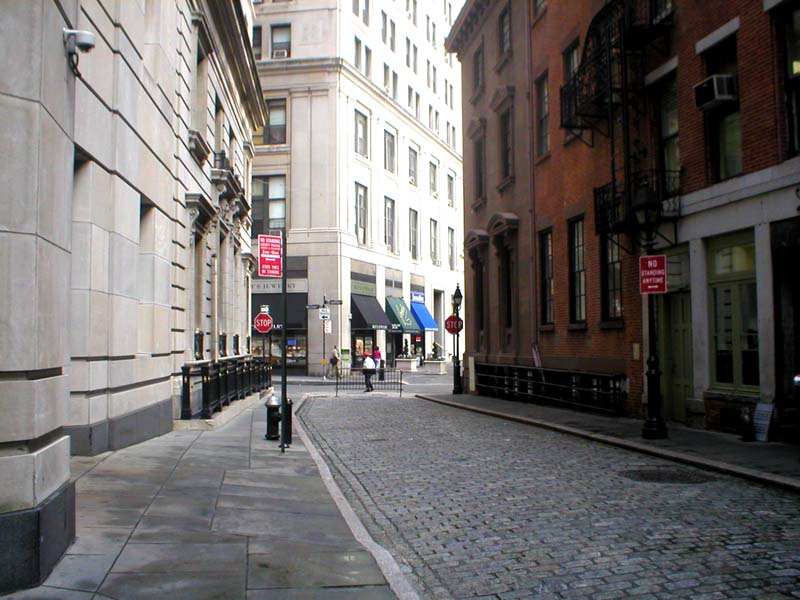 ---
WILLIAM STREET, looking south.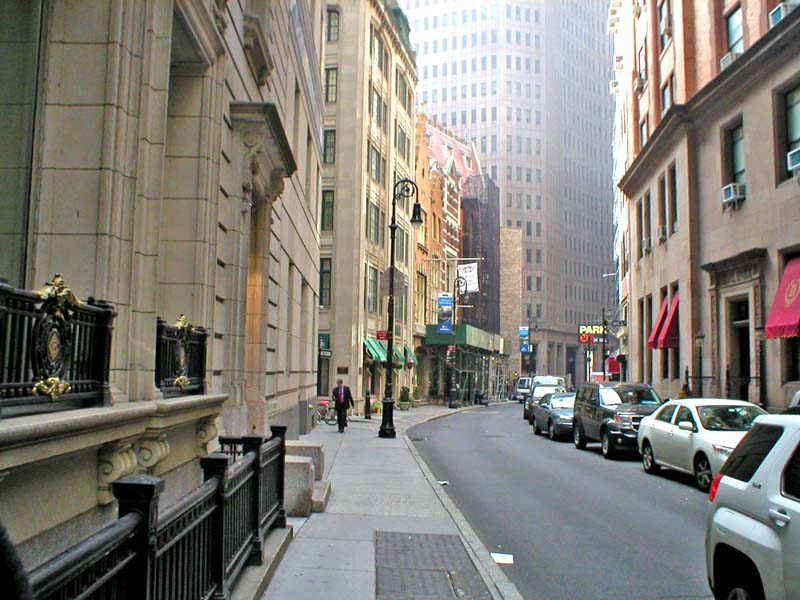 ---
And connecting Stone Street and Williams Stret was a small street called Mill Street that also seemed a possibility, but finally not. Though very cinemaic.
MILL STREET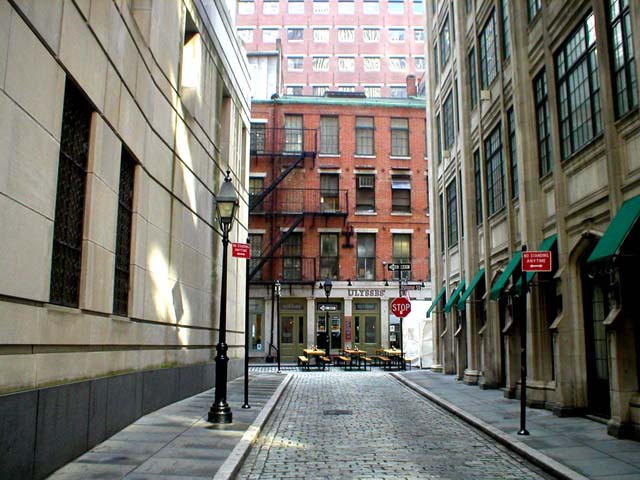 ---
TRIBECA
---
STAPLE STREET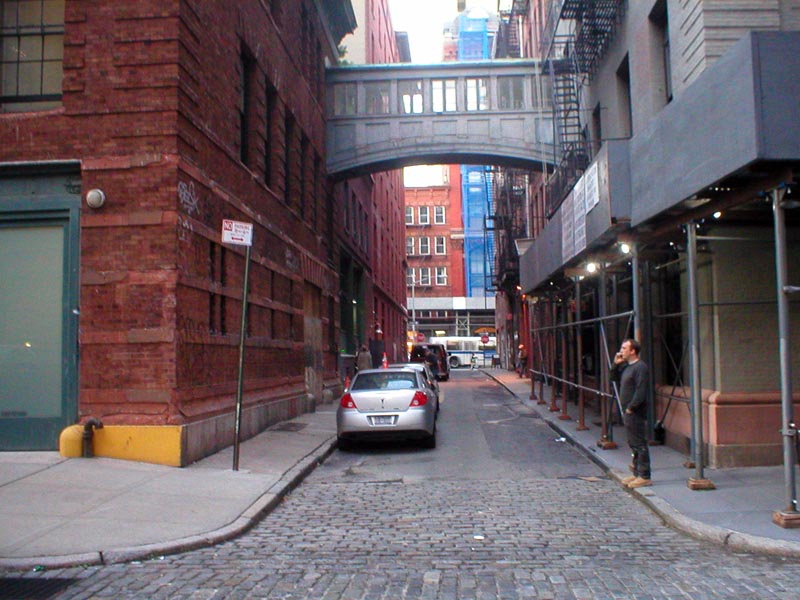 ---
COLLISTER STREET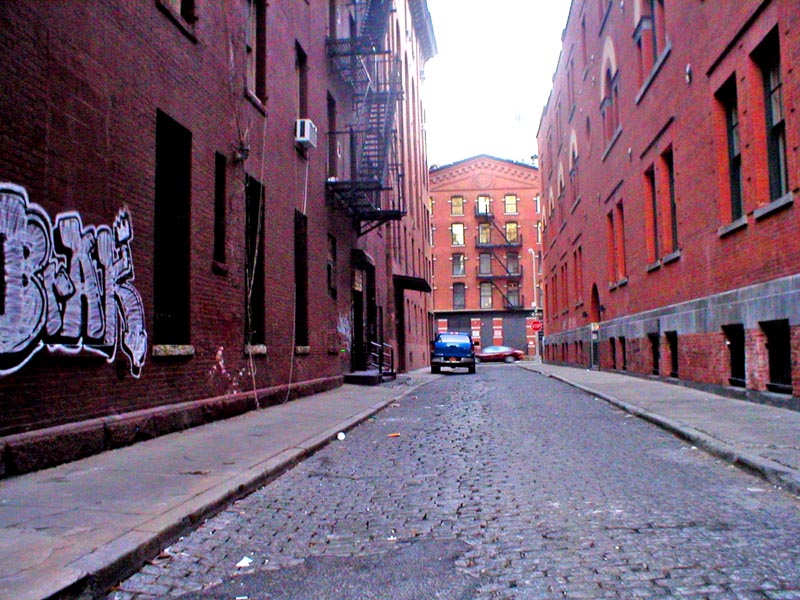 ---
ST. JOHN'S LANE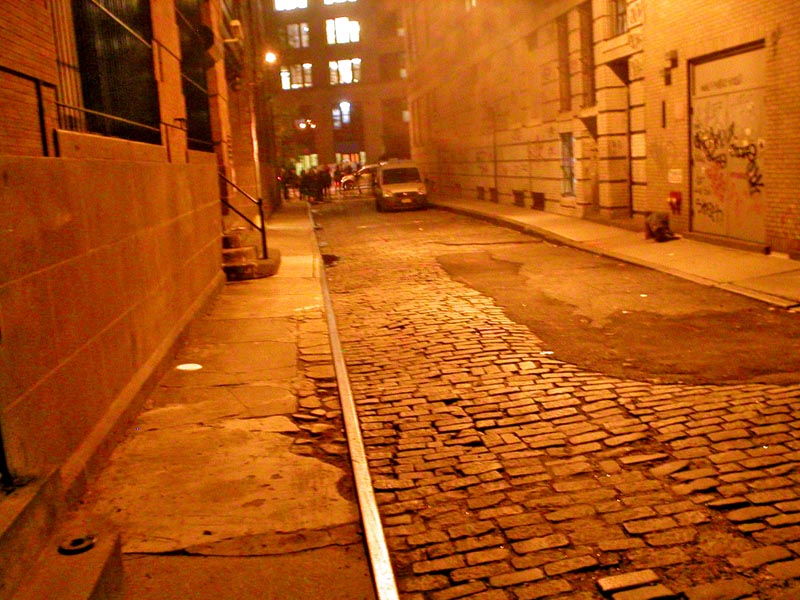 ---
CORTLANDT STREET (near Chinatown)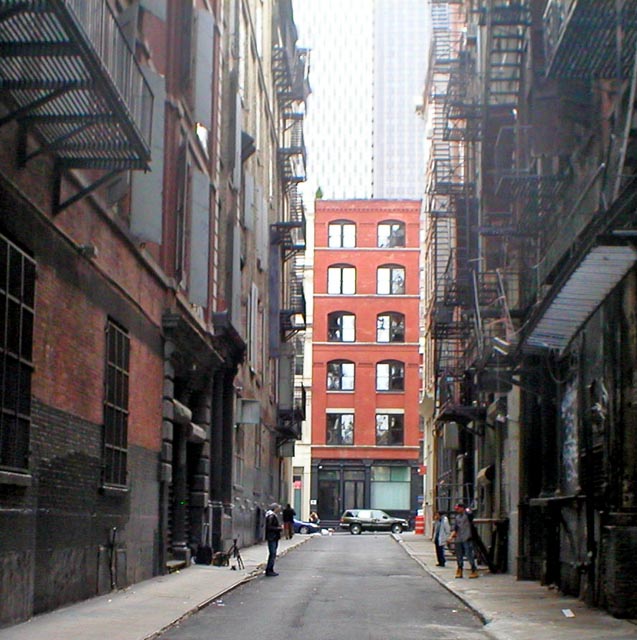 ---
...and one actually IN Chinatown, perhaps Manhattan's most famous bent street (It actually zigzags), DOYERS STREET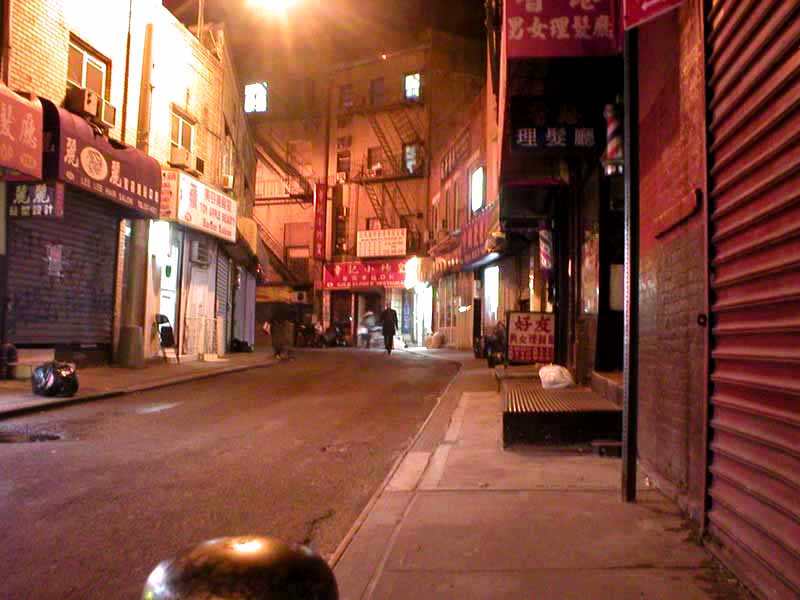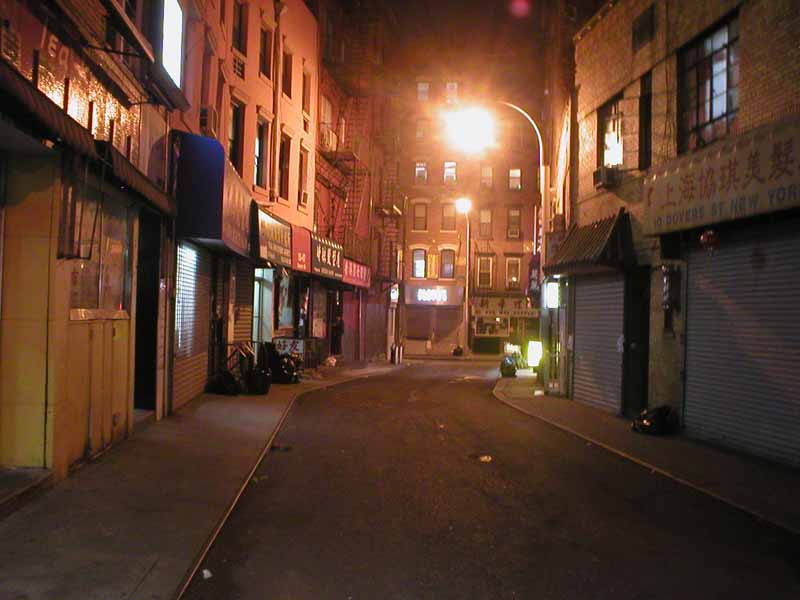 ---
GREENWICH VILLAGE
---
MINETTA STREET
Here's one in back of MacDougal Street called Minetta Street. Coincidentlly, right off to the left is a bar which used to be called The Commons and was where Dylan wrote "Blowin' in the Wind." In the movie Serpico Al Pacino lived in a basement apartment to the left, to the left of that car in the picture.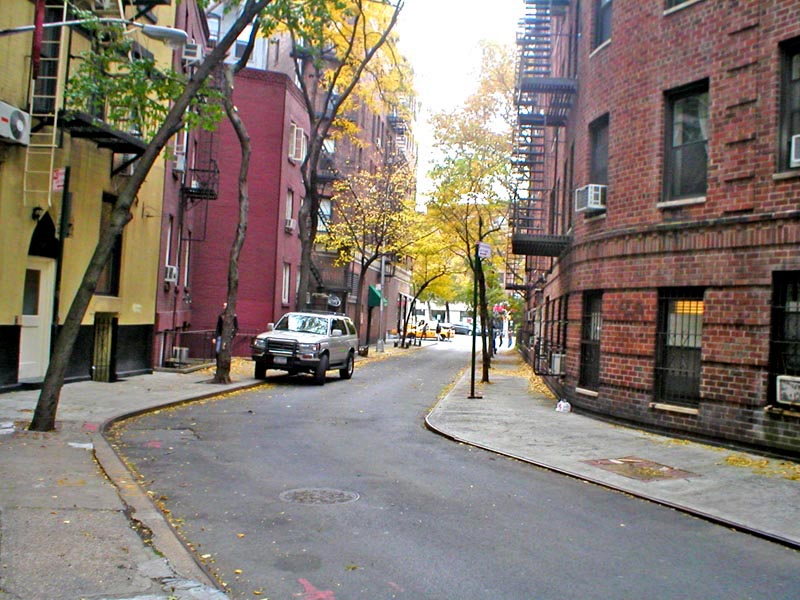 ---
And further east (technically in NOLITA) was GREAT JONES ALLEY...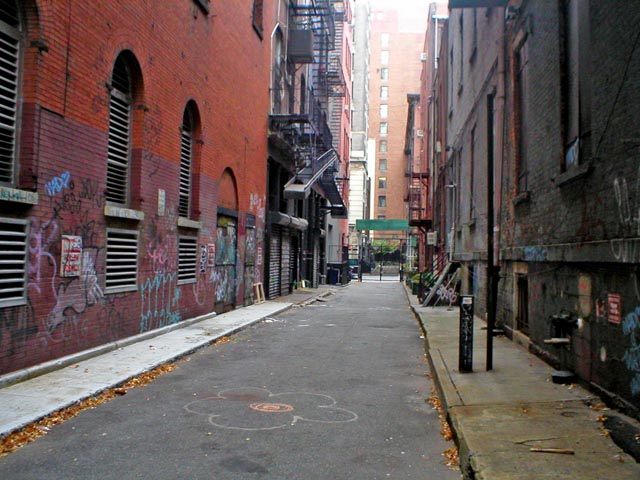 ---
...and near that,

JERSEY STREET

(Yo! Shout out to Jersey!)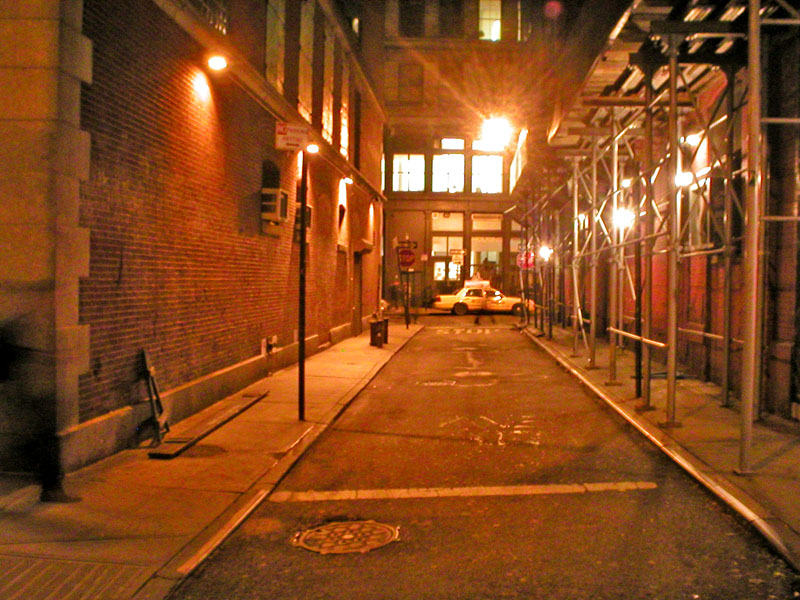 ---
THE SOUTH STREET SEAPORT area
---
WATER STREET
Incidentally, New York's cobblestones came to America from Europe as ballast in the bottom of large ships. America sent heavy goods to Europe, but didn't take back much in weight; so to balance the boats they needed to load up the boat bottoms with cobblestones.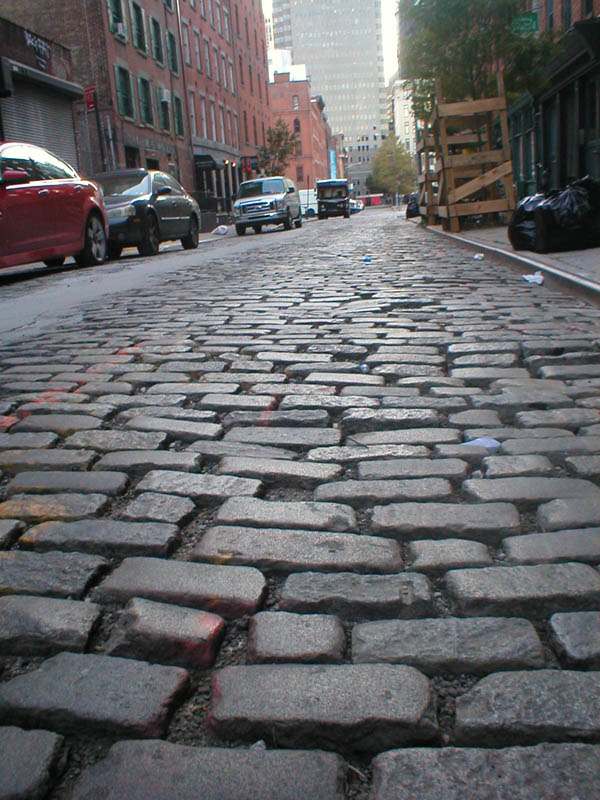 ---
GOLD STREET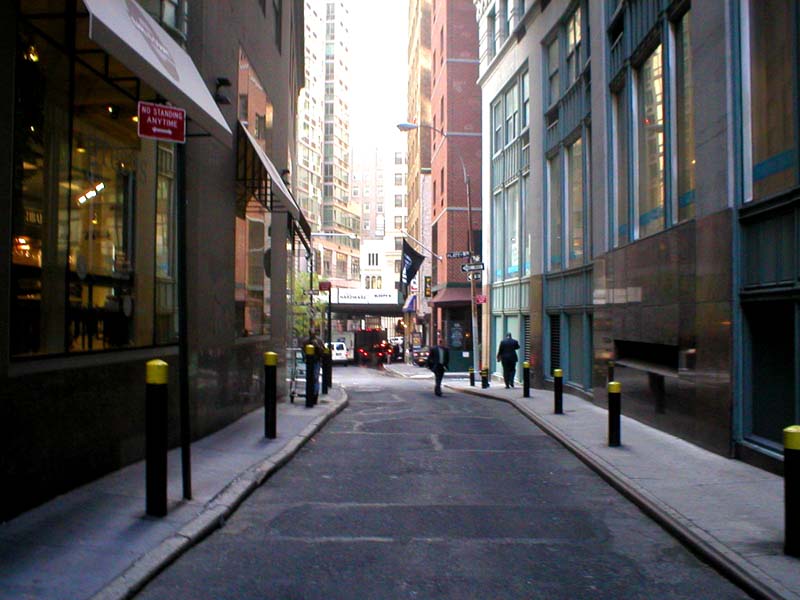 I didn't know it at the time, but when I was on Gold Street where it meets Fulton, I was just about a block away from where the photo was taken. But that whole area had been built over, so who knew what was there 50 years ago? I soon would!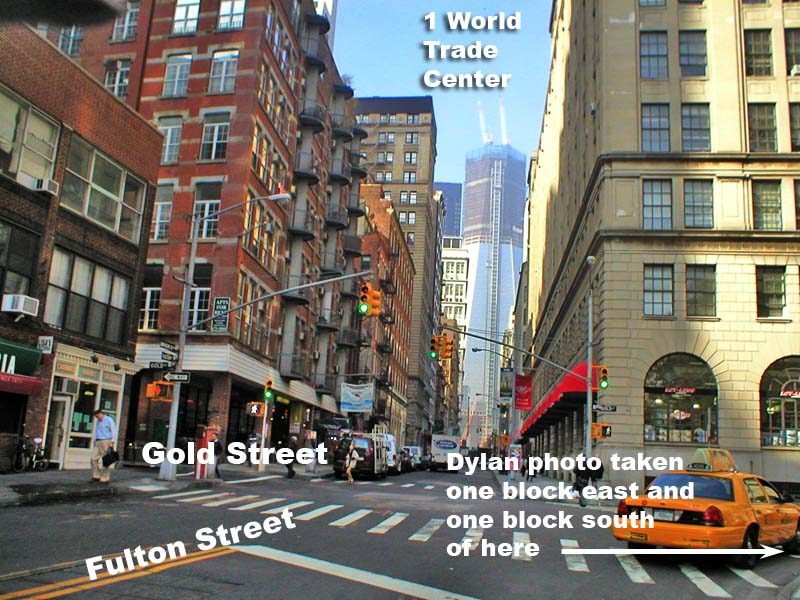 ---
This searching all took place over a few months time. At some time, while on the Forgotten New York website , I had come across the name of a man named Gilbert Tauber who had a website called Old Streets of New York: a Guide to Former Street Names in Manhattan. (www.oldstreets.com).
Elsewhere on the web he is described as "an urban planner and historian, co-author of The New York City Handbook and a contributor to the Encyclopedia of New York City."
I figured if anyone knew an obscure street in Manhattan it would be the gentleman who wrote a website about them and contributes to an encyclopedia of New York.
So I emailed him and told him of my search.
He emailed me soon after and suggested I look around Tribeca, specifically the area of Duane Park, which seems to have to have the proper mix of cobblestones, small streets and warehouses; and even a "v" shaped bend in the street where Duane and Hudson Street meet.
That area had also been one of my early thoughts, but this time I walked around it instead of Google Street Viewing it; but the "v" created by the two converging streets was too large to work.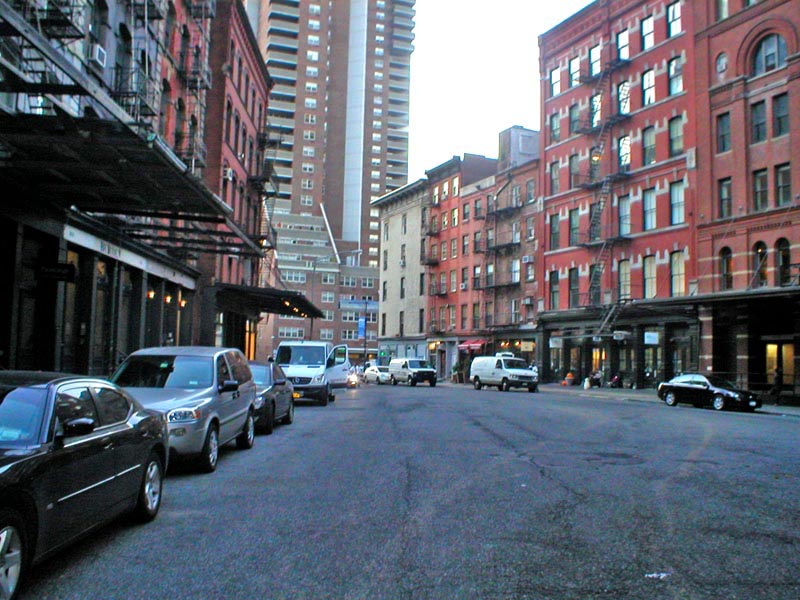 (Photo of Duane Park area where Duane Street meets Hudson Street.)
---
Gil also suggested, because of the late-19th century look of the buildings, that I concentrate my search along the rim of lower Manhattan from Battery Park to the Brooklyn Bridge where the old streets were narrow. This helped focus my search. More on Gil later.
---
Also at about this time, I said to myself "I need primary sources"; so I ordered a copy of the Saturay Evening Post with white-scarfed Dr. Dylan on the front via Ebay for $17.00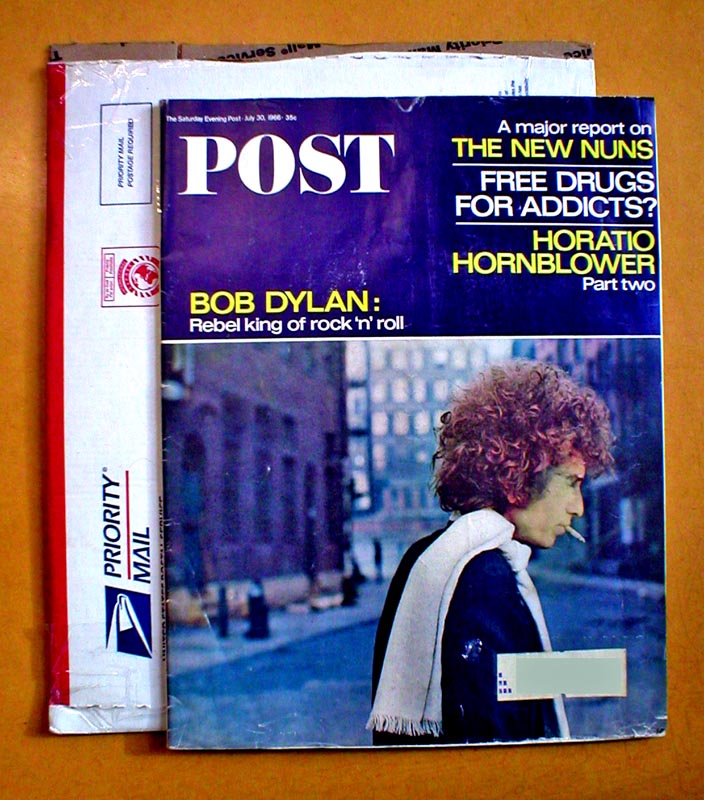 ---
When I got it, I combed it with a magnifying glass for clues, but came up clueless (Hey, no jokes from the Peanut Gallery!).
So, I put the issue where I could see it when I entered my office so that each time I saw it I might be inspired with a new thought. It was The Great White Wonder (a combination of Moby Dick's nickname and the 1st Dylan Bootleg) and I became Ahab. Game On!
---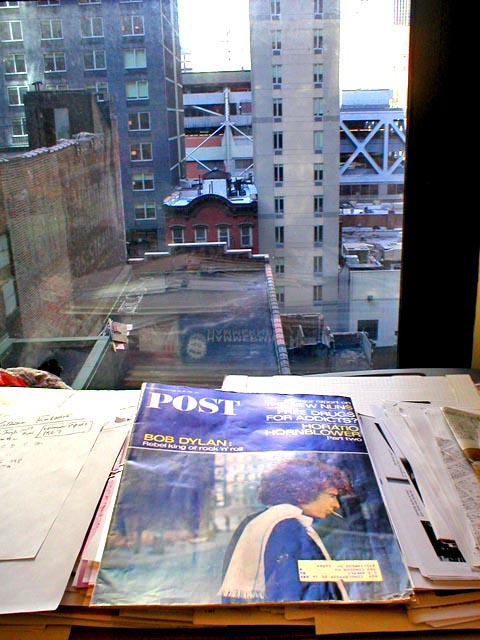 ---
Finally, inspiration came. That big brown building on the left side of the Post picture started to catch my attention. It wasn't like the buildings with the fire escapes on the other side of the street after all! I had been paying more attention to the bend in the street then to the buildings.
So I scanned the magazine cover put it into Photoshop and played around with the light and the colors and the shadows in order to make out every detail of the building. It seemed easiest to see when it was red: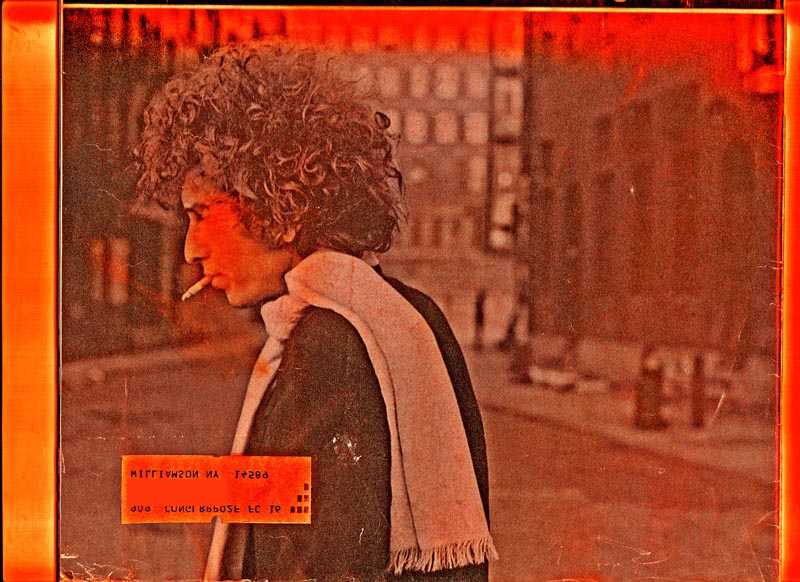 (photo by Jerry Schatzberg)
---
I focused now on the building on the right. It had two doors with rounded entryways flanking three sets of large windows which could be delivery bays. It definately wasn't a residence or a store (later, it turned out it was probably a tannery). It also had a pronounced "rib" along the end where the street turned, as you can see in this picture: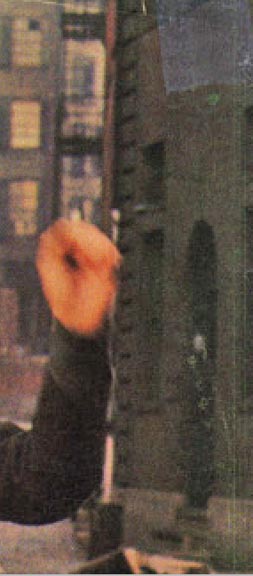 (This pictures is a close up from the I WANT YOU cover photo by Jerry Schatzberg.)
---
Unlike the old brick tenements to the left, if any building still remained to this day, it would be this.
So I sent the red photo to Gil and replied that from the look of the arches over the doors, it looked like it was out of the late 1800's so that that would still probably leave the location in the older sections of the financial district or the South Street Seaport.
So now, with the area somewhat focused, I went to Google Image Search and typed in searches for "Lower Manhattan Cobblestone Street" and "Seaport Cobblestone Street." And, after many searches: this image popped up: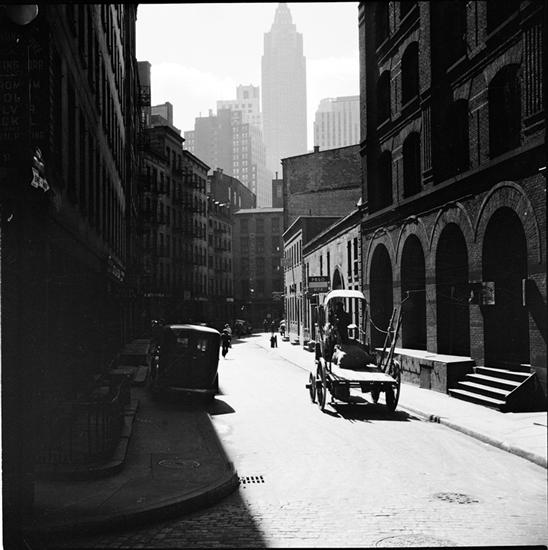 (photo WPA Archives by David Robbins 1939)
---
Whoa! I said to myself, I am sliding into home base.
Here's a street with a bend in it, and at the end of the street is a warehouse with just about the right-sized windows. But on the website, there was no indication of the street name. In the background was a tall building; so, to try to figure out what street it was, I checked the tall building out on Bing Maps and found it to be 70 Pine Street.
---
Today 70 Pine Street building looks like this: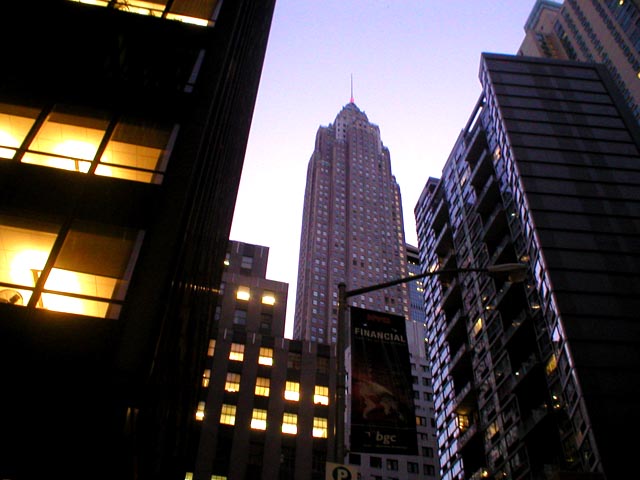 ---
So, I sent the photo to Gil and told him that if this wasn't the street, I'll bet it was right around here. I added that I thought the tall skyscrper in the back was 70 Pine Street, and asked if he agreed
He agreed, and added that since it was 70 Pine Street, the street in the picture was on a north-south axis, and so he suggested I also look also at Cliff Street and Jacob Street.
---
Cliff Street I knew of and had walked on, but the Cliff Street I knew didn't fit the bill. I had taken an earlier photo of it. Here it is: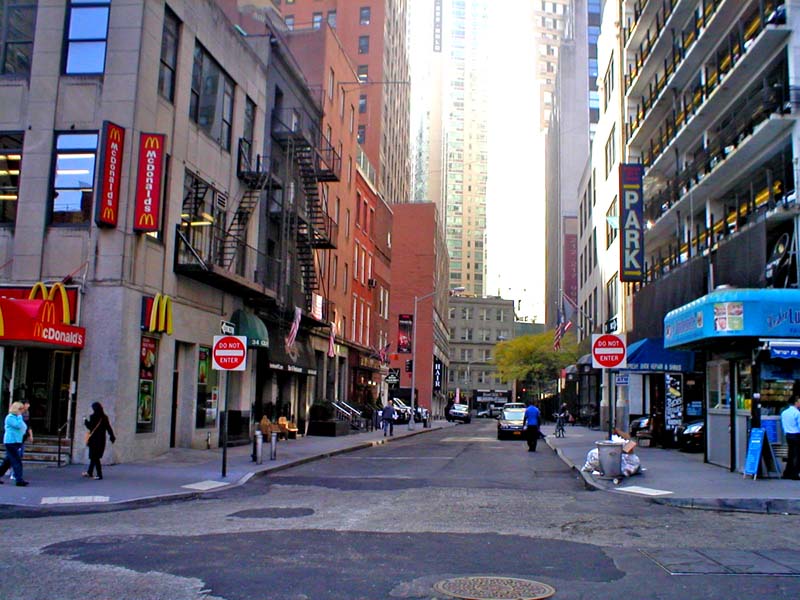 ---
Jacob Street I had never heard of.
But I knew that you can go to the New York Pubic Library's website and search through old picturse of New York by street and intersection name. So I entered "Jacob Street." About ten tiny pictures came up, including one that acually looked like the cover of the I WANT YOU album cover!
So I clicked on it. BINGO!
It was practically the exact same picture taken in the exact same place as the Saturday Evening Post / I WANT YOU pictures. Score 1 for Ahab!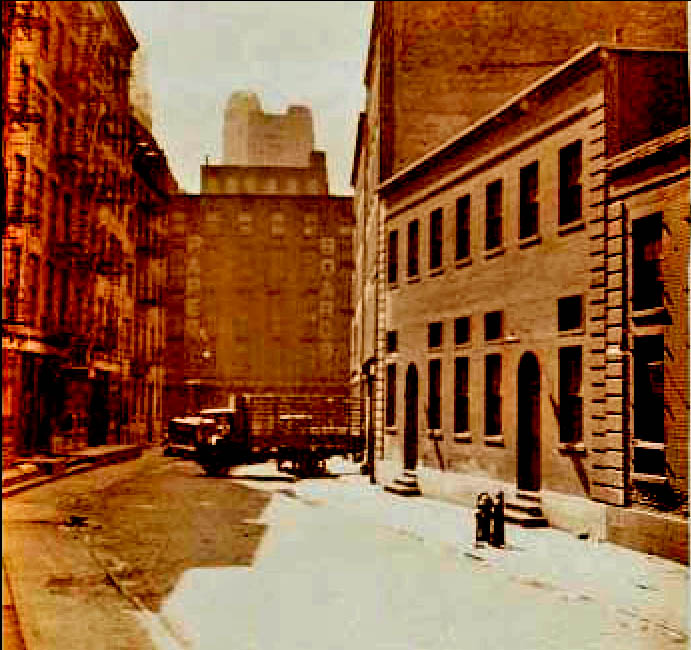 (photo: NYPL)
---
And staring me in my face was the building with the rounded doors, the three windows and the ribbed edge that I had dredged up from the magazine cover and made red for clarity; and - to top it all off - there was the same fire hydrant out front (the one that had the two short iron posts (technical term: "bollards") surrounding it to prevent trucks from knocking it over) - that was on the Post cover!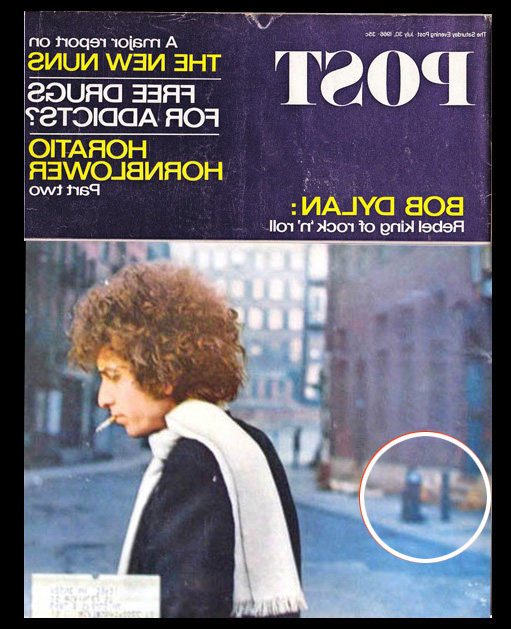 (photo by Jerry Schatzberg)
---
Then, going back to the earlier photo, I zoomed in on it, too. And what do you know - it's the same fire hydrant! So that picture had been the right street, too!. That WPA picture from the 30's was also Jacob Street, the great long-lost backdrop for the "White Scarf" photo.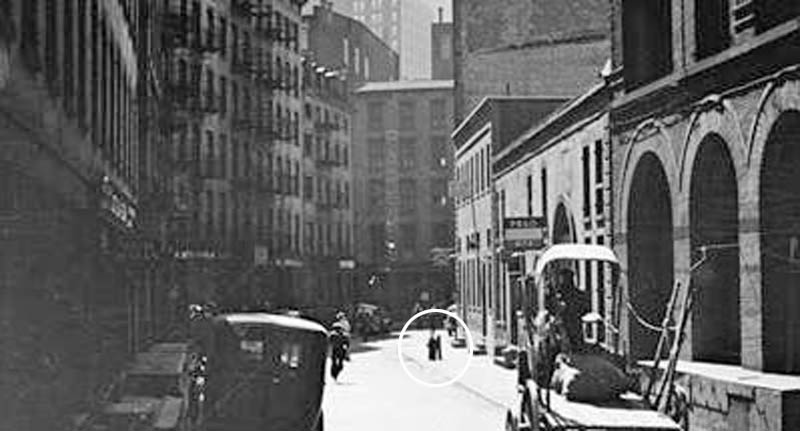 (photo: WPA Archives)
I had it! I had the street. Of course I didn't know where the street was yet - it was just a place called Jacob Street. But I had it. And no one could ever take that vision away from me, even if my computer exploded in the next minute.
---
So I immmdiately emailed Gil and told him that he was "THE MAN" for telling me to check out Jacob Street and thanked him for all his leads.
He then wrote back and congratulated me on finding my "quarry" and also to say that nothing on Jacob Street most likelly was still in existance, as the street, and some others around it (including Ferry Street - where Jacob came to a "T") had been leveled between 1966 and 1971 in order to make way for a huge residential development known as Southbridge Towers, completed in 1971.
---
To refresh your memory: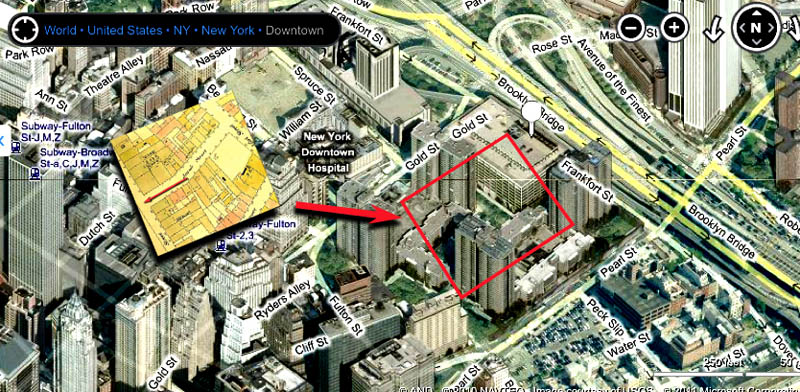 (Southbridge Towers by Bing Maps; overlayed with a NYPL map)
---
In his email, Gil added that:
"This was an interesting, if somewhat smelly, neighborhood. From the mid-Nineteenth Century until after World War II, this was New York's wholesale leather district, commonly known as "The Swamp." In addition to private buildings, leather merchants stored hides in the bricked-up spaces under the Brooklyn Bridge approach. I was on a walking tour there about 1959 or '60, and the smell along Frankfort Street was pretty powerful. There were also a lot of printers and paper companies in the area. Notice that, in the photo, the building at the foot of the street has two vertical signs down its front reading "Paper" and "Board." (for additional information on this area, please see the addendum below)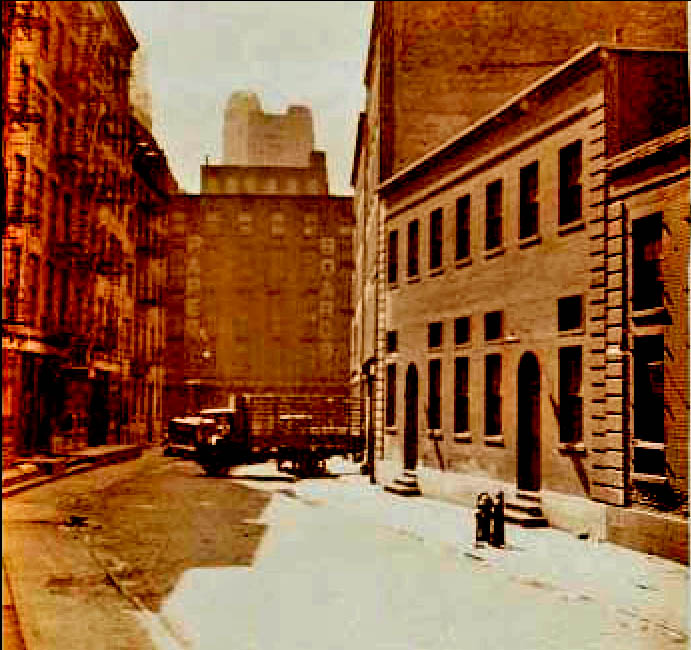 (photo: NYPL)
---
I want to add here, while we are "back in time," a note about this Nov. 29, 1935 WPA photo of Cliff Street, which I found later. A stretch of Cliff Street, once near the Brooklyn Bridge, but now demolished, was parallel to Jacob.
This was the part of Cliff Street that Gil was referring to when he suggested I look at Cliff Street and Jacob Street. So, once again, he had been on the money. The shot below is where Cliff Street met Ferry Street.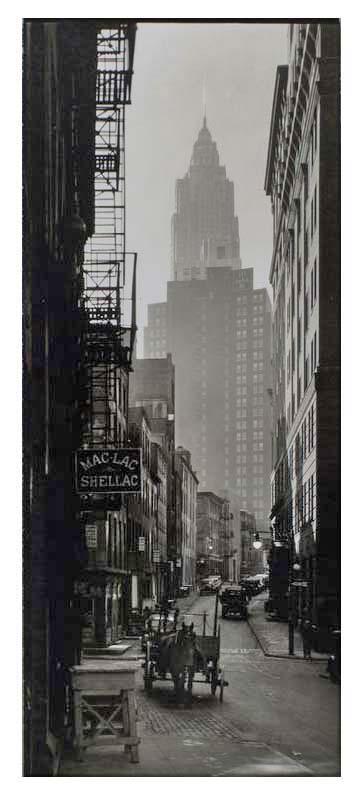 (Photo: WPA Archives, 1935)
---
So for the next step, I found Jacob Street on a map and overlayed it on the Southbridge Tower site. I found that Jacob Street was once right next to the Brooklyn Bridge. I marked the fire hydrant on the map in blue, because I thought that even though they built the complex here, they might have moved the hydrant to next to the building, and I wanted to see if I could find it.
(overhead image: Bing Maps - Bird's Eye View)
---
And in a closer view.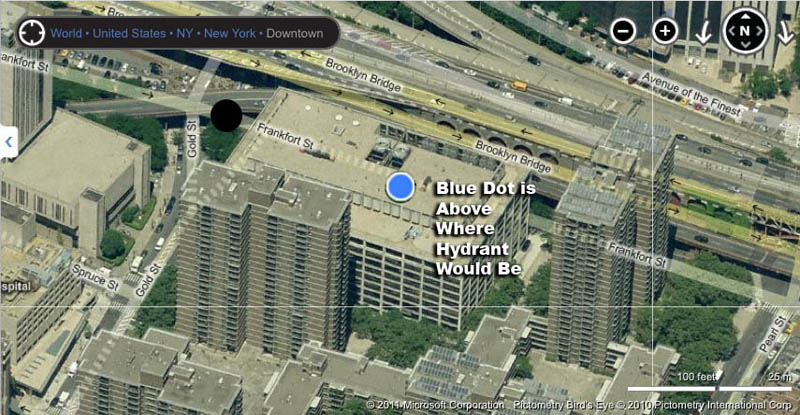 (overhead image: Bing Maps - Bird's Eye View)
---
I also found a reverse angle shot of Jacob Street and there, in the background ( as I noted earlier but I want to refresh your memory), you can see one of the supporting piers at the base of the ramp up to the Brookyn Bridge.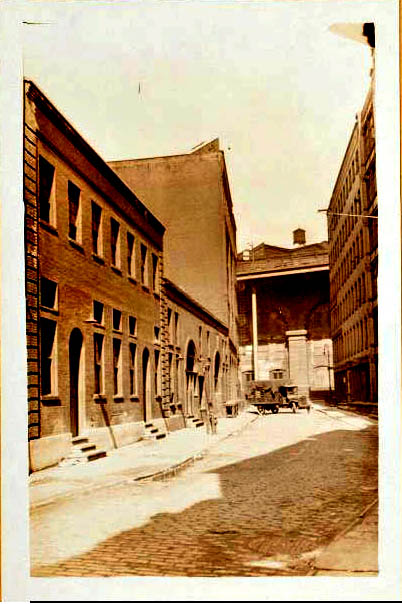 (photo: NYPL)
---
So, I took the subway downtown at that weekend to check if I could connect anything from the old photos to present day.
As you can see, I found the Brookly Bridge piers still there, with the small arched doors to each side.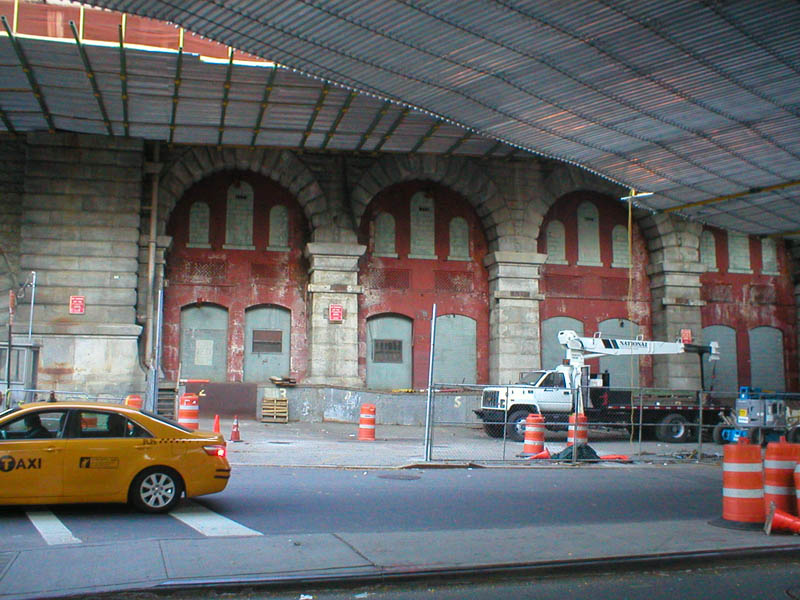 ---
Those were in a good light for a photo. This is the pier I think was the one in the old photo from 1931 at the end of Jacob Street, where it meets Frankfort Street which runs parallel to the Brooklyn Bridge.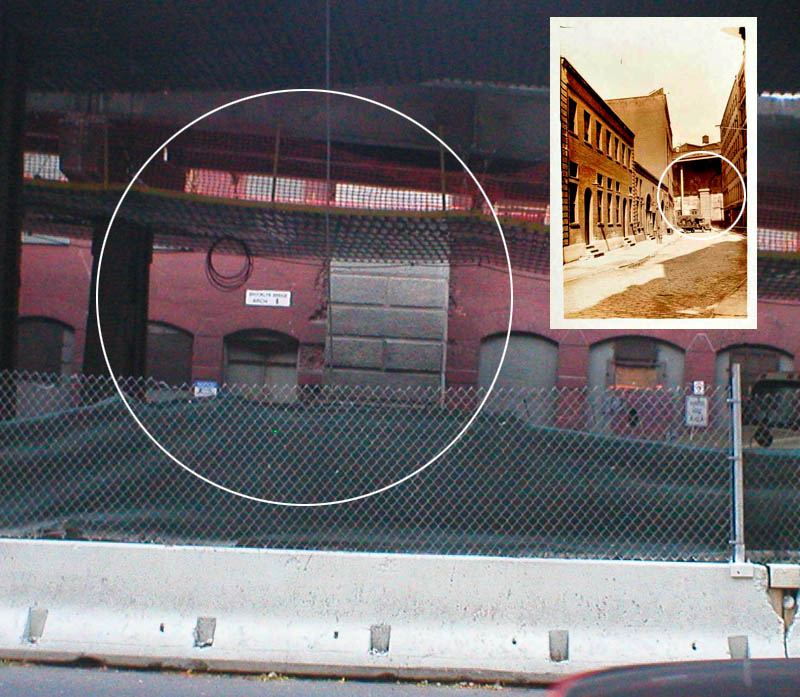 ---
I walked through the Southbridge Tower Complex....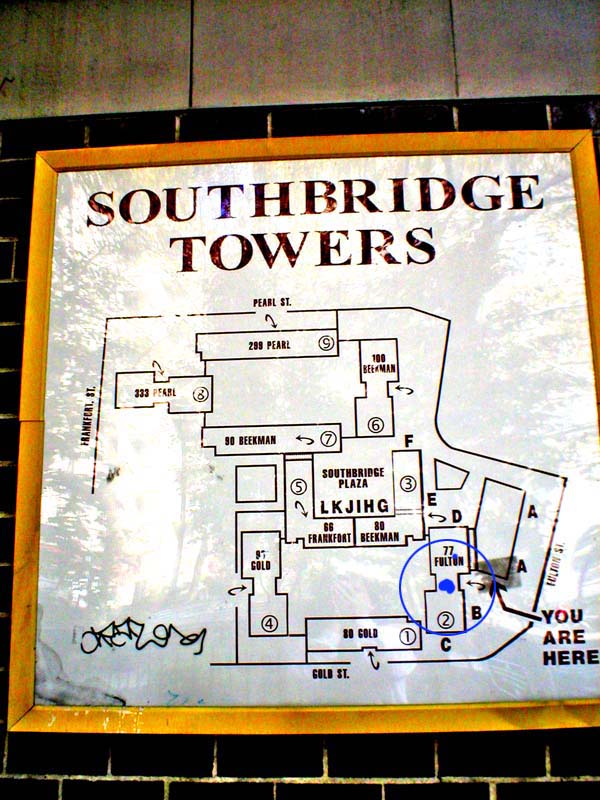 ...but in the spot where I thought there might be a fire hydrant -- nothing.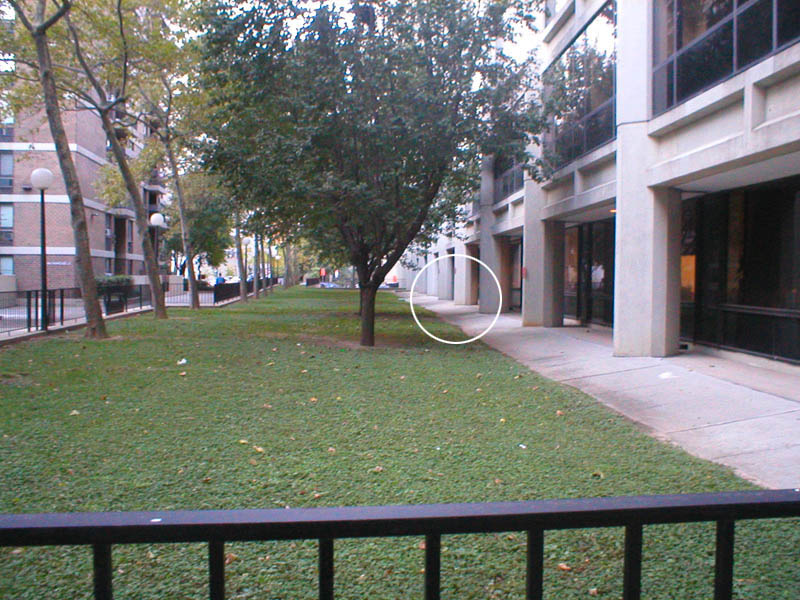 ---
This is the area in the complex is approximately where Dylan was standing when he had his picture taken. The far end of this photo would be Ferry Street, the one at the south end of Jacob.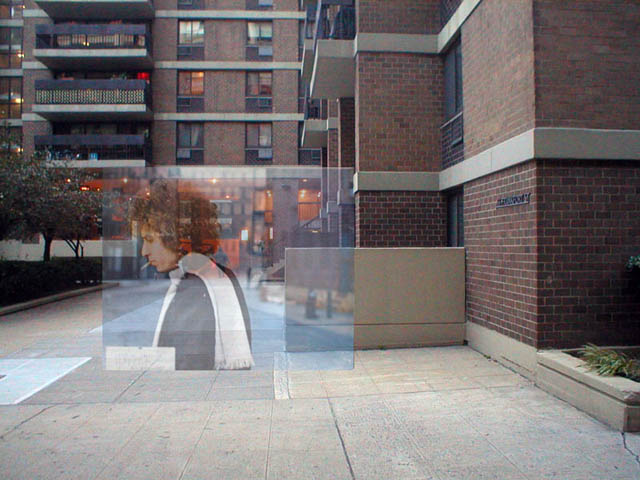 (Dylan photo by Jerry Schatzberg)
---
Now this may be enough time traveling for most people but if you really want to make get the feel for reliving the photo, you can walk down toward the river alongside the Brooklyn Bridge a few blocks - to Water Street, in the South Street Seaport District.
---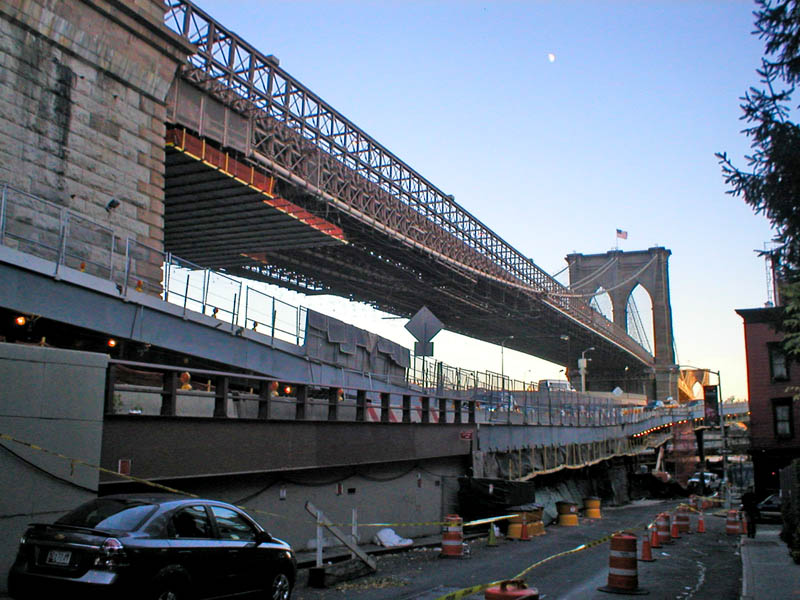 ---
---
This street would be parallel to Jacob. I had actually been there a few weeks earlier. It has the same type of cobblestones and old buildings with fire escapes on the side. So you could put a cigarette in your mouth (no lighting up, kids!), put on a scarf, and take a cell phone snap back into time.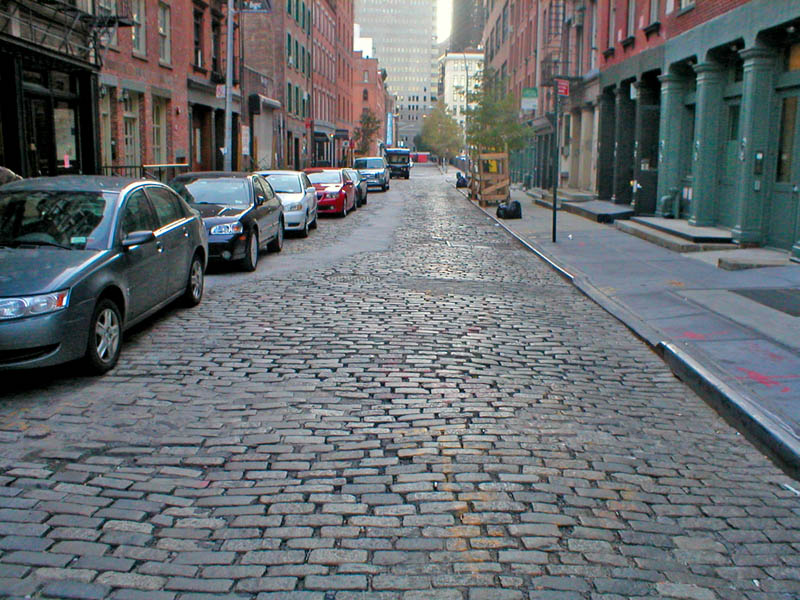 ---
Then if you go to the end of the block, and look up you can see from another direction the former Jacob Street.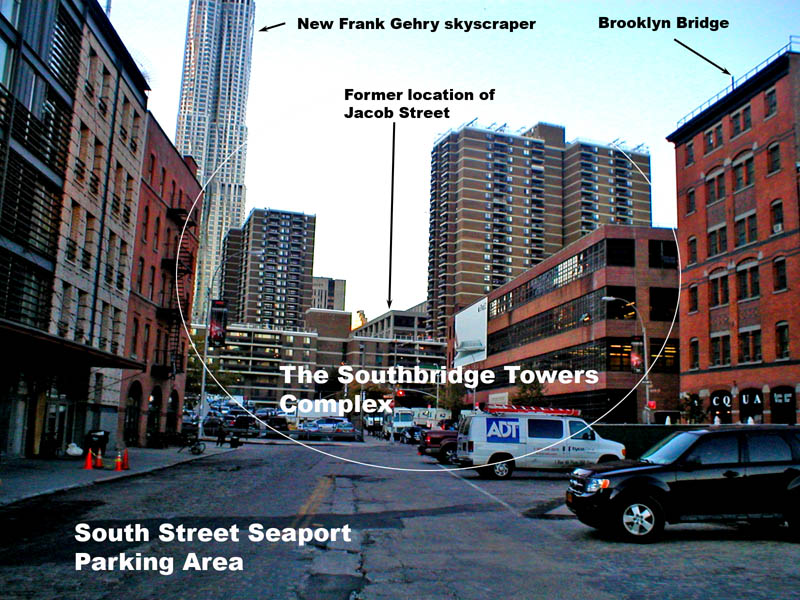 ---
This was a "fun find" for me. Of coure I would have liked it better if the actual place in the photo still existed, but these photos convey the feeling. They also, for me, extend Dylan's legacy back from the 60's back into the turn of the century when all these buildings on Jacob were built and the street was crawling with "sea-sick sailors all going home."
Cities that are not too busy being born, are busy dying. Dylan and Jerry Schatzburg, the photogrpher, by taking these photo here, and knowing the street would soon be demolished, helped preserve the history and memory of this vanquished vagabond place for future generations ...and created quite a mystery for this rock 'n' roll detective in doing so.
---
(photo of Bob Dylan circa 1966 by Jerry Schatzberg; photo of Jacob Street - NYPL)
---
Addendums to the entry can be viewed below the "The End" frame.
---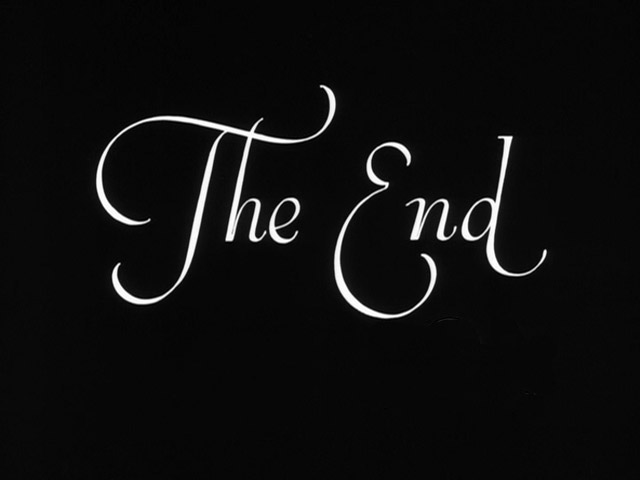 ---
---
---
---
---
ADDENDUM
---
---
ADDENDUM #1 : New, wider version of the photo on the inside jacket of BLONDE ON BLONDE taken by Jerry Schatzberg. (CLICK ON PHOTO TO ENLARGE IT, THEN)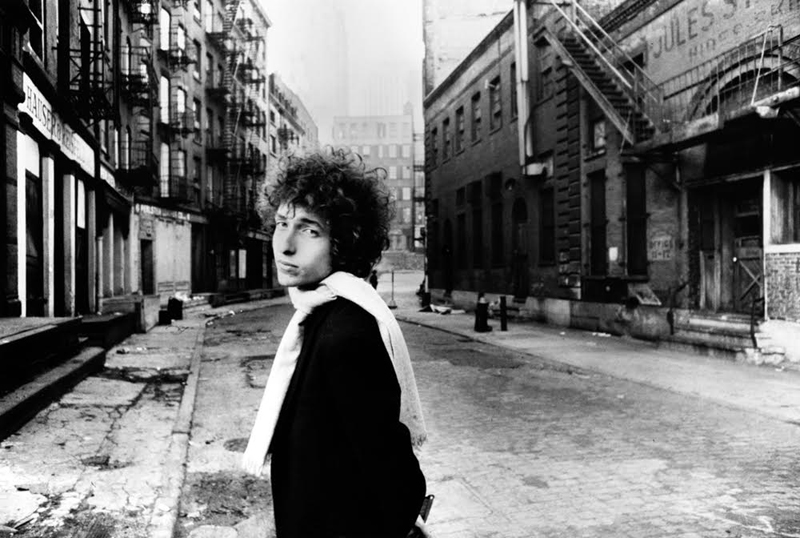 ---
ADDENDUM #2 : More detailed information on the Jacob Street area from Gil Tauber:
"Jacob Street was part of an area (also including Ferry Street and parts of Gold, Spruce, and Frankfort Streets, and Maiden Lane) that was long known as "The Swamp." Its streams and ponds and tanning pits were used by tanners in colonial times and perhaps into the 19th century
However, early in the 19th century, most of the actual tanning had shifted elsewhere, such as to the Catskills, where tanners had access to large stands of hemlock needed for tanning bark. (Among those tanners was Zadock Pratt, of Prattsville, N.Y., and his sometime partner Jay Gould, with whom he developed a tannery at Gouldsboro, PA)
Meanwhile the Swamp evolved into a leather manufacturing and wholesaling district. Merchants bought raw hides brought in by ship, especially from Argentina, and sold them to tanneries for processing. The finished leather came back to the Swamp, where it was sold, often by the same merchants, to domestic manufactures for export.
In the 19th Century, there were numerous boot and shoe factories, saddlers, harness makers and similar leather-based businesses in The Swamp. In the early 20th Century, manufacturing in the Swamp declined, but leather wholesaling and warehousing continued at least to about 1960. What I smelled in 1958 or '59 (ed: on a tour there, referenced in the main entry) were probably raw hides, awaiting shipment.
(Thank you, Gil, for this additional history.)
---
---
ADDENDUM #3: Link to huge 1903 photo of the area next to the Brooklyn Bridge where Jacob Street once was.

A website called SHORPY.com has a huge photo from 1903 of the area next to the Brooklyn Bridge where Jacob Street was. The picture is called "East River and Brooklyn Bridge from Manhattan." You can click to it here.

(Thank you, Cameron, for this update.)
---
---
ADDENDUM #3: Illustration of exact same view of Jacob Street from the NYPL archives, found and sent in by Cameron "Kempex". The illustration was created in 1932 by Albert E. Flanagan.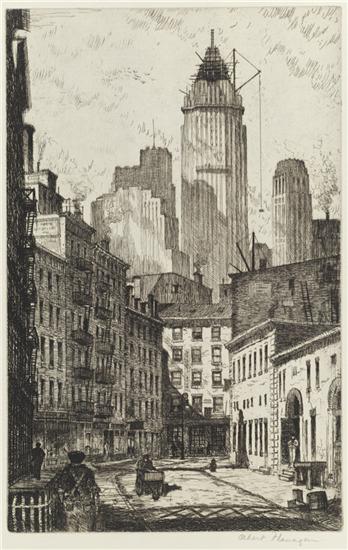 ---
ADDENDUM #4:Perceptive reader William Jobson recognized Jacob Street in a chase scene from the film "Side Street" and was kind enough to send it in to PopSpots. Thanks, William, for helping to bring history to light!